NBA Draft: Weekly Draft Rewind 1983
By Lorenzo Tanos

First of all, apologies for this delayed installment of the Draft Rewind. It's been quite a busy work week, but if you come to think of it, the slight delays have made this Draft Rewind a little more timely. If you'll observe, one of the players highlighted in this article had just been inducted to the Basketball Hall of Fame, and despite the fact he was productive for just five NBA seasons out of nine, he truly deserves it. We'll leave it at that for the meantime as we get the recap underway with the usual link to the complete list of draftees.

http://www.basketball-reference.com/draft/NBA_1983.html
THE TOP PICK – Ralph Sampson (HOU, C/F, 7'4"-220, Virginia) – See, we told you we'd have a fresh Hall of Fame inductee in this rewind. Sampson was a taller prototype for a lot of athletic big men with good shooting range to follow thereafter. He didn't take long to dominate the NBA, going 20-10 his first two NBA seasons and teaming up with Hakeem Olajuwon as the Rockets' "Twin Towers" combo. But a series of injuries that occurred before his 27th birthday basically ensured his career would be over before long. Despite four disappointing and injury-prone seasons to end his career, Sampson still retired from the NBA with averages of 15.4 ppg, 8.8 rpg and 1.6 bpg. His college career and first four NBA seasons more than qualify him for the Hall.

THE BEST – Clyde Drexler (POR, G/F, 6'7"-210, Houston) – He didn't have monster stats as a collegian on account of his playing for a very balanced, talented Houston Cougars team, but this "Phi SlammaJama" alum was clearly deserving of the occasional "Next Dr. J" tag. "The Glide" came off the bench as a rookie, but it didn't take long for him to come into his own – he averaged 27.2 ppg, 7.9 rpg and 5.8 apg in his career-best 1988-89 season. A trade to the Houston Rockets midway through '94-'95 finally gave Drexler his first NBA championship.

THE BUST – Russell Cross (GSW, C/F, 6'10"-215, Purdue) – Russell who? That's the question the average basketball fan would ask, but apparently Golden State thought enough of him in '83 to select him over other big men like Thurl Bailey, Antoine Carr and Roy Hinson. Cross played just one NBA season, averaging 3.7 ppg and 1.8 rpg. Perhaps the Warriors wanted a power forward with more offense than Larry Smith, but "Mr. Mean" was otherwise perfect as 5th option on those high-powered Warriors teams of the '80s.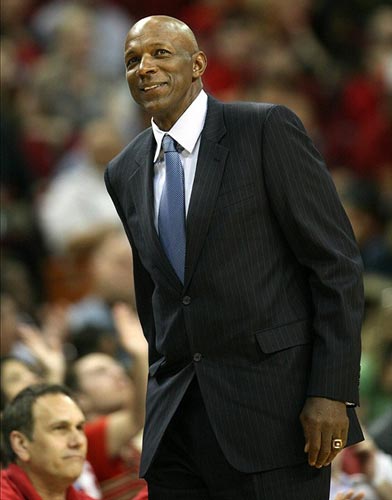 THE STEAL – SedaleThreatt (PHI, G, 6'2"-175, West Virginia Tech) – Tough call here. 2nd-rounder Doc Rivers had the better career, but Threatt was taken in the 6th round out of West Virginia Tech. No, not Virginia Tech, WEST Virginia Tech.Threatt was mainly utilized as a combo guard off the bench, but he did enjoy several years in the early '90s starting at the point for Seattle and the L.A. Lakers. The fact that he was a player from such an obscure school selected that low in the NBA Draft makes him deserving of the "Steal" honors for the '83 draft class.

TRIVIA:
Five Indiana Hoosiers were selected in the 1983 Draft â€" Randy Wittman (#22, WAS), Jim Thomas (#40, IND), Ted Kitchel (#41, MIL), Steve Bouchie (#78, DET) and Tony Brown (#141, IND). Only Wittman and Thomas played in the NBA.
The San Diego Clippers selected ManuteBol in the 5th round of the '83 Draft, however, the pick was declared invalid. Two years later, the Washington Bullets selected the 7'7" Sudanese center in the second round., en route to a decade-long NBA career as a defensive specialist and the purported inventor of the popular expression "My bad."
Craig Robinson (#93, PHI) brought the Princeton Offense to Brown and Oregon State as a college coach, but he is best known as the older brother of First Lady Michelle Obama.

More NBA Draft Rewind Articles:
What do you think?

We'd love to hear your comments and/or opinions. If you submit them here, other visitors can read them, rate them and comment on them. An e-mail address is not required.