Weekly NBA Draft Rewind: 1995
By Lorenzo Tanos

Here's where the paradigm shift really began to take shape.  The fifth overall pick may not have played a minute of college basketball, but he did emerge as one of the NBA's top rookies, and went on to become the big star of the draft class.  The top four picks were all college underclassmen, and all went on to enjoy successful NBA careers.  (Okay, so Joe Smith didn't live up to expectations, but we'll get to that later.)  The Class of '95 was yet another solid one, but as we'll find out next week in our Draft Rewind, it had nothing on the class that was to follow a year after.

http://www.basketball-reference.com/draft/NBA_1995.html
THE TOP PICK – His descent from borderline All-Star candidate to career journeyman is still one of the most perplexing things to happen in recent NBA history.  Joe Smith (GSW, F/C, 6'10"-225, Maryland) is more famous these days as the player that cost the Minnesota Timberwolves five years of first-round draft picks.  And he wasn't even worth the salary cap violation!  It was mostly downhill from his sophomore NBA season (18.7 ppg, 8.5 rpg), and while he was a valuable off-the-bench big man for a lot of NBA teams, his career production (10.9 ppg, 6.4 rpg in 16 seasons) isn't what you'd expect from someone drafted first overall.

THE BEST – Kevin Garnett (MIN, F/C, 6'11"-220, Farragut Academy, #5) didn't have the most  earth-shattering of debuts.  He scored only 8 points in his first game, then went scoreless in 11 minutes in his second game, in a loss against the expansion Vancouver Grizzlies.   But unlike many rookies who hit the "rookie wall" by midseason or earlier, KG saved his best for last, earning a starting lineup midway through the season and playing well enough overall to make the All-Rookie second team.  The rest is history.  He spent most of his 12 seasons with the Timberwolves as the team's main attraction, and when he joined the Boston Celtics in 2007, he made first team All-NBA in his first year with the team and first team All-Defensive three times despite reduced numbers.  More importantly, he earned himself a long-overdue championship ring in 2008.  Hard to believe he's "only" 36 and still playing at a high level in his 18th NBA season.

HONORABLE MENTION – Jerry Stackhouse (PHI, F/G, 6'6"-218, North Carolina, #3) was perhaps the most "Next Jordan" of the "Next Jordans" at that time – same position, same alma mater, similar skill set.  While he never became the next MJ (who could, anyway?), Stack had a nice run as one of the NBA's top scoring threats in the late '90s to early '00s, topping out at 29.8 ppg for the Pistons in 200-01.  That run, unfortunately, was way too short for comfort; by 2004, his role shifted from top scoring option to high-powered sixth man.  He's still playing in the NBA 18 years later, albeit as a deep reserve who could still score when called to the occasion.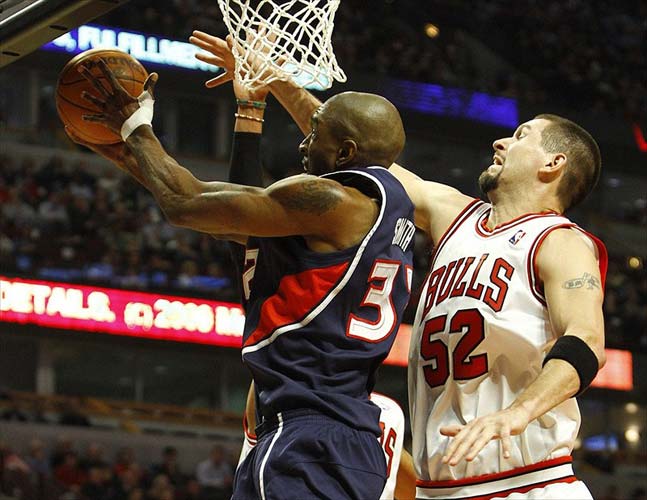 THE BUST – Injuries and illness respectively were to blame for Bryant Reeves' (VAN, C, 7'0"-295, Oklahoma State, #6) and Shawn Respert's (MIL, SG, 6'1"-195, Michigan State, #8) underwhelming careers.  Ed O'Bannon (NJN, SF, 6'8"-222, UCLA, #8) was a different story.  Sure, he dealt with injuries in college, but he was relatively healthy in his NBA career.  The starting small forward job was his to lose when the Nets drafted him eighth overall in '95.  And as we know by now, he lost it.  After two depressing seasons where he couldn't even get starting minutes on losing teams, he was out of the NBA.
THE STEAL – Rocky shooting and reduced scoring hurt Michael Finley's (PHO, SG, 6'7"-215, Wisconsin, #21) draft stock, but that didn't matter when he won the starting off-guard job for the Suns after just seven NBA games and was very much in the running for Rookie of the Year.  In ten seasons with the Suns and the Dallas Mavericks, Finley played in two All-Star Games and averaged no less than 15 ppg in those years.  After signing as a free agent with the San Antonio Spurs, his role changed from workhorse starter to quality reserve; it was all for the better, as he played a key role in the 2006-07 NBA Playoffs, winning a championship with the Spurs.  Finley retired after the 2009-10 season, ending his career in a reserve role with the Boston Celtics.

More NBA Draft Rewind Articles:
What do you think?

We'd love to hear your comments and/or opinions. If you submit them here, other visitors can read them, rate them and comment on them. An e-mail address is not required.