Weekly NBA Draft Rewind: 2007
By Lorenzo Tanos

As this NBA Draft had taken place just six years ago, this would be the last one for now we'd analyze in depth.  After all, anything can happen for those drafted five years ago or more recently.  The 2007 Draft was also the first in years not to feature anyone fresh out of high school, due to recently-amended rules.  All U.S.-based players in this draft were no younger than 19 and at least a year removed from their senior year in high school, while the same applied to international selections – same minimum age.  Here's the Class of 2007, and here's how they've done so far, as of their sixth NBA seasons, at least for those still signed to an NBA team.

http://www.basketball-reference.com/draft/NBA_2007.html
THE TOP PICK – It would appear that Portland has been cursed so far when it comes to young franchise centers.   In 1972, they selected LaRue Martin first overall, but he wasn't as highly-regarded as 1974 first-overall pick Bill Walton, or even 1984's second-overall pick Sam Bowie, both Blazers selections who couldn't quite live up to their college press clippings due to injuries.  Greg Oden (POR, C, 7'0"-250, Ohio State) has suffered the same fate, pretty much, and it's not his fault that he has.  Knee injuries have limited Oden to 82 games over two seasons, and he hasn't played an NBA game since 2010.  Still, it's too early to write him off, even as many have so far.  Oden did have his share of big-game moments in parts of two NBA seasons, and while he may never be anywhere near David Robinson (whom he was compared to at times), we still hope he'd at least get healthy and have a decent NBA career somehow.

THE BEST – Hands-down, this honor has to go to Kevin Durant (SEA, SF, 6'9"-215, Texas, #2), who led the NBA in scoring three straight seasons and was an easy pick for 2008 NBA Rookie of the Year.  Though it looks like he won't make it a fourth straight scoring title (he's currently second to Carmelo Anthony of the Knicks), Durant has, unlike Oden, stayed healthy, and thanks to his all-around play and prodigious scoring, he's turned the Oklahoma City Thunder into perennial championship contenders as long as he's on the team.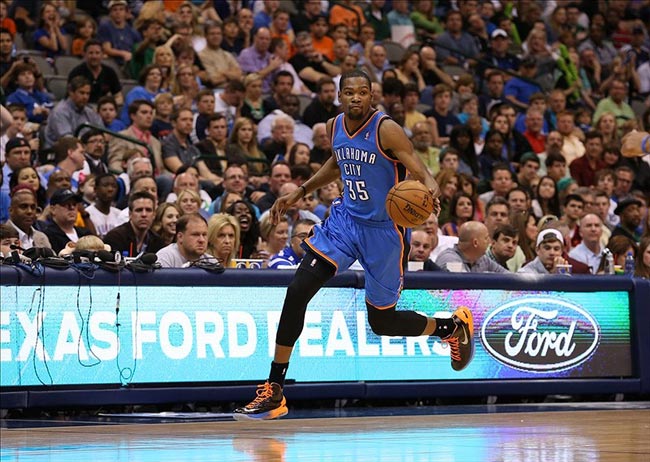 Mar 17, 2013; Dallas, TX, USA; Oklahoma City Thunder forward Kevin Durant (35) drives against the Dallas Mavericks at the American Airlines Center. Photo Credit: Matthew Emmons-USA TODAY Sports.


HONORABLE MENTION – It's a huge gap between Durant and the two honorable mentions for the 2007 Draft thus far, but Al Horford (ATL, F/C, 6'10"-245, Florida, #3) and Joakim Noah (CHI, C/F, 6'11"-232, Florida, #9) have done a terrific job for their respective teams' frontcourts.  Horford was out for all of 11 games of the 2011-12 season, but has come back strong for the Atlanta Hawks to put up career-best numbers of 17.4 ppg and 10.2 rpg, plus 3.2 apg, second-best so far in his career.  Together with Josh Smith and Jeff Teague, he's one third of a young and talented nucleus on the perennially Playoffs-bound, yet arguably wheel-spinning Atlanta Hawks.
 
Horford's Florida Gators teammate Noah has also had a terrific career thus far, despite a slow start.  He's also enjoying a career year, with 12.2 ppg, 11.4 rpg, 4.1 apg and 2.2 bpg, providing defensive toughness for the Chicago Bulls, while delivering as a rebounder and as one of the NBA's best-passing big men.  Any scoring he contributes above his usual 10 ppg is gravy.

THE BUST – After five mostly underwhelming NBA seasons, Yi Jianlian (MIL, PF/SF, 7'0"-238, China, #6) is back in his home country of China.  Like many an international big man, Yi had a good shot from outside, but as a scorer and rebounder, he turned out to be painfully average at best.  And he seemed to have trouble shooting above the NBA's equivalent of baseball's Mendoza Line – in five seasons, Yi has made only 40.4% of his field goals.  He's only 25, though, and there's still a chance he could get himself back in the good graces of an NBA team, but for now, he's the biggest disappointment in the Class of '07 who isn't named Greg Oden.  And he didn't have career-threatening injuries to blame for his NBA failure thus far.

THE STEAL – He's also worthy of being named as an honorable mention pick in the 2007 Draft, but due to his being selected in the second half of the second round, Marc Gasol (LAL, C, 7'1"-265, Spain, #48) is a better choice as the 2007 Draft's number one steal.  In a twist of irony, Gasol's rights were traded  to the Memphis Grizzlies midway through the 2007-08 season in a deal that sent his big brother Pau to the Lakers.  In five seasons with the Grizz, Marc Gasol has been more than just a footnote to a blockbuster trade.  Gasol caught on immediately upon joining the Grizzlies for the 2008-09 season, and didn't take long to emerge as one of the NBA's best-passing big men, as well as an occasional threat to post a double-double in points and rebounds.

Read more at:
What do you think?

We'd love to hear your comments and/or opinions. If you submit them here, other visitors can read them, rate them and comment on them. An e-mail address is not required.