Weekly NBA Draft Rewind: 2005
By Lorenzo Tanos

The last of the preps-to-pros drafts – that's the best way to describe the 2005 NBA Draft.  But unlike the last two years that gave us LeBron James and Dwight Howard, respectively, this draft class wasn't loaded with surefire superstars straight from the high school ranks – it took a while for Andrew Bynum to earn recognition as one of the NBA's elite centers, Monta Ellis fell all the way down to #40, and the likes of Martell Webster and Gerald Green have been role-players at best.  This was probably a sign that one year or more in college (or overseas) after high school graduation may indeed have been the best way to go for most blue-chip prospects.  Not to mention, the Class of 2005's cream of the crop all had spent a few years honing their games in the NCAA...

http://www.basketball-reference.com/draft/NBA_2005.html
THE TOP PICK –If it only wasn't for all those injuries.  Andrew Bogut (MIL, C, 7'0"-245, Utah) hasn't had a bad NBA career.  Far from it, actually – he stayed healthy long enough in the 2009-10 season to make All-NBA third team honors.   But let's face it – the only time he played all 82 games was as a rookie, and all those ankle problems may be close to taking their toll on the talented Aussie, who, when at the peak of his game, is one of the NBA's most accurate shooters and a skillful defender.  He's having the worst statistical season of his career this year, but he's young enough at 28 to turn things around, get healthy, and give the Warriors a quality center, one they haven't had too many of in the past couple decades.

THE BEST – As the L.A. Clippers' "Lob City" playmaker and facilitator, a top-flight defender and a more than decent scorer and shooter, Chris Paul (LAC, PG, 6'0"-175, Wake Forest, #4) is in the prime of his career and quite possibly the premier point guard of his generation.  He's done what few people have been able to do, and that's turn the usually moribund Clippers into contenders.  Of course, he didn't get to do that without some help from Blake Griffin, but it's hard to imagine the Clippers turning into a Western Conference power with most anyone else as their starting point guard.

HONORABLE MENTION –We've got more Honorable Mention choices in the Steals section, but as far as being the second best product of the 2005 Draft is concerned, we'll go with Deron Williams (UTA, PG, 6'3"-210, Illinois, #3), who has been very instrumental in helping the Brooklyn Nets getting out of the 12-70 rut they were in just a few years ago.  His shot selection may leave a lot to be desired at times, but when he's on, he's almost sure to tally a 20-10 game and get his teammates involved in the action.  It's hard to believe he's played in only three All-Star Games (2010, 2011, 2012), but there should be more of that to come for the man they call "D-Will."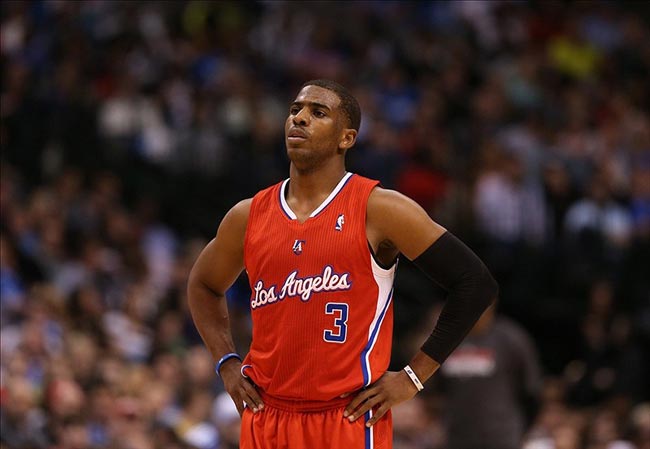 Mar 26, 2013; Dallas, TX, USA; Los Angeles Clippers guard Chris Paul (3) during the game against the Dallas Mavericks at the American Airlines Center. Photo Credit: Matthew Emmons-USA TODAY Sports.

THE BUSTS – Two players stand out in this draft class as being the most disappointing.
Ike Diogu (GSW, PF, 6'8"-250, Arizona St., #9) is a classic example of why you should always proceed with trepidation before drafting an undersized, yet wide-bodied power forward.  As evidenced by the likes of Diogu and the 2003 Draft's Mike Sweetney, 20-10 numbers in college seldom make an NBA superstar if you're 6'8" or shorter, in the 240-260-pound range and a pure power forward.   Diogu had some high-scoring games in the NBA, but a lot of them took place with Diogu playing for a crappy team and the season long in the tank.  His last appearance in the NBA came in the 2011-12 season, when he played two games for the San Antonio Spurs, scoring two points in a combined seven minutes.

YaroslavKorolev (LAC, SF, 6'9"-203, Russia, #12), on the other hand, was a major surprise pick at #12, considering he didn't have the same hype surrounding him as other Euro-busts like NikolozTskitishvili and Maciej Lampe.  With the Clippers, Korolev was good for 34 games over two seasons, most of them cameo appearances.  Not once did he score in double digits, not once did he play more than half a game, not once did he get to start.  By October 2007, the Clippers decided to give up on him, and he hasn't been seen in the NBA since.

THE STEALS – Before a midseason trade last year, David Lee (NYK, PF, 6'9"-249, Florida, #30) and Monta Ellis (GSW, SG/PG, 6'3"-175, Lanier HS, #40) were on the same Warriors team, heading a young and exciting nucleus of players.   While players such as Lou Williams (PHI, SG/PG, 6'2"-175, South Gwinnett HS, #45) and MarcinGortat (PHO, C, 6'11"-240, Poland) have definitely exceeded expectations, Lee and Ellis have done more to play above their draft positions.  Since breaking out in his fourth season with the Knicks, Lee has emerged as a consistent 20-10 threat and one of the main reasons why the Warriors are enjoying their best run since the Run TMC era of the early '90s.  Ellis, who saw his draft stock drop due to his being an undersized two straight out of high school, quickly emerged as a super scorer (25.5 ppg in 2009-10), and turned out to be a pretty decent playmaker after all (no less than 5.3 apg since 2009-10).

Read more at:
What do you think?

We'd love to hear your comments and/or opinions. If you submit them here, other visitors can read them, rate them and comment on them. An e-mail address is not required.