Weekly NBA Draft Rewind: 1997
By Lorenzo Tanos

After a groundbreaking draft class, what follows next? Chances are you'd be getting a shallow class, one with so little star power compared to the last.  In a way, that's true about the Class of '97, but then again, if you consider the likes of Tim Duncan, Chauncey Billups, Tracy McGrady, Stephen Jackson or even Keith Van Horn and, for a very short period of time, Ron Mercer, this Draft wasn't devoid of star quality.  Well, there wasn't as much to go around, but at least this Draft didn't have a Todd Fuller or Ed O'Bannon or Harold Miner who tanked as an NBA player despite their lottery status.  So here it is – the 1997 NBA Draft class, sixteen years later.

http://www.basketball-reference.com/draft/NBA_1997.html
THE TOP PICK/THE BEST – He may not be the most exciting player to watch.  At this point in his career, he's not even the best big man in the NBA anymore, but still someone who can rack up double-doubles on a regular basis.  But Tim Duncan (SAS, F/C, 6'11"-248, Wake Forest) will almost certainly be a top Hall of Fame candidate the moment he becomes eligible.  He's won regular season MVP twice, Finals MVP another two times, won four NBA Championships and been a staple of the All-Defensive Teams (mostly first) for most of his career.  He's the Big Fundamental, the man who saved the Spurs after their brief flirtation with lottery status (the whole 1996-97 debacle where they won just 20 games), and without a doubt the best player to emerge from the Class of '97.

HONORABLE MENTION – With health and youth on his side, Tracy McGrady (TOR, F/G, 6'8"-210, Mount Zion Christian Academy, #9) was a certified scoring threat and one of the NBA's best and most exciting players of his time.  He led the NBA in scoring in 2002-03 and 2003-04 as the Orlando Magic's franchise player.  After a blockbuster trade sent him to Houston for 2004-05, it wasn't long before injuries began to hobble T-Mac's career, reducing him from annual threat to lead the league in scoring to someone who'd typically be unavailable for huge chunks of the season, with drastically reduced numbers.  McGrady was only 32 when he played his last NBA game, and it was just sad to see him average just 5.3 ppg in a third of the game when just a few years back, he was still one of the NBA's finest.

THE BUSTS – Denver Nuggets legend and acerbic head coach/GM Dan Issel was so upset with Tony Battie's (DEN, C/F, 6'11"-230, Texas Tech, #5) performance that he gave the young big man a nickname that stuck for most of his NBA career – "El Busto."  Still, he played 15 NBA seasons and was a nice guy to have as a backup center.  But not the kind of career you expect from fifth overall.  AdonalFoyle (GSW, C, 6'10"-250, Colgate, #8) averaged 20.4 ppg, 12.7 rpg and over 5 blocks a game for Colgate, but spent most of his 12-year NBA career as an offensively-challenged defensive specialist off the bench.  And Tariq Abdul-Wahad (SAC, F/G, 6'6"-223, San Jose State, #11) never justified the ridiculous contract extension he got as a Denver Nugget.  Most of his woes, however, resulted from injuries suffered at the time rather than bloated expectations brought about by bloated college numbers.

Still, as I mentioned above, these busts were far from being as "spectacular" in terms of epic failure as those from previous (and future) classes.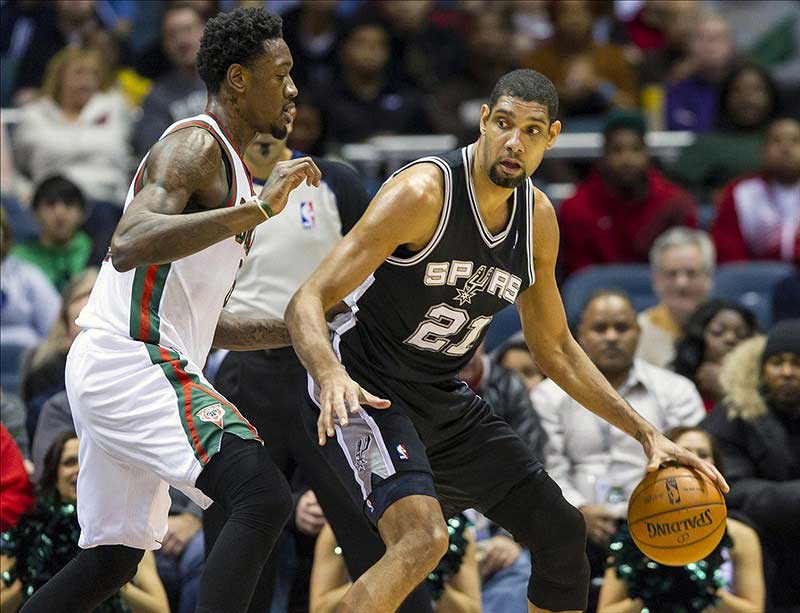 THE STEAL – If one would have a do-over for the 1997 Draft, you'd definitely want Stephen Jackson (PHO, F/G, 6'8"-218, Butler County CC, #43) in your top five.  The former McDonald's All-American had a checkered road to the NBA, having been academically ineligible at Arizona in 1996-97 and never having played for Butler County CC that same year.  As such, he declared for the NBA Draft without playing a minute of college or juco basketball, and spent the next three seasons trotting the globe.  S-Jax finally made his NBA debut in 2000 as part of the New Jersey Nets, and played his best basketball playing for several teams in the mid-to-late '00s.  He's currently a key reserve for the Spurs and, compared to his often chaotic NBA past, at his best behavior despite the reduced minutes.  Oh, wait.  There was that thing with Serge Ibaka last December, but anyway…

More NBA Draft Rewind Articles:
What do you think?

We'd love to hear your comments and/or opinions. If you submit them here, other visitors can read them, rate them and comment on them. An e-mail address is not required.