Weekly NBA Draft Rewind: 2003
By Lorenzo Tanos

Is the 2003 NBA Draft class truly the greatest ever?  Nay, I say – yes, 2003 is when Miami's Big Three made their professional debuts, same with Carmelo Anthony.  We're sure to see these four make the Hall of Fame once their illustrious careers are over.  But unlike the comparable draft classes of 1984 and 1996, 2003 tends to be a top-heavy one.  1984 had John Stockton carve out a Hall of Fame career as the 16th overall pick, while Kobe Bryant was the 13th pick of the 1996 Draft.  The Class of 2003 also gave us a lot of solid starters and a star (not superstar) power forward in David West, and while it's a great class overall, '84 and '96 still had more to offer.

http://www.basketball-reference.com/draft/NBA_2003.html
THE TOP PICK/THE BEST – Expectations were ridiculously high for LeBron James (CLE, F/G, 6'8"-240, St. Vincent-St. Mary HS) well before he made his intentions official to join the 2003 Draft.  Unlike the typical preps-to-pros prospect, James didn't have any college seriously associated to his name, because it was apparent from the moment the hype started pouring in that he'd be joining the NBA straight out of high school.  And he hasn't let anybody down since then, except perhaps Cleveland's NBA fan base when James decided to "take his talents to the South Beach" and Miami Heat fans when he failed to deliver in the clutch in the 2011 Finals.  Still, it's arguable that "King James" isn't as hated in Cleveland as the late former Browns owner Art Modell, and he sure made up for his shortcomings in 2011 by coming up big in the 2012 Finals, where the Heat put away the upstart Oklahoma City Thunder in five games.  To date, he's averaged 27.5 ppg, 7.3 rpg and 6.9 apg over his career and recently become the youngest player in NBA history to achieve the 20,000 career points milestone.

HONORABLE MENTION – This one's going to be easy.  Despite all the criticism he's received for being a selfish, stats-obsessed player who plays little to no defense, Carmelo Anthony (DEN, SF, 6'8"-230, Syracuse, #3) is still one of the NBA's most dynamic scorers and has continued to play at a high level for the resurgent New York Knicks.  Even if he still doesn't play much "D", it goes without saying that the Detroit Pistons (see below) may have definitely been better served with Melo as the #2 pick rather than the man they ended up picking.  Chris Bosh (TOR, F/C, 6'10"-228, Georgia Tech, #4) has transitioned very smoothly from being the Toronto Raptors' franchise player to the Miami Heat's third offensive option.  His rebounding numbers have slipped dramatically since his days as a Raptor, but Bosh remains a bona fide scoring threat in many a way.  And speaking of the Heat, Dwyane Wade (MIA, SG/PG, 6'4"-212, Marquette, #5) flew under the radar until his junior year of college, when he led the Golden Eagles to a Final Four appearance in the 2003 NCAA Tournament.   His performance as a pro has been anything but "under the radar", having made the All-Star Game nine years in a row and won two NBA championships in his ten-year career.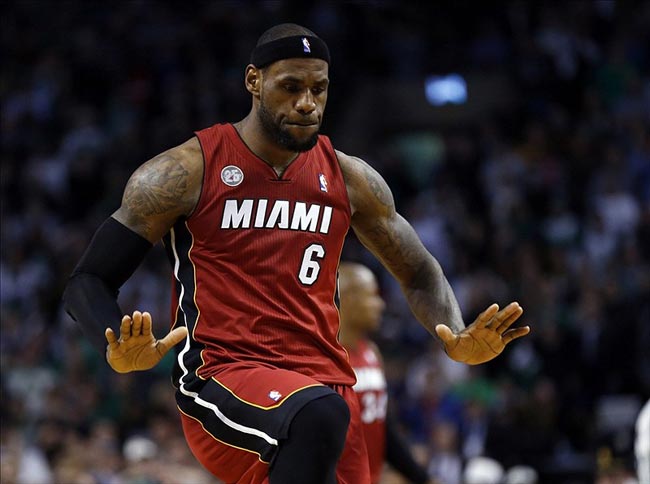 Mar 18, 2013; Boston, Massachusetts, USA; Miami Heat forward LeBron James (6) reacts after scoring the go ahead basket against the Boston Celtics during the fourth quarter at TD Banknorth Garden. The Miami Heat won 105-103. Photo Credit: Greg M. Cooper-USA TODAY Sports.

THE BUST – Do we even need to get into a debate about this?  At least Sam Bowie was a decent starting center for several years.  But DarkoMilicic (DET, F/C, 7'0"-250, Serbia, #2) was, at best, a mediocre starter on a terrible team.  And when he did get to play for winners, he'd often serve as the Human Victory Cigar, which is definitely not a flattering nickname – you don't want to be seeing action almost exclusively at the tail-end of blowout wins if you're the second overall pick.  Last time we saw Milicic, he was with the Boston Celtics, but he played just one game in 2012-13 for the C's before getting released per request.

Other notable 2003 busts include Mike Sweetney (NYK, PF, 6'8"-275, Georgetown, #9), a former 20-10 man for the Hoyas who struggled with weight problems throughout his short NBA career, and one-time BC scoring machine Troy Bell (BOS, PG, 6'1"-180, Boston College, #16), who played all of six games in the pros despite scoring an amazing 2,632 career points in college for the Eagles.

THE STEAL – Though it's quite possible that he has already peaked, Mo Williams (UTA, PG, 6'1"-185, Alabama, #47) has had arguably the best career among all the point guards selected in 2003.  And he's the only one still putting up above-average numbers, despite having been slowed down by injuries as of late.  With the exception of his rookie season, Williams has averaged in double figures all throughout his career, peaking at 17.8 ppg in 2009 and 6.3 apg in 2008, and has proven effective whether used as a pure playmaker or as more of a combo guard.  Williams, who made the 2009 All-Star Game, is back with the Utah Jazz, same team that drafted him in 2003 and used him as one of several backup point guards to Carlos Arroyo.
Read more at:
What do you think?

We'd love to hear your comments and/or opinions. If you submit them here, other visitors can read them, rate them and comment on them. An e-mail address is not required.