Weekly NBA Draft Rewind: 1994
By Lorenzo Tanos

And the underclassmen kept storming in.  Glenn Robinson, Jason Kidd, Donyell Marshall and Juwan Howard all entered the NBA this season despite having a year or two of eligibility remaining, and all of them had successful NBA careers.  Still, there were some quality seniors who got selected in the lottery, such as Grant Hill, Brian Grant and Eddie Jones, but the complexion of the NBA Draft was further on its way to changing significantly in '94.  (There were also duds among these four-year collegians, such as our top "Bust" for the Class of '94, but still...)  In any case, 1994 was probably the last year when it was "cool" to play all four years of college and still expect to get selected high in the Draft.

http://www.basketball-reference.com/draft/NBA_1994.html
THE TOP PICK – Up to now, there are still people who see Glenn Robinson (MIL, SF, 6'7"-225, Purdue) as a bust.  But you can't call someone who averaged more than 20 ppg in all but one of his first nine seasons as a disappointment, even if he had the potential to do much more as the first overall pick.  "Big Dog" saw his NBA career end quite prematurely; after a successful eight-season run with the Bucks, Robinson averaged 20.8 ppg in his only season for the Atlanta Hawks.  Then it was downhill all the way – Robinson was a second offensive option to Allen Iverson for the 76ers, and injuries curtailed whatever he had remaining in the tank as he played sparingly for the San Antonio Spurs in his final NBA season in 2004-05.

THE BEST –This one goes to the two members of the Class of '94 who are still in the NBA even in their fourth decade on Earth or very close to that.  Jason Kidd (DAL, PG, 6'4"-205, California, #2) was arguably the closest thing out there to Magic Johnson during his prime, and not Penny Hardaway.  Though his jumper may have been shaky for most of the '90s, Kidd could do way much more than dish out double-digit assists per game; he could rebound, play defense and score at a decent clip.  Even as the scoring numbers are below average for a starting point guard, Kidd continues to excel as a playmaker and defender at 39, and nobody questions his three-point shooting ability these days.
 
Grant Hill (DET, SF, 6'8"-225, Duke, #3) could have potentially been all alone as the best of '94, but as we all know, injuries took away a lot from him before the age of 30.  Before that, he was arguably the most versatile forward in the NBA, a fluid player who, like Kidd, could excel in almost every facet of the game, albeit with more scoring.  After injuries, he was still a quality starter at small forward, though far removed from the days when he was flirting with all-time greatness.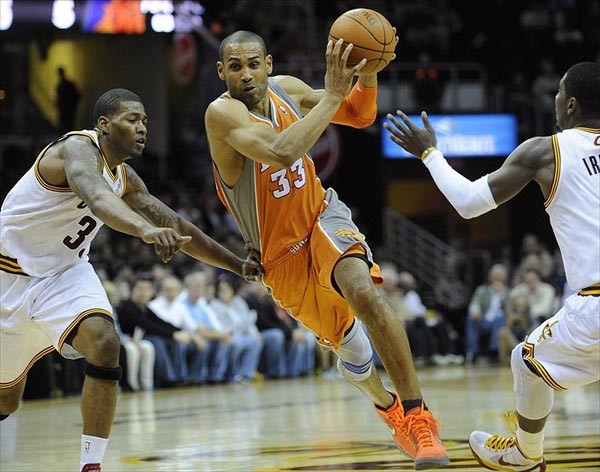 THE BUSTS – Eric Montross (BOS, C, 7'0"-270, North Carolina, #8) entered the NBA with potential of being a capable starting center, and was just that in his rookie year.  Unfortunately, his lack of offensive polish turned him into a role player, a waste of a lottery pick though nonetheless a very capable source of rebounds.  The late Yinka Dare (NJN,C, 7'0"-265, George Washington, #14) entered the NBA with potential of being a decent role player, and more than just the project he was as a potential mid-first rounder. His lack of any NBA-level skills apart from rebounding and defense turned him into a third-stringer for most of his four-year NBA career.
 
THE STEAL – Voshon Lenard (MIL, SG, 6'4"-205, Minnesota, #46) was a four-year starter for the Minnesota Golden Gophers who didn't see a minute of NBA action in what should have been his rookie season.  When he did debut in 1995-96 for the Miami Heat, he still wasn't getting much burn, but it was in his second season when he emerged as a quality role player, a three-point specialist in an era defined by the emergence of the trey and the advent of Uglyball.  Lenard averaged in double figures in all but one season from 1996 to 2004, and while he never became a superstar in the big leagues, he was someone you could definitely turn to if you needed long-range shooting, either off the bench or as a starter.

More NBA Draft Rewind Articles:
What do you think?

We'd love to hear your comments and/or opinions. If you submit them here, other visitors can read them, rate them and comment on them. An e-mail address is not required.