NBA Weekly Draft Rewind: 2006
By Lorenzo Tanos

If not for revised NBA Draft guidelines that required all prospective draftees to be 19 years of age or older during the draft's calendar year and all U.S.-based draftees to be one year removed or more from high school graduation, this could've been the year Greg Oden and Kevin Durant were drafted.  However, a new collective bargaining agreement went into effect ahead of the 2006 Draft, which thinned the pool quite a bit yet resulted in a solid class – and arguably, reduced the chances of players entering the Draft much earlier than they should.  Here we look back at the Class of 2006, the first in 12 years without a single American player selected straight out of high school.

http://www.basketball-reference.com/draft/NBA_2006.html
THE TOP PICK – Andrea Bargnani (TOR, F/C, 7'0"-225, Italy) was yet another one of those "next Dirk (Nowitzki)" candidates with freakish upside and potential to create mismatches from the three, four and five positions.  As such, his first-overall selection didn't come without its share of derision from fans,  draft experts and basketball analysts.  It took a while for Bargnani to come around and injuries have been hampering his career as of late, but it's hard to call anyone who averaged 21.4 ppgjust two years ago a bust.  He hasn't had a career worthy of a first-overall pick, even if it's been quite a success thus far.

THE BEST – Let's see.  Rajon Rondo (BOS, PG, 6'1"-171, Kentucky, #21) was picked after the likes of Adam Morrison, Tyrus Thomas, Shelden Williams and quite a few other disappointments.  His shooting ability, or lack thereof, was questioned.  Still, he was the first pure point guard selected in 2006, and a very good one at that.  He may not score in buckets, and his three-point shooting skills couldn't even be called average had he played in the three-point shot's first few years in the NBA.  But as a playmaker and a defender, he's as good as they get, and also an excellent rebounder for his position.  His career averages to date – 11.1 ppg, 4.5 rpg, 8.3 apg, 1.9 spg.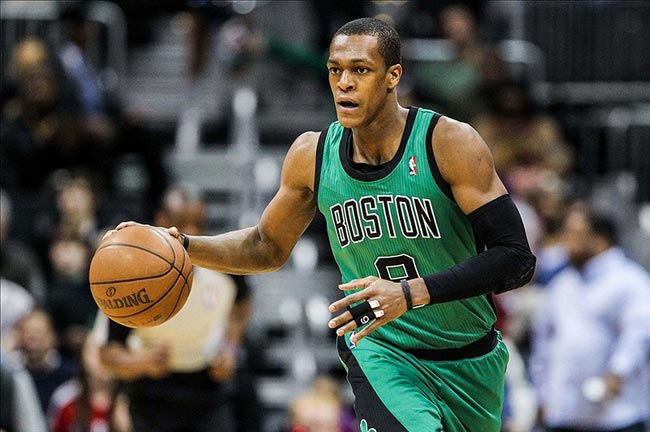 Jan 23, 2013; Atlanta, GA, USA; Boston Celtics point guard Rajon Rondo (9) takes the ball down the court in the first quarter against the Atlanta Hawks at Philips Arena. Photo Credit: Daniel Shirey-USA TODAY Sports.


HONORABLE MENTION –Blame those career-ending injuries.  Otherwise, Brandon Roy (MIN, SG, 6'6"- 215, Washington, #6) would have been a sure pick for first honors in the Class of 2006.  Few guards were more dynamic than he was in his first four years – he'd made All-NBA 2nd and 3rd Team respectively in 2008-09 and 2009-10, and went on to win Rookie of the Year honors in 2006-07.  He was the franchise of the Portland Trailblazers at a very young age.  Unfortunately, injuries on both knees led to Roy retiring at the age of 27, then returning this season for the team that had originally drafted him – the Minnesota Timberwolves.  As that comeback has lasted all but five games, it's highly doubtful we'll be seeing him anywhere close to his glory days as a Blazer.

Fortunately, the Blazers still have LaMarcus Aldridge (CHI, PF, 6'11"-240, Texas, #2) healthy and finally getting All-Star recognition.  He's had a very steady NBA career thus far, averaging 18.3 ppg and 7.7 rpg over his career and seldom ever having a bad game for his team.

THE BUST – Two players stand out as the most disappointing of the Class of 2006, and as you may expect, Adam Morrison (CHA, SF, 6'8"-205, Gonzaga, #3) leads things off in the list of '06 draft busts.  As one of many to have the "next (Larry) Bird" comparison attached to him in college, Morrison's rookie year was disappointing for many (11.8 ppg, 38% FG), but not one damning enough to have him written off so early.   A left knee injury, however, took Morrison out for the entire 2007-08 season, and when he returned, he never was the same again.  It's a pity that most people remember Morrison for his distinctive moustache and his ever-changing hairdos, rather than what could have been at least a decent NBA career.

Patrick O'Bryant (GSW, C, 7'0"-260, Bradley, #9) became yet another poster boy for the Warriors' bad luck in selecting true centers in the Draft (see:  Todd Fuller, AdonalFoyle) or acquiring them via trade or free agency (see:  RonySeikaly, Andrew Bogut).  A project from Day One, O'Bryant last played in the NBA in the 2009-10 season, spent most of his time in the D-League during his NBA run, and has also spent time bouncing around the international circuit.

THE STEAL – Aside from Rondo and Kyle Lowry (MEM, PG, 6'0"-175, Villanova, #24), Paul Millsap (UTA, PF, 6'8"-245, Louisiana Tech, #47) is another player who's far exceeded expectations based on draft position.  A monstrous rebounder in the college ranks, Millsap's pure tweener build hurt his chances of getting picked in the first round, but he's emerged in recent seasons as the Utah Jazz's starting power forward.  He's beenputting up strong numbers (15.0 ppg, 7.2 rpg this season) and has developed a reputation as one of the better ball-hawks among big men, though his overall defense still can use a bit of improvement.

Read more at:
What do you think?

We'd love to hear your comments and/or opinions. If you submit them here, other visitors can read them, rate them and comment on them. An e-mail address is not required.