NBA Weekly Draft Rewind: 2001
By Lorenzo Tanos

And once again, this was a draft that had a very high school and Euro flavor to it.  While the European prospects (Pau Gasol, Tony Parker, Mehmet Okur and for some time, Vladimir Radmanovic) had some success, the teenagers straight out of high school were mostly flops –DeSaganaDiop, OusmaneCisse (never played in the NBA), Eddy Curry (considering his being the fourth pick)  and last, but definitely not the least, Kwame Brown.  Despite all that, 2001 wasn't that bad a draft class compared to the year before.

http://www.basketball-reference.com/draft/NBA_2001.html
THE TOP PICK/THE BUST –Despite Jonathan Bender, Darius Miles and others proving that not every long, tall and athletic high school prospect can have a KG-esque pro game and career, the Washington Wizards went with another tall "athletic freak" in Kwame Brown (WAS, F/C, 6'11"-270, Glynn Academy) as the top pick in the 2001 NBA Draft.  For some time, it looked like Brown wouldn't be as big a bust as his first two seasons suggested, as he had a "breakout" season in 2003-04 with 10.9 ppg and 7.4 rpg, a season in which he would have been a junior at Florida had he not declared for the Draft straight out of high school.  But it was downhill from there, and right now, Brown is one of the names people think about first when talking about NBA lottery busts.  Hey, at least his capable defense keeps him bouncing around from team to team, a quintessential NBA journeyman.  You don't draft someone first overall with thoughts of a long, undistinguished journeyman career as the most realistic scenario.

THE BEST– As one of the NBA's best rebounders, a skilled low-post player and deft passer for a man his size, Pau Gasol (ATL, F/C, 7'0"-227, Spain, #3) deserves his spot as the best of the 2001 Draft.  Injuries and clubhouse dissension have eaten into his performance this year, but few big men have been so consistent and so capable of producing in almost every aspect of the game.  Well, there's his debacle from the 2012 Playoffs, where his performance wasn't up to regular season levels.  Still, he's only 32 and you can expect him to bounce back strong in 2013-14 regardless of which team he ends up at.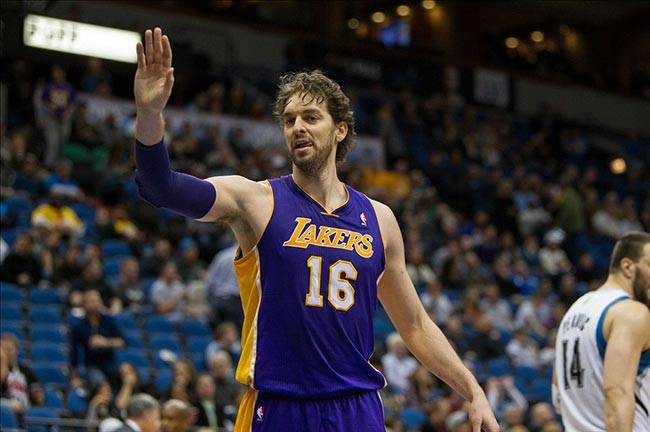 Feb 1, 2013; Minneapolis, MN, USA; Los Angeles Lakers forward Pau Gasol (16) against the Minnesota Timberwolves at the Target Center. The Lakers defeated the Timberwolves 111-100. Photo Courtesy By Brace Hemmelgarn-USA TODAY Sports.
HONORABLE MENTION – Check the "Steals" section for more honorable mention choices, but aside from Tony Parker and Gilbert Arenas, Joe Johnson (BOS, G/F, 6'8"-225, Arkansas, #10) could make up any list of Top 5 "graduates" of the draft class of 2001.  "Iso Joe" made his name as a top-flight scorer, especially on isolation plays with the Atlanta Hawks, but if given the chance, he could also be a triple-double threat – best example would be his 2007-08 season, where he averaged 21.7 ppg, 4.5 rpg and 5.8 apg for the Hawks.  Tyson Chandler (LAC, C/F, 7'1"-235, Dominguez HS, #2) has made a name for himself as a defensive stopper, and Jason Richardson (GSW, SG, 6'6"-220, Michigan St., #5) had several good years as a consistent 20+ ppg producer.

THE STEALS – Once again, the San Antonio Spurs did a masterful job in picking an international standout so late in the Draft.  Tony Parker (SAS, PG, 6'2"-180, France, #28) was a contributor right from his rookie season, and since then, he's played in five All-Star Games and made All-NBA twice – Third Team in 2008-09, Second Team in 2011-12.  He proved to be a natural for the Spurs' effective, if unexciting pick and roll offense with Tim Duncan.  On a flashier, more exciting note, Gilbert Arenas (GSW, PG/SG, 6'3"-191, Arizona, #30) became one of the NBA's deadliest scorers at 24, as he played in three All-Star Games and made All-NBA Third twice and All-NBA Second once before the age of 30.  But by the age of 30, he was an inconsequential member of the Memphis Grizzlies, averaging in the single digits and not doing much to remind fans of the Agent Zero/Hibachi of old.  Blame it on the injuries and attitude.  Currently, Arenas is playing for the CBA – the Chinese Basketball Association.

Also, Gerald Wallace (SAC, SF, 6'7"-215, Alabama, #25) is another player who produced much more than his draft status would suggest, although it took him three seasons riding the Kings' bench before the then-expansion Charlotte Bobcats gave him a chance to start.  The rest is history for one of the NBA's best defenders at small forward.
Read more at:
What do you think?

We'd love to hear your comments and/or opinions. If you submit them here, other visitors can read them, rate them and comment on them. An e-mail address is not required.