NBA Draft: Weekly Draft Rewind 1991
Although 1991 was a memorable draft year for yours truly, being probably the first NBA Draft I truly paid attention to, the Class of '91 is an exercise in wasted potential. There's Kenny Anderson, the second-overall pick, who lived up to his New York playground legend hype in Georgia Tech but flamed out before the age of 30. There's Billy Owens, who drew comparisons to Magic Johnson but was pretty much an average starting small forward for most of his NBA career. And there's the late Bison Dele (Brian Williams), whose eccentric nature overshadowed occasional flashes of star potential, and Terrell Brandon, who saw his then-brilliant career ended by injury at the age of 31. Yet, none of them can be considered the "best" or the "bust"(s) of this class. Read on and you'll see who my picks are for those distinctions.

http://www.basketball-reference.com/draft/NBA_1991.html
THE TOP PICK – As a Hornet, Larry Johnson (CHA, PF, 6'7"-250, UNLV) was an almost automatic double-double machine. Every night, he was a threat for at least 20 points and 10 boards. But upon being traded to the New York Knicks in the deal that sent Anthony Mason to the Hornets, "Grandmama" started playing like one. Well, not quite, but his touches were down, he seemingly forgot how to rebound, and his defense was still subpar despite playing for Jeff Van Gundy. Though back problems were the main reason for his decline and early retirement, his attitude had also notably soured during his tenure with the Knicks.

THE BEST – Not in my house! No discussion of defensive-oriented centers should be complete without Dikembe Mutombo (DEN, C, 7'2"-245, Georgetown, #4). Originally more of an all-around center who flirted with 20 ppg for most of his rookie year, Mutombo had actually become better when he started taking less shots and focusing solely on defending the paint. With four Defensive Player of the Year awards and eight All-Star appearances, "Mount Mutombo" was the premier stopper among big men for most of his 18-year career. Terrell Brandon (CLE, PG, 5'11"-180, Oregon, #11) could have received consideration as "the best" had he not suffered career-ending injuries. Still, it would be hard to put his contributions above those of Mutombo even if he had played till his mid-30s and not gotten hurt so often.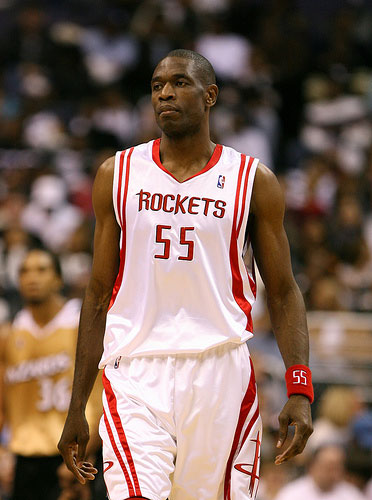 THE BUST – As mentioned above, Anderson and Owens had decent careers despite not living up to the hype. Luc Longley (MIN, C, 7'2"-265, New Mexico, #7) is often cited as a 1991 draft bust and while he was, at least he played a key role on some really good Bulls teams and enjoyed a decade-long career. The dubious distinction of biggest draft bust of the Class of '91 goes to Doug Smith (DAL, PF, 6'10"-220, Missouri, #6), who seemed like a good pick considering his reputation as a great scorer and a big man who can rebound and pass. Yet his career never got on track with the Mavericks, as he couldn't even land a regular starting job on the Mavs' horrid early-'90s teams. Smith played only five NBA seasons with career averages of 8.0 ppg, 4.2 rpg and 1.4 apg, shooting just 43% from the field.

THE STEAL – Bobby Phills (MIL, SG, 6'5"-210, Southern, #45) was only 30 when his life ended in a tragic car accident while he was still an active player for the Charlotte Hornets. A huge scorer in college (28.4 ppg as a senior) and little else, Phills came into his own in 1993-94, when Mike Fratello took over as coach of the Cleveland Cavaliers. In time, Phills became the typical Fratello player circa mid-'90s – a hard-working individual with a great touch from outside and a knack for defense. Such a pity when you think what he could've achieved had he not gotten killed at such a young age.

More NBA Draft Rewind Articles:
What do you think?

We'd love to hear your comments and/or opinions. If you submit them here, other visitors can read them, rate them and comment on them. An e-mail address is not required.