NBA Weekly Draft Rewind: 2004
By Lorenzo Tanos

I like to refer to this draft as the Diaper Dandy Draft, though when I say that, we're not talking about promising freshmen in the original context of the term.  We're talking about promising (or not-so promising) high school seniors who entered their names in the draft pool right after their prep careers.  While some, like Dwight Howard and Josh Smith, didn't take long to make a name for themselves in the NBA, others didn't quite live up to their enormous potential.  So here they are…the NBA Draft Class of 2004, possibly the youngest draft class of all time.

http://www.basketball-reference.com/draft/NBA_2004.html
THE TOP PICK/THE BEST –For what it's worth, he's still the leading rebounder in the NBA, and could be on his way to leading the league in that category for the fifth time in six years.  Dwight Howard (ORL, C, 6'11"-240, Southwest Atlanta Christian Academy) never looked back after averaging a double-double as a rookie (12.0 ppg, 10.0 rpg) and being the first high school draftee to start all 82 games.  Since then, he's made seven All-Star Games, won Defensive Player of the Year thrice, and been a staple of the All-NBA first team.  As he's no longer the alpha dog on his team, he probably won't be in the first team this year, but you've got to give credit to Howard for surviving what has been a tumultuous season on a team where the proverbial "too many cooks" often end up spoiling the broth.

HONORABLE MENTION – First, we have Luol Deng (PHO, SF, 6'8"-220, Duke, #7), who continues to make All-Underrated Teams despite having made it to the All-Star Game the past two seasons.  His defensive play and versatility is one of the main reasons why this year's Bulls have hung in there despite Derrick Rose being out the entire season.  Andre Iguodala (PHI, F/G, 6'6"-207, Arizona, #9) is another player best-known for his defense and versatility, and while he doesn't flirt with 20 ppg like he did when he was the second AI in Philly after Allen Iverson, he's keeping his new team, the Denver Nuggets, competitive with his effort on both ends, particularly on defense.

Then we have the two other big successes among the high school draftees.  Al Jefferson (BOS, F/C, 6'10"-265, Prentiss HS, #15) put up monster numbers in high school, but given that Prentiss isn't held in the same esteem as Oak Hill or DeMatha or St. Anthony, he was pretty much a boom-or-bust pick.  After a slow start, Jefferson emerged as one of the better inside scorers in the NBA, with his numbers peaking at 23.1 ppg and 11.0 rpg in an abbreviated 2008-09 season.  He hasn't been named to the All-Star Game at this point in his career, but at 28, it's not too late.  Unlike Jefferson, Josh Smith (ATL, SF/PF, 6'9"-225, Oak Hill Academy, #17) has seldom been accused of playing bad defense. That's his main calling card, although a look at his 2012-13 numbers (17.2 ppg, 8.6 rpg, 4.3 apg) point to another player who gets a lot of plaudits for his versatility.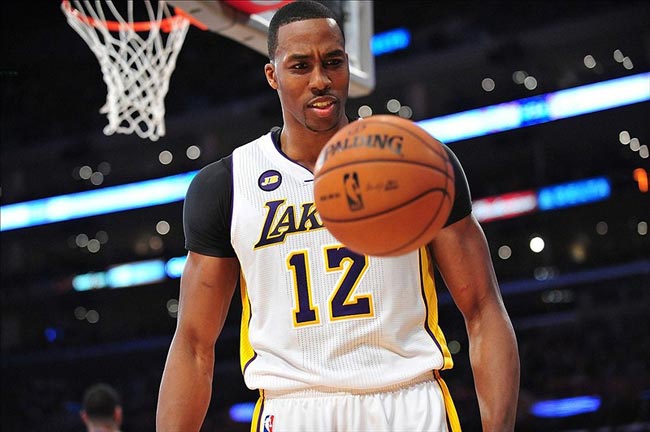 March 17, 2013; Los Angeles, CA, USA; Los Angeles Lakers center Dwight Howard (12) reacts during a stoppage in play against the Sacramento Kings during the first half at Staples Center. Photo Credit: Gary A. Vasquez-USA TODAY Sports.

THE BUST – We can excuse Shaun Livingston (LAC, PG, 6'7"-182, Peoria Central HS, #4) for failing to live up to the hype – he did, after all, suffer a career-threatening (thought to be career-ending) injury at a very young age.  But not Rafael Araujo (TOR, C, 6'11"-280, BYU, #8), who wasn't very good at all.  Despite starting 41 of 59 games as a rookie, "Hoffa" averaged just 3.3 ppg and 3.1 rpg, and it was downhill from there, with his NBA career ending after just three underwhelming seasons.  Not only did he turn out to be severely overrated after a productive college career – Araujo also struggled with his weight, which made an already unathletic player even more of a lumbering sort on the court.

THE STEAL – Maybe we can also consider Kevin Martin (SAC, SG, 6'7"-185, Western Carolina, #26) among the Class of '04's honorable mention picks.  However, he's seen his role diminish in recent years, mostly due to injuries.  Playing for a still-talented Sacramento lineup in his rookie year, Martin was hardly used, and, for some time, looked destined to be the next of many big-time college scorers to fail to average anywhere close to the same numbers in the pros.  That changed in 2006-07, when Martin broke out with a 20.2 ppg season.  He's only averaging 14.3 ppg now, but is nonetheless a key player for the Oklahoma City Thunder as the team's sixth man and designated off-the-bench scoring threat.

Read more at:
What do you think?

We'd love to hear your comments and/or opinions. If you submit them here, other visitors can read them, rate them and comment on them. An e-mail address is not required.