NBA Draft Weekly Rewind: 1984
By Lorenzo Tanos

So we've come to the draft that so many basketball fans consider to be the best of all time. 1984, after all, was the year when Michael Jordan, Charles Barkley, Hakeem Olajuwon and John Stockton were drafted. These men are now in the Basketball Hall of Fame, and having said that, they will all be exempt from my Draft Rewind's discussion of "The Best" Besides, there's no question about it. In terms of statistics, intangibles, overall impact and championship rings, Michael Jordan wasthe Best of the 1984 Draft. And his fellow Hall of Famers from the class of '84 have won their share of individual awards through the years.
Also, to give you a spoiler, we're not considering Sam Bowie as "The Bust", even if the Blazers selected him right before His Airness. Let's give the guy a break, no pun intended – he was injury-prone in college and in the pros, but he had several good years as a starting center. Yes, he was a bit of a bust, in my opinion, but there were a few other Top 10 picks in '84 who had more disappointing careers.

So we shall leave you with the complete Draft list from Basketball Reference…and my choices for The Best, The Bust, The Steal, and more interesting NBA Draft trivia.

http://www.basketball-reference.com/draft/NBA_1984.html

THE TOP PICK – Hakeem Olajuwon (HOU, C, 7'0"-230, Houston) – He's got two NBA rings, numerous All-NBA, All-Defensive Team and All-Star Game appearances and an MVP award from the 1993-94 season. With the exception of DikembeMutombo, there wasn't a better defensive center than Olajuwon in the '90s. And he happened to be a very good scorer too, topping out at 27.8 ppg in '93-94.

THE BEST NOT TO MAKE THE DREAM TEAM and/or HOF – Kevin Willis (ATL, C/F, 7'0"-220, Michigan St., #11) – Admit it, there were times when you thought this guy would play until he was past 50. Well, he played till he was 44, and for the first 11 years of his career, Willis was one of the NBA's premier rebounders and inside scorers. As he grew older, he stuck around as a quality role player, which reduced his career averages significantly. Still, he has a slight edge over the other top candidates for this honor, Otis Thorpe (see below for some Draft trivia on Thorpe and the Kansas City Kings) and Sam Perkins, on account of his 22-year NBA career (1984-05, 2006-07). Yes, that's right – most 2006 and 2007 draftees weren't born yet when Willis played his first NBA game.

THE BUST – Lancaster Gordon (LAC, SG, 6'3"-185, Louisville, #8) – The Clippers, drafting for the first time as an L.A.-based team, dropped the ball with this one. (Then again, the last quality SG in this draft, Alvin Robertson, was picked at #7 by the Spurs, right before Gordon.) The highlight of Gordon's four-year NBA career was a 33-point effort off the bench in 1987, in a no-bearing game pitting the hapless Clippers versus the Playoffs-bound Portland Trail Blazers. Gordon averaged 5.2 ppg in those four seasons, a fraction of what a certain Michael Jeffrey Jordan averaged in 15 years.

The late Mel Turpin (WAS, C, 6'11"-280, Kentucky, #6) takes second "honors" here. Weight problems led to a disappointing pro career for the man known as "Dinner Bell Mel" and "The Mealman."

THE STEAL – Jerome Kersey (POR, F, 6'7"-210, Longwood, #46) – A strong defender who was capable of playing both forward positions, Kersey was selected out of tiny Longwood College in Virginia. He played a key role on some very good Blazers teams, and even if he bounced around a bit (5 teams over his last 6 seasons) late in his career, he deserves recognition as another example of small-college success in the NBA.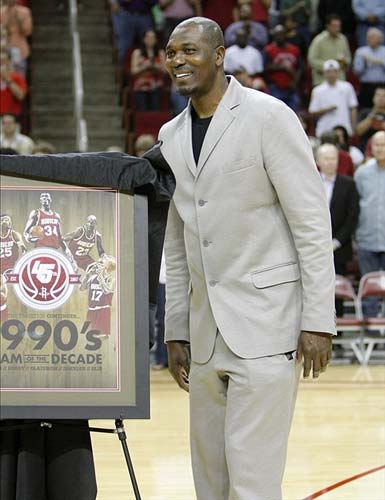 TRIVIA:
Otis Thorpe (#9, Kansas City) was the last first-rounder ever drafted by the Kansas City Kings before they moved to Sacramento. He was also the last Kansas City King to retire, when he ended his NBA career in 2001. In 17 seasons, he averaged 14.0 ppg and 8.2 rpg.
Twin brothers Vern and Victor Fleming were both drafted early in '84 – Vern at #18 by the New Jersey Nets and Victor at #26 by the Portland Trail Blazers. Vern enjoyed a 12-year NBA career for several teams, while Victor never played in the big leagues.
Gary Plummer – no, not the NFL linebacker – was Golden State's 2nd round pick at #45. A 6'9" power forward, he played in the 1984-85 NBA season for the Warriors, and only returned to the NBA eight years later, suiting up for Denver in 1992-93. And these weren't mere cameo appearances on an NBA roster – Plummer played 60 or more games in both his NBA stints.
Ron Anderson (#27, Cleveland) was all of 26 years old when he played his first NBA game in 1984.
Bobby Parks (#58, Atlanta) never played in the NBA, but achieved legendary status as one of the best Americans to play in the Philippine Basketball Association. His son, Bobby Ray Jr., was a Rivals Top 150 high school player who is currently starring for National University in the Philippines.
Current Dallas Mavericks coach Rick Carlisle was selected in the third round by Boston, and was mainly used by the Celtics as a third-stringer. Obviously, he's had a lot more success as an NBA head coach.
Legendary Brazilian forward Oscar Schmidt was drafted by the New Jersey Nets 131st overall, in the sixth round. Many still wonder at what he could've achieved had he signed with an NBA team.
Ending this trivia section on a sad note, last overall pick Dan Trant (#228, BOS) was one of the victims of the 9/11 tragedy of 2011. He was working as a bond trader for Cantor Fitzgerald when the tragedy struck.
Read more trivia at NBA Trivia: Boston Celtics.
More NBA Draft Rewind Articles:
What do you think?

We'd love to hear your comments and/or opinions. If you submit them here, other visitors can read them, rate them and comment on them. An e-mail address is not required.