NBA Draft: Draft Rewind 1986
By Lorenzo Tanos

Alright, it's time for the last Draft Rewind we'll be having for some time, as I'll be focusing on the rest of the NBA previews moving forward. Same goes for the college and pro trivia, which will be riding the bench until November. If there's a Hall of Shame for NBA Draft classes, two of them would come to mind immediately – the Class of '86 and the Class of '00. Drugs, injuries and death (second overall pick Len Bias) made the 1986 NBA Draft class go down in infamy, although it's not like there weren't any good apples in this mostly rotten bunch. So here it is, fellow basketball history geeks – the 1986 NBA Draft at a glance, with the complete draft listing available courtesy of Basketball Reference.
(PS – Out of respect, and due to the fact he didn't play a single NBA game, I didn't even consider naming Len Bias as THE bust of the Class of '86, or a bust, period. Although as you'll find out in a bit, there are a lot of worthy choices for this unworthy distinction.)

http://www.basketball-reference.com/draft/NBA_1986.html
THE TOP PICK – Brad Daugherty (CLE, C, 7'0"-245, North Carolina) – Call him soft and injury-prone if you would, but Daugherty was a vital part of the "Cleveland Cadavers" rise from the NBA grave. Daugherty teamed up with fellow '86 draftees Mark Price and Ron Harper, John "Hot Rod" Williams and Craig Ehlo to turn the Cavs into contenders, although not quite champions – His Airness made sure that wasn't going to happen. Daugherty retired after just eight NBA seasons, posting averages of 19.0 ppg, 9.5 rpg and 3.7 apg.

THE BEST – It should've been Daugherty if not for his injury problems. Dennis Rodman (DET, PF, 6'8"-220, Southeastern Oklahoma St., #27) is far more memorable for his weird, outlandish antics and occasionally disruptive nonconformity, but for eight straight years he led the NBA in rebounding, averaging between 14.9 and 18.7 boards a game between 1991 and 1998. That, and his defense, more than made up for his serious shortcomings on the offensive end. The second-best player from the Class of '86 was also a second-rounder – Mark Price (DAL, PG, 6'0"-170, Georgia Tech, #25). Jeff Hornacek (PHO, G, 6'3"-190, Iowa State, #46) was the second to the last pick in the second round – he arguably had the third-best career in this class. That's more evidence pointing to how bad the first round of the 1986 Draft was. And this also brings us right to…

THE BUSTS – Take your pick. There's Chris Washburn (GSW, C, 6'11"-220, North Carolina St.), the third-overall pick who got minutes befitting a third-string center. William Bedford (PHO, C, 7'0"-225, Memphis, #6) couldn't even win a starting job from an aging Alvan Adams, though he did, at least, win a championship ring as one of the least-used Detroit Pistons in the 1989-90 season. Roy Tarpley (DAL, F/C, 7'0"-240, Michigan, #7) didn't play like a bust, but he could've played for more than just six seasons if the NBA hadn't found out so often about his little problem with illegal substances. Drugs screwed up their careers, 'nuff said.

Drugs weren't to blame for the following players' lack of NBA success – they just weren't very good. We're referring to Kenny Walker (NYK, SF, 6'8"-200, Kentucky, #5), a player far more memorable for his hairdo than anything else he did as an NBA forward. This would include Brad Sellers (CHI, PF, 7'0"-210, Ohio State, #9), probably the weakest-rebounding seven-footer in NBA history. Pearl Washington (NJN, PG, 6'2"-190, Syracuse, #13) kept his legend in the playgrounds of New York, as he was only capable of three mediocre NBA seasons. And Ken Barlow (LAL, PF, 6'9"-210, Notre Dame, #23), didn't even play in the NBA. See what I mean? 1986 set a new standard for "epic fail" NBA Drafts. And we haven't even mentioned players like John "Hot Plate" Williams (#12, WAS) and Walter Berry (#14, POR) who acquired "bust" status despite having some productive early seasons.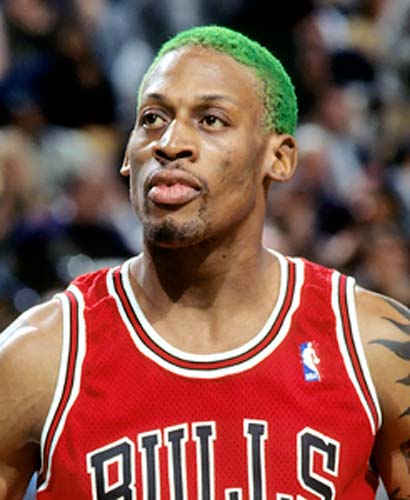 THE STEAL – DrazenPetrovic (POR, SG, 6'5"-195, Croatia, #60) –Petrovic was a hardly-used source of instant offense as a Blazer, and when he joined the Nets midway through the 1990-91 season, almost every other team in the NBA wished they had paid a little more attention to the international scouting reports. Petrovic was an extremely accurate three-point shooter (44% career) who lit up the court for a half-season as the Nets' top backcourt reserve and another two seasons as their high-scoring starting SG. He was tragically killed in a car accident on June 7, 1993, just a few months shy of 29.
TRIVIA:
Before the Celtics' Paul Pierce was given the nickname by Shaquille O'Neal, Walter Berry (#14, POR) was the first NBA player nicknamed "The Truth" – this, as you may have learned in the Big East trivia article, dated back to his days with St. John's. Yes, he was also a small forward.
Milt Wagner (#35, DAL) is the father of 2002 lottery pick (and eventual lottery bust) Dajuan Wagner. Take away Dajuan's decent rookie season and Milt would have arguably the more impressive career. He averaged 4.1 ppg in two NBA seasons.
Baskerville Holmes (#68, MIL) never played in the NBA, but was in the news early in 1997, when he and his girlfriend were involved in a tragic murder-suicide allegedly fueled by drugs and depression. Holmes was only 32.
Tim Kempton's (#124, LAC) father Vince was the 1961 Draft's "Mr. Irrelevant" at 107th overall.
Bobby Lee Hurt (#121, GSW) was also drafted by the Warriors in 1985, albeit much higher at #42. This was because he was unable to agree with the Warriors on terms in '85, hence retaining his amateur status.
I'm too young to remember whether he had much "upside" as a Duke Blue Devil, but college basketball/NBA Draft analyst Jay Bilas did get drafted by an NBA team, at #108 by the Dallas Mavericks.

More NBA Draft Rewind Articles:
What do you think?

We'd love to hear your comments and/or opinions. If you submit them here, other visitors can read them, rate them and comment on them. An e-mail address is not required.