Weekly NBA Draft Rewind: 1996
By Lorenzo Tanos

Best draft class in NBA history?  Well, there's the Class of '84, which produced Michael Jordan, Hakeem Olajuwon, Charles Barkley, John Stockton, Hall of Famers all.  The argument continues between '84 and '96, but what's definite is the Class of '96's acknowledged status as the best draft class of the 1990s.  And it's a class that may produce its share of Hall of Famers once the likes of Allen Iverson, Kobe Bryant, Ray Allen and Steve Nash become eligible.  Here's this week's Draft Recap, spotlighting that magical year when quite a few future legends, most of whom are still in the NBA, were drafted.

http://www.basketball-reference.com/draft/NBA_1996.html

THE TOP PICK – Just as promised, Allen Iverson (PHI, PG/SG, 6'0"-165, Georgetown) was "The Answer" to the Philadelphia 76ers' prayers, though it took three seasons and a new head coach for the Sixers to finally have a winning season.  He was definitely controversial during his NBA run, had his share of legal problems, and his "Practice" rant against then-Sixers coach Larry Brown is arguably the most notorious NBA rant of all time.  But despite his polarizing qualities, AI was a great NBA player, the best-scoring point guard of his generation and, if he ever makes a comeback to the big leagues, he may still be good enough to reach the 25,000 career points threshold. 

THE BEST – Together with Kevin Garnett, a certain Philly-area schoolboy served as a game-changer in the mid-'90s, a player who helped open the floodgates for players declaring for the NBA Draft straight out of high school, for better or for worse.  Kobe Bryant (LAL, SG, 6'6"-200, Lower Merion HS, #13), was a Lakers reserve as a teen, but it didn't take him long to emerge as the closest the NBA has to a so-called "Next Jordan."  As we said, there's only one MJ, and likewise, there's only one Kobe – at the age of 34, the Black Mamba is still one of the NBA's top scoring threats, and a beacon of consistency on the talented, yet extremely disorganized 2012-13 Lakers team.

HONORABLE MENTION – Aside from Iverson, three other players deserve honorable mention status in this draft class, based on both productivity and longevity.  Indeed, Marcus Camby (TOR, C/F, 6'11"-220, Massachusetts, #2) and Ray Allen (MIN, SG, 6'5"-205, Connecticut, #5) are still in the NBA, and still contributing off the bench for their respective teams.  Steve Nash (PHO, PG, 6'3"-195, Santa Clara, #15) is still in the top half of starting point guards.  Camby's career didn't quite start out with a bang – yes, he was playing quite well, but he still struggled to adapt to the NBA game as a skinny youngster playing against much beefier 7-footers.

He would come out of his shell at the dawn of the new century, turning into a regular double-double contributor and one of the NBA's best defensive big men and shotblockers.  Allen, who was traded to Milwaukee after being drafted by the Wolves, started out as one of many "Next Jordan" candidates, but nonetheless became best-known as the owner of arguably the NBA's sweetest shooting stroke, and a constant threat to score 30 points and up on any given night.  And Nash was a back-to-back MVP in 2004-06, a player who had a slow, inconsistent start before emerging as the best playmaker in the NBA since John Stockton.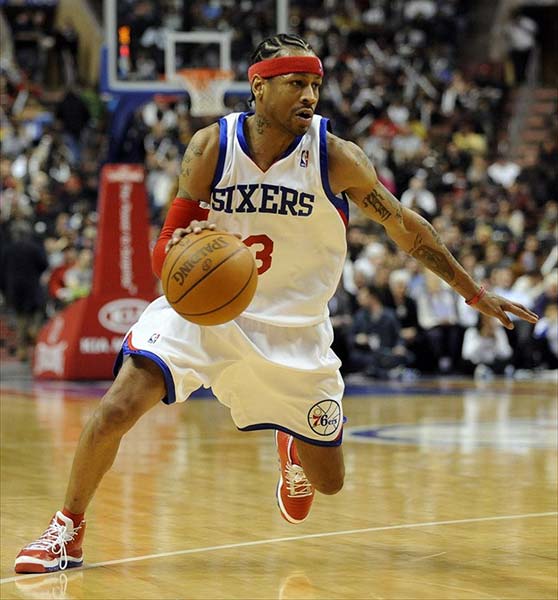 THE BUST – At least Samaki Walker (DAL, F/C, 6'9"-250, Louisville, #9) had a long career as a backup big man.  No, not the type of career you'd imagine from a lottery pick, but he was serviceable.  Todd Fuller (GSW, C, 6'11"-250, North Carolina St., #11) was an abject failure.  Ironically, he was a pretty safe pick – 20-10 guy for the Wolfpack, played all four years, filled a need for the traditionally center-poor Warriors.  And he had a nice start, scoring double figures in four of his first six NBA games.  Unfortunately, it was downhill from there on in.  Fuller spent five years as an NBA journeyman, a third-stringer for the most part, and unquestionably the biggest flop in the 1996 Draft.

THE STEAL – Only a die-hard college basketball fan would have been familiar with Derek Fisher (LAL, PG, 6'1"-200, Arkansas-Little Rock, #24), who was selected ahead of more prominent names such as Jeff McInnis, DoronSheffer and even former high school phenom Randy Livingston.  Still, he had a better career than the aforementioned second-rounders and big-name college stars, emerging as the Lakers' regular starting point guard in 2002-03 and as one of the NBA's top clutch players.  And he's still at it, most recently as Darren Collison's backup on the Dallas Mavericks.

More NBA Draft Rewind Articles:
What do you think?

We'd love to hear your comments and/or opinions. If you submit them here, other visitors can read them, rate them and comment on them. An e-mail address is not required.