NBA Weekly Draft Rewind: 2002
By Lorenzo Tanos
The NBA Draft class of 2002 wasn't too big on high schoolers, as only Amar'eStoudemire was picked straight from the prep ranks.  But this was a draft better known as one of the more international-heavy classes in history, with Georgia's NikolozTskitishvili, Brazil's Nene Hilario, Slovenia's BostjanNachbar and the Czech Republic's Jiri Welsch all selected in the Top 20.  Only Nene has had what you can call a truly successful career among these four.  Still, the years to follow would be even heavier on high school kids and international stars – 2002 was just the beginning of the boom times for non-U.S. NCAA players, so to say.
http://www.basketball-reference.com/draft/NBA_2002.html
THE TOP PICK – If not for nagging foot and ankle injuries that ended his career at 30, Yao Ming (HOU, C, 7'6"-310, China, #1) would almost surely be dominating most NBA centers even up to now.  He started out slow, going scoreless in his first game and playing behind journeyman Kelvin Cato, but it didn't take him long to get himself acclimatized to the American style of basketball.  When he did, it was good enough for eight All-Star games, five All-NBA second or third team appearances and career numbers of 19.0 ppg, 9.2 rpg and 1.9 bpg in eight NBA seasons.
THE BEST– Yao would have probably been the top "graduate" of the Class of 2002 if he'd stayed healthy, but as far as overall accomplishments go, Amar'eStoudemire (PHO, F/C, 6'10"-245, Cypress Creek HS, #9) has a slight edge.  That said, he's also had an injury-filled career, missing almost all of 2005-06 and making a remarkable comeback to average 25.2 ppg and 9.1 rpg just two years later – his career-best scoring average was 26.0 ppg in 2004-05.  This season, he's been used exclusively off the bench by the New York Knicks due to the usual injury issues, but at 30 years old, he may have several good years left in him before he retires.
HONORABLE MENTION – We'll have to go with Yao and the first player you'll be seeing under the Steals section – Carlos Boozer – as honorable mention choices for the Class of 2002.  Then again, Caron Butler (MIA, SF, 6'7"-217, Connecticut, #10) had three brilliant years for the Washington Wizards, from 2006 to 2009, where he averaged over 20 ppg twice and played in two All-Star Games.  He's since reinvented himself as a three-point specialist of sorts for the Los Angeles Clippers, though far from the dynamic scorer he was as a Wizard.
THE BUST – The success of players like Dirk Nowitzki inspired many an NBA team to be on the lookout for the next big thing from the Euro basketball scene.  For a while, NikolozTskitishvili (DEN, SF/PF, 7'0"-220, Georgia, #5) looked like the next Dirk.  Tall guy, nice outside shot, "ridiculous upside."  But it was apparent from Day One that "Skeeta" wouldn't enjoy the same success that Nowitzki was, at that time, already enjoying for the Dallas Mavericks.  In fact, he wouldn't even be a success, period.  Tskitishvili was out of the NBA at 23, after a four-year career with four NBA teams and his rookie year (3.9 ppg, 2.2 rpg in 16.3 mpg) being the high point of his disappointing NBA run.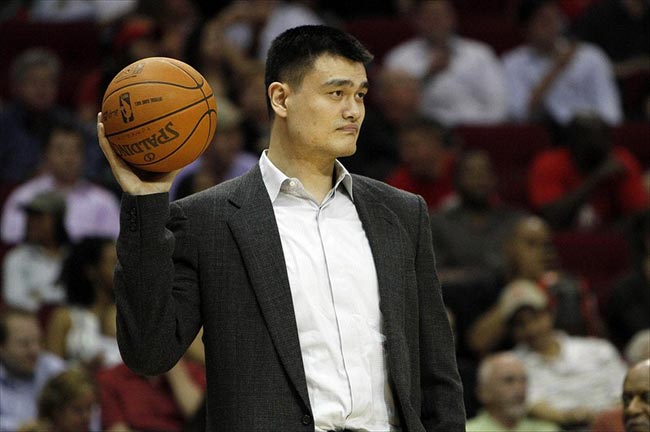 Apr 11, 2011; Houston, TX, USA; Houston Rockets center Yao Ming (11) on the sidelines against the Dallas Mavericks in the fourth quarter at the Toyota Center. The Mavericks defeated the Rockets 98-91. Photo Credit: Brett Davis-USA TODAY Sports.
THE STEALS –  Two second-rounders from 2002 remain viable double-double threats as of the 2012-13 season, and continue to exceed any initial expectations suggested by their draft positions.  Carlos Boozer (CLE, PF, 6'9"-258, Duke, #34) had an impressive three-year career for the Blue Devils in college, but his lack of defense (and some say, his lack of height) caused him to slip down into the second round.  Still, Boozer was a contributor right from the start, and his 20-10 days as the Utah Jazz's starting power forward only solidified the belief he may have fallen much farther in the 2002 Draft than expected.  His defense remains a problem, but Boozer still plays an important role for the Bulls as part of one of the Eastern Conference's best frontcourts. 
Luis Scola (SAS, PF, 6'9"-245, Argentina, #55) was another late-draft international pick by the Spurs, who continued showing why they're the best when it comes to selecting international players in the Draft.  However, he was traded to the Houston Rockets in 2007, when he was finally ready to make his NBA debut, and what a solid debut it was.  He had his best NBA season in 2010-11, with 18.3 ppg and 8.2 rpg.  Scola is only in his sixth NBA season at the age of 32, and while his performance has slipped since joining the Phoenix Suns, he's still a steady big man who scores and grabs rebounds quite well and, as a bonus, makes his free throws.
Read more at:
What do you think?

We'd love to hear your comments and/or opinions. If you submit them here, other visitors can read them, rate them and comment on them. An e-mail address is not required.