NBA Draft: Weekly Draft Rewind 1992
By Lorenzo Tanos

No question about it, this was one talented draft class. The Class of 1992 gave us two of the most skilled young centers of the '90s, Shaquille O'Neal and Alonzo Mourning, and also featured the only college player in the 1992 Dream Team, Christian Laettner. Of course, there were a few clunkers in this brilliant class, but what draft class doesn't have a few bad apples here and there? We shall now go back 20 years in time to revisit the 1992 NBA Draft and see what went right…as well as the few things that went wrong.

http://www.basketball-reference.com/draft/NBA_1992.html
THE TOP PICK/THE BEST – The only things he couldn't do were shoot free throws…and act. Some may also say rap, but most will agree that free throw shooting and thespian ability weren't among Shaquille O'Neal's (ORL, C, 7'1"-325, LSU) "Skillz." He was, however, a dominant force as an inside player, and led the league twice in scoring, once for the Magic (29.3 ppg in 1994-95) and once for the Lakers (29.7 ppg in 1999-00). It was in that season when he won his first and only NBA MVP award, but had he played in a less talented generation of NBA players, he could have won more. And though it's arguable he may have stayed a couple years too many in the NBA, he's a cinch for the Hall of Fame in a couple years.

HONORABLE MENTION – If it wasn't for an assortment of injuries, including kidney problems that took him out for all of 2002-03, Alonzo Mourning (CHA, C, 6'10"-240, Georgetown, #2) could have had a career very close to that of Shaq. Instead, he had eight dominant seasons for the Hornets and the Heat, including two straight Defensive Player of the Year awards in 1998-99 and 1999-00. When Mourning returned to the NBA in 2003-04, he was no longer the same player he was on both ends of the floor, though nonetheless a competent veteran who put up solid, yet unspectacular numbers. Mourning's post-kidney transplant years, incidentally, included some points where he was O'Neal's backup center on the Miami Heat.

THE BUSTS – For all his failures to live up to expectations, Christian Laettner (MIN, PF, 6'10"-220, Duke, #3) had what you could call a successful NBA career. Todd Day (MIL, F/G, 6'6"-180, Arkansas, #8) did not. Except for his third NBA season (16.0 ppg, 3.9 rpg) when he seemed poised for a breakout, Day was far from the dynamic talent he was as an Arkansas Razorback, and a lot of it had to do with attitude. For his career, Day averaged only 12.3 ppg and 3.4 rpg, with a horrid shooting clip of 41%. Harold Miner (MIA, SG, 6'5"-210, USC, #12) was an even bigger bust. The player known as "Baby Jordan" was a much better dunker than basketball player from the get-go; he did win the 1993 and 1995 Slam Dunk Contest at the NBA All-Star Weekend, but at the end of the day, he was mostly a one-dimensional scorer who didn't deserve his high draft selection.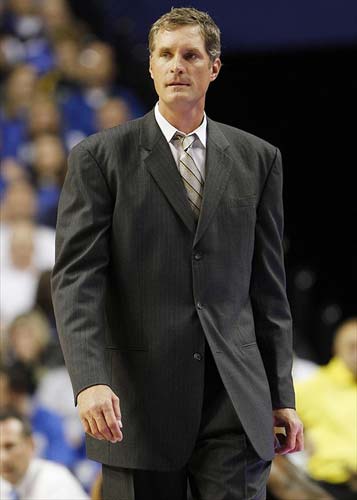 THE STEAL – Latrell Sprewell (GSW, SG, 6'5"-190, Alabama, #24) had far less hype than Day and Miner and wasn't even a cinch to be drafted in the first round. But the Warriors took a late first-round chance on the Alabama shooting guard and were richly rewarded with explosive scoring and stingy defense (career-best 24.2 ppg, 4.6 rpg and 6.3 rpg in 1996-97), that is, until he infamously choked Warriors coach P.J. Carlesimo early in the 1997-98 season. After that, he joined the New York Knicks and closed his career with the Minnesota Timberwolves. Though his production slipped a bit following his years in Golden State, Sprewell played well enough to ensure himself a spot as the definitive steal of the 1992 Draft and one of its best products, period.

More NBA Draft Rewind Articles:

What do you think?

We'd love to hear your comments and/or opinions. If you submit them here, other visitors can read them, rate them and comment on them. An e-mail address is not required.