NBA Weekly Draft Rewind: 1998
By Lorenzo Tanos

The Kandi Man.Vinsanity.Tractor.White Chocolate.Bonzi.  Oops, that was his actual nickname.  These are just some of the players who were drafted in 1998, which was certainly an improvement over the talent level in the 1997 Draft, but not quite up to 1984, 1996 or 2003 standards.  As it turned out, the first pick would soon become part of "Who's Worse" draft bust discussions, while the best players from this class included a German import, two North Carolina teammates, a second-generation point guard (Mike Bibby) and the second high-profile draftee in recent NBA history to be nicknamed "The Truth."

http://www.basketball-reference.com/draft/NBA_1998.html
THE TOP PICK – If there's a reason why NBA teams are hesitant to pick fourth-year seniors first overall in the NBA Draft (or even in the lottery for that matter), here's the main reason.  Michael Olowokandi (LAC, C, 7'0"-269, Pacific) was so unimpressive and raw in his first season, with meh averages of 8.9 ppg, 7.9 rpg and a pathetic 43% from the field.  When you're a seven-foot center drafted as a potential franchise changer, you have no business starting for five years if your shooting percentage fluctuates between 43 and 44%.  The closest Olowokandi had to a decent season was his contract year with the Clippers, in 2002-03, where he averaged 12.3 ppg, 9.1 rpg and 2.2 bpg in an abbreviated 36-game campaign.  Upon joining the Timberwolves one season later, those numbers were practically cut in half.  Let's face it – he may have been the best NBA player ever out of Pacific University, but when it came to being a successful pro center, the Kandi Man Kan't.

THE BEST – We've featured a lot of so-called "next Jordans" in these past few draft classes.  But this player was probably the closest to living up to being the "next Larry Bird."  That said, Dirk Nowitzki (MIL, PF, 7'0"-237, Germany) is a one-of-a-kind player who was unfairly compared to an earlier NBA legend.  And he seems to be on the way to having a Hall of Fame-caliber career more so than most of his other 1998 draftees.  At first, there wasn't much separating the two rookies that were the principals in the legendarily lopsided trade that send Nowitzki to Dallas and Robert Traylor to Milwaukee.  But by his second season, the big German was showing his all-around versatility and scoring/shooting ability.  Injuries have slowed him down as of late, but he's still got quite a bit left in the tank at 34.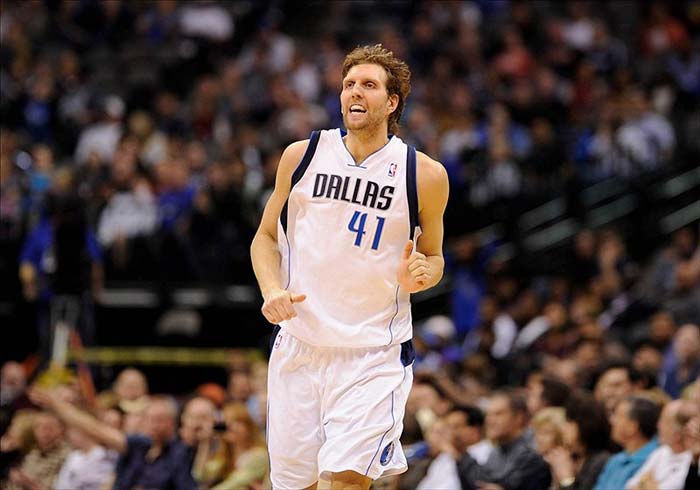 HONORABLE MENTION – Three players come to mind here, starting with Paul Pierce (BOS, F/G, 6'6"-230, Kansas, #10), who's spent almost all of his 15-year career as Boston's go-to guy on offense.  "The Truth" is another player who should be in the Hall soon after he retires.  Vince Carter (TOR, F/G, 6'6"-215, North Carolina, #5) continues to soldier on despite being more of a perimeter-oriented player than the high-flyer who posterized Frederic Weis of the French national team (we'll get to him in a couple weeks) in the 2000 Olympics.  He's not the scoring machine he was as a Raptor or as a Net, but "Vinsanity" is arguably the Mavericks' most reliable reserve at this point in his career.  Lastly, Carter's Tar Heels teammate Antawn Jamison (GSW, PF/SF, 6'9"-223, North Carolina, #4) was a consistent 20-10 threat for most of 1999 to 2012 and one of the best-shooting big men of the past few years.

THE BUST  – As Robert Traylor (DAL, F/C, 6'9"-284, Michigan, #6) is no longer with us, I think we can give him a pass as '98's biggest draft bust.  Yes, even if he's who the Milwaukee Bucks ended up with and not Dirk Nowitzki.  Because of where he was picked in 1998, we're going with the top overall pick (see above) as the biggest bust in this class.

THE STEAL  – It's a pity Cuttino Mobley (HOU, SG, 6'4"-190, Rhode Island, #41) had to retire early, otherwise we'd have co-winners of this title for 1998.  Instead, we have Rashard Lewis (SEA, SF, 6'10"-215, Elsik HS, #32) as 1998's biggest steal, and the best of the three high school players selected in that year's Draft.  Like most of the players mentioned here who weren't busts, Lewis is still in the NBA, no longer posting 20 ppg seasons like he did with the (original?) Seattle Supersonics, but at 33, he's a bit too young to be a past-his-prime role player, never mind that it's serving as one of the many long bombers on one of the NBA's best teams.


Here's More NBA Draft Rewind Articles:
What do you think?

We'd love to hear your comments and/or opinions. If you submit them here, other visitors can read them, rate them and comment on them. An e-mail address is not required.