Top Wide Receivers for 2011 NFL Draft
The wideout class of 2011, although not as deep as in years previous, provides us with a select crop of elite talents - full package players with size, speed, and hands to complement their freak athleticism. I see as many as five potential first rounders throwing their names into the draft hat this weekend and you'll probably see upwards of 30 rookie receivers wearing the hats of their newfound franchises proudly on the 1st of May. Here are the top-10 wide receivers in the 2011 draft class.
1. A.J. Green, Junior - Georgia
-For the last three years the college football world has been dominated by the 6'4", 212lb, athletic-freak of nature that those in Bulldog Nation call A.J. Green. Green is quick to disengage a block, physical in jump ball scenarios, and never fails to come up with the big catch in crucial situations. He's easily the most dominant wideout the NCAA has seen since Calvin Johnson Jr. left Georgia Tech in 2007. Green stockpiled 66 receptions for over 2,500 yards and 23 scores, 9 of which he accumulated in 2010 while only participating in 9 games. Mark my words, Green will be a star in this league and is probably the safest pick of the first round. Expect him to be taken in the 4-7 range to either Cincinnati or Cleveland.
Here's our Aj Green jersey
2. Julio Jones, Junior – Alabama
-We all knew how good Julio Jones was before the 2010 season. A 6'4" playmaker that happened to be the driving force behind the defending national champs' offense looked provocative enough to earn a stamp of approval from any critic. Then came the combine; Jones blazed through the finish line en route to a 4.39 second 40-yard dash while also impressing in the broad jump (11'3") and the 60-yard shuttle (11.07 seconds). Julio revealed later in the week that he had participated in these combine events while nursing a fracture in his foot, which will require surgery serious enough to hold him out of the front end of the 2011 season. Nevertheless, Jones's skills will be hard to pass up on and whoever lands this phenomenal talent will cash in his talents for years to come.
Shopping for a Julio Jones jersey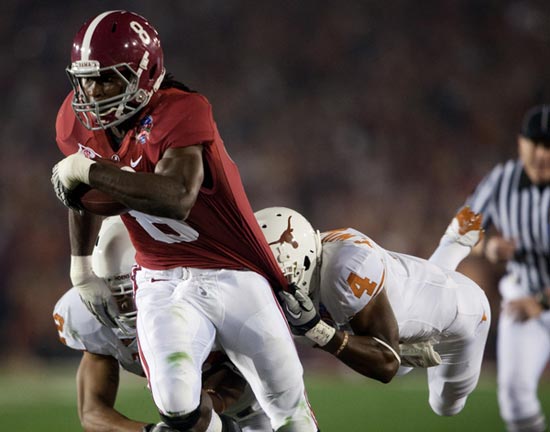 Wide receiver (8) julio Jones of the Alabama Crimson Tide catches a pass, makes a first down and is tackled by (4) Aaron Williams
of the Texas Longhorns during the first half of the 2010 BCS Championship Game at the Rose Bowl in Pasadena, CA.
---
3. Jonathan Baldwin, Junior – Pitt.
-Never before has the importance of a tall, redzone-reputable receiver been so coveted in this league. Player's like Vincent Jackson, Calvin Johnson, and Brandon Marshall have all confirmed how lethal these types of athletes can be with their inclining production. Baldwin's size and strength are as reputable as any in this draft class and his clutch playmaking ability will salivate the mouths of waiting GMs late in the first round.
4. Torrey Smith, Junior – Maryland
-A monstrous Junior season has catapulted this diminutive talent into the upper-echelon of prospects being considered in the late first round. Smith showed blazing speed while eclipsing 1,000 receiving yards this season and eliminated any questions from my mind when he ran a 4.43 40-yard dash at the NFL combine. Smith probably won't have to wait until Friday to hear his name called and he should see plenty of green during his rookie season.
5. Austin Pettis, Senior – Boise St.
-As the premier threat in the multi-dimensional passing attack that was Boise State's offense, Pettis caught 71 passes and accounted for 10 scores. The 6'3" All-WAC selection is not only a dangerous vertical threat, but also a superb route-runner whose soft hands attracted many targets from Heisman candidate, Kellen Moore. Expect to see Pettis in a slot role at the next level.
Looking for a Randy Moss jersey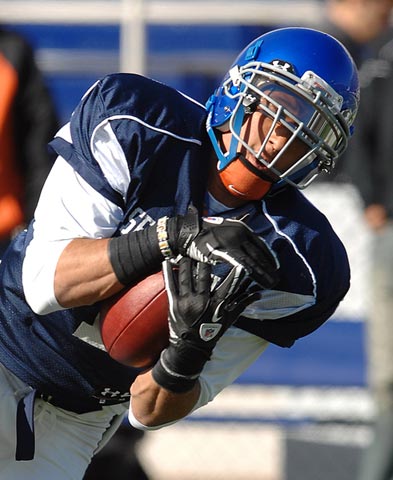 Wide receiver #1 Austin Pettis of Boise State during the Senior Bowl's North Team Practice at Ladd-Peebles Stadium in Mobile, Alabama.
---
6. Edmund Gates, Senior – Abilene Christian
-Gates's prodigious combine is what is suddenly propelling his draft stock into the clouds. His big number was 4.31 – his 40-yard dash time, which was the fastest amongst receivers and 4th fastest overall. Gates also showcased phenomenal athleticism in other drills, recording a 40-inch vertical leap and a 10'11" long jump. Regardless of the competition he faced, Gates absorbed 66 passes, totaling 1,182 yards and wowing scouts nationwide.
7. Titus Young, Senior – Boise St.
-The Broncos' 4-year starter tore up the blue turf during his tenure at Boise State, culminating in lavish numbers including 204 receptions, over 3,000 yards, and 25 touchdowns. Young has the stature to be a cardinal threat at the next level, while his dazzling speed helped him to three consecutive All-WAC selections. Expect him to be taken in the early-mid 3rd round.
We've got your Andre Johnson jersey
8. Jeff Maehl, Senior – Oregon
-The lanky possession receiver from Paradise, CA exploded during his Senior season, accounting for over 1,000 air yards and 12 TDs. A colossal performance against Auburn in the National Championship Game cemented his status as an early 3rd day pick with incentive to go as early as round two. To me, Maehl shows more upside than any wideout in this class. A perfect balance of the big three attributes – strength, speed, and hands – would make me excited to get him on my roster.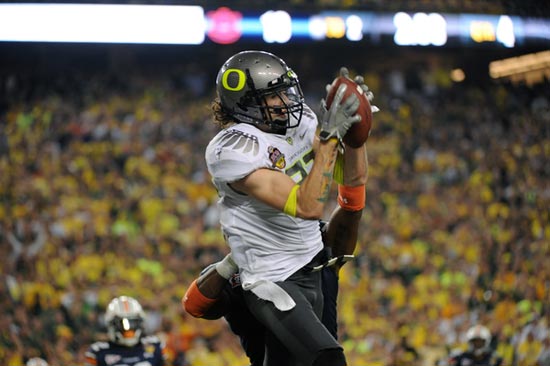 Oregon Ducks WR Jeff Maehl (23) catches a game-tieing 2-point conversion late in the 4th quarter during the Oregon Ducks
game versus the Auburn Tigers in the BCS Championship Game at University of Phoenix Stadium.
---
9. Armon Binns, Senior – Cincinnati
-Binns dominated the competition in the Big East during his Junior and Senior seasons, displaying impressive stats despite sharing targets with former UC star, Mardy Gilyard. Binns finally eclipsed the 1,000-yard mark in 2010, attracting a whopping 75 receptions and displaying ample agility en route to 10 scores. Binns was one of the key components in the dynamic Cincinnati offense that finished amongst the best in the nation, torching opposing defenses for nearly 39ppg in 2009. Standing at 6'3", Binns is big enough to split out and be an every-down #1 or #2 while maintaining the slim physique at only 210lbs to act as a possession receiver in the slot. Binns should come off the board mid-way through the 3rd day.
10. Terrence Toliver, Senior – LSU
-Alas the list closes with yet another jump-ball fiend, multi-talented and skilled in the art of high-pointing a football. A four-year letterman, Toliver was heavily reliant on his 6'5" stature while acting as the Tigers' prevalent offensive weapon during his tenure. His prime prestige is his body type, which is more than enough to earn a second look in the draft room. However, while lacking the superb speed that is expected of an NFL wide receiver, Toliver will need to add some muscle and drop some ticks from his 4.52 40-time.
Thanks to Eric Caldwell for this article about the Top Wide Receivers in this year's NFL draft.
Other 2011 NFL Draft Articles:
---
---
What do you think?
We'd love to hear your comments and/or opinions. If you submit them here, other visitors can read them, rate them and comment on them. An e-mail address is not required.
---
From Top Wide Receivers for 2011 NFL Draft to NFL Football Blog | Sports Blog | NCAA Football Blog | NFL Football Archives | College Football Archives | MLB Baseball Blog | College Baseball Blog | MLB Baseball Archives | NBA Basketball Blog | NCAA Basketball Blog | NBA Basketball Archives | NCAA Basketball Archives | Fantasy Football | Fantasy Basketball | Fantasy Baseball | Soccer Archives | Olympics Archives | Stupid Athletes Archives | Other Archives | Football Forum | Basketball Forum | Baseball Forum | NFL Football Store | NBA Basketball Store | MLB Baseball Store | NCAA Football Store | NCAA Basketball Store | NCAA Baseball Store | Fatheads | NFL Football Tickets | NBA Basketball Tickets | MLB Baseball Tickets | NCAA Football Tickets | NCAA Basketball Tickets | NCAA Baseball Tickets |
---
Home Page
About Us | Contact Us | Site Search | Advertise | Terms of Use |
---