2011 NFL Draft Top Offensive Line Prospects
The class of 2011 spawns numerous Senior offensive linemen whose appearance can be summed up in two words....REALLY BIG. These experienced and well-decorated blockades have seemingly been molded from clay to be NFL starters, and in today's league, you can't put a price on a potent protector. Here are my top offensive line prospects in the 2011 draft class.
1. Gabe Carimi, Senior - Wisconsin
-Talk about potential! The Big Ten Offensive Lineman of the Year/2010 Outland Trophy recipient has all of the physical attributes to be one of the best trench warriors to ever grace a gridiron. Hard to miss while towering at 6'7" and nearly 330lbs, Carimi stood out even amongst the nation's most applauded offensive line. Working against the best pass rushers that the Big 10 had to offer only propels his stock even higher, proving he can handle NFL caliber players as if they were toothpicks. While the big guy isn't without his flaws, a little coaching-up can transform him into the ideal left tackle. His upper body strength, protracted arms, and unparalleled instincts make him one of the top-5 overall players in the 2011 draft class and once some minor lapses in his footwork are corrected, he'll show the world where the career of a future Hall-of-Famer starts.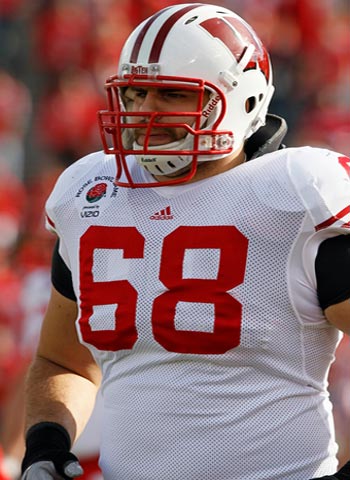 Wisconsin Badgers offensive linesman Gabe Carimi #68 during the NCAA Football 97th Rose Bowl Game at the Rose Bowl in Pasadena, CA.
---
2. Anthony Castonzo, Senior – Boston College
-The BC career starts leader hits the draft board with top-5 potential and a body of work that even p90x can't give you. The 2010 Campbell trophy finalist is perhaps the most athletic 300+ pound man I've ever laid eyes on, scooping inside and hitting a blitzing backer before he can make it to the line of scrimmage and then taking on a safety 30 yards down field on the same play. Also an exquisite pass-blocker, Castonzo has the range to manhandle a DE or check off the block to the guard and hinge-step into a blitzing nickelback. Standing a little narrow at 6'7" and 305lbs, Castonzo could stand to add a little waist before the draft to up his stock.
3. Mike Pouncey, Senior – Florida
-If his twin brother Maurkice's success is any indicator of how bright this kid's future is, there won't be a single question as to whether or not he'll be the first interior lineman taken. The former Lakeland Dreadnaught is equipped with the full package – brains, brawn, and a killer instinct. Words can't describe how difficult it is to pull from the center position, which Pouncey perfected while running the Gun Sweep this season. His spherical body was the perfect tool for low-pointing guys on the 2nd level while his footwork would impress even a ballet instructor. Although Pouncey showed that snapping the ball wasn't exactly his Forte, an NFL coach would have to be out of their gourd to put him anywhere but guard at the next level. I see him going as early as 15th in April's draft.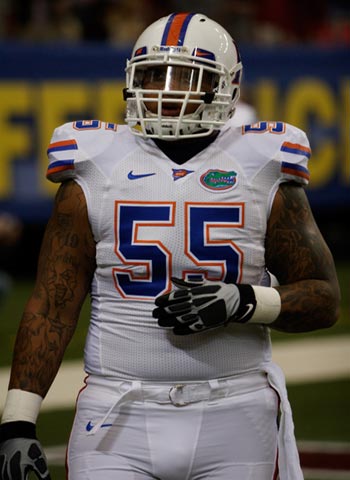 Florida's Mike Pouncey in pregame warmups in Alabama Crimson Tide 32-13 victory over the Florida Gators in the SEC Championship at the Georgia Dome in Atlanta GA.
---
4. Stefen Wisniewski, Senior – Penn St.
-Wisniewski, an academic All-American, frontiered a Nittany Lions' offensive front that was responsible for 142.5 ground yards per game in 2010. This incredibly bright young man interchanged between center and guard throughout his 4-year occupancy in Happy Valley, displaying his versatility and aptitude. 303lbs is more than enough to keep scouts' hearts thumping and his brilliant footwork makes his tape a work of art.
5. Joseph Barksdale, Senior – LSU
-Easily one of the most underrated players in college football, Barksdale has been making a living shielding his ever-rotating quarterbacks from the best pass rushers the SEC has to offer. Mountainously hovering at 6'6" and 318lbs, the 4-year letterman simply overpowers the majority of his opposition and has surprising speed, allowing him to make key blocks downfield. I've got two major concerns regarding Barksdale - clumsy footwork and unstable discipline. Venturing from assignments and repetitively taking bad paths to blocks will get him chewed out in training camp, but I believe these issues are correctible, and Joseph Barksdale's rewards far out-weigh his risks.
6. Nate Solder, Senior – Colorado
-Durable as a Buffalo and twice as combative, Solder earned All-American honors during his Senior season at Colorado while participating in every single offensive snap. In fact, he participated in approximately 99.99% of the snaps from the first game of his Sophomore year to the 45-17 loss to Nebraska to finalize college career. Some people have Solder as the best available OT but in my opinion, he just looks to skinny on film to hold his own against an elite pass-rusher at the next level and he needs to learn to block with a much lower center of gravity.
7. Derek Sherrod, Senior – Mississippi St.
-At 6'6" 305lbs, Sherrod is a well-rounded prospect without a blemish on his resume. Leading the way for Anthony Dixon, the SEC's second leading rusher in 2009, Sherrod made a serious statement as one of the offensive prospects in the country and turned the heads of NFL scouts abroad. An All-American snub, Sherrod will surely be an early-to-mid 2nd round pick with potential to boost his stock at the combine.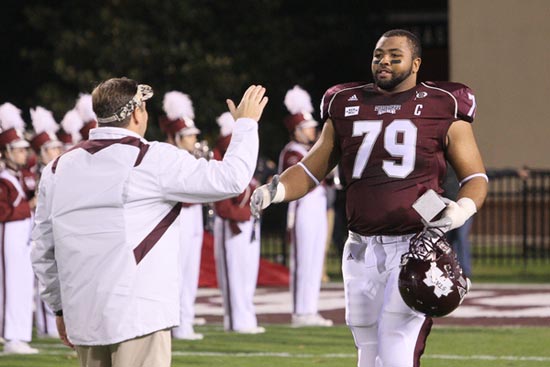 Dan Mullen and Derek Sherrod - Arkansas edged out Mississippi State in double overtime at Davis Wade Stadium on Scott Field in Starkville, Mississippi.
---
8. Rodney Hudson, Senior – FSU
-Although undersized, Rodney Hudson's ferocious drive-block and near-perfect technique make him a highly sought after interior prospect. Also not without his decorations, Hudson took home the ACC's Jacobs Blocking Award and was awarded candidacy for the Lombardi and Outland trophies. Only sporting a 282lb frame, he's going to need to hit the fridge more than a few times before draft day to up his stock. He's got the footwork, he's got the smarts, he just needs to show scouts that he can eat with the big boys.
9. Tyron Smith, Junior – USC
-Smith, although displaying a vast array of talents and phenomenal athleticism during his Junior year, last tipped the scales at a skimpy 285lbs. Many experts have him as a surefire first-rounder but I have major concerns regarding the character of a man who lacks experience, is twigged by most NFL D-linemen, and struggled to remain academically eligible during his tenure at the already tedious University of Southern Cal.
10. Marcus Gilbert, Senior – Florida
-Aside from being mentored by some of the most decorated linemen in the nation, Marcus Gilbert managed to wiggle into the starting lineup at guard during his Sophomore year and Urban Meyer always seemed to have a place for the 6'5", 320lb waling blockade ever since. He has the quickness to play guard, the footwork to play left tackle, and the physical attributes to break into a starting lineup in the NFL. Watch for Gilbert to attract a lot of hungry eyes on day 3 of the draft.
Thanks to Eric Caldwell for this article about the top offensive line prospects in this year's NFL draft.
---
2011 NFL Draft Articles:
---
What do you think?
We'd love to hear your comments and/or opinions. If you submit them here, other visitors can read them, rate them and comment on them. An e-mail address is not required.
---
From 2011 NFL Draft Top Offensive Line Prospects to NFL Football Blog | Sports Blog | NCAA Football Blog | NFL Football Archives | College Football Archives | MLB Baseball Blog | College Baseball Blog | MLB Baseball Archives | NBA Basketball Blog | NCAA Basketball Blog | NBA Basketball Archives | NCAA Basketball Archives | Fantasy Football | Fantasy Basketball | Fantasy Baseball | Soccer Archives | Olympics Archives | Stupid Athletes Archives | Other Archives | Football Forum | Basketball Forum | Baseball Forum | NFL Football Store | NBA Basketball Store | MLB Baseball Store | NCAA Football Store | NCAA Basketball Store | NCAA Baseball Store | Fatheads | NFL Football Tickets | NBA Basketball Tickets | MLB Baseball Tickets | NCAA Football Tickets | NCAA Basketball Tickets | NCAA Baseball Tickets |
---
Home Page
About Us | Contact Us | Site Search | Advertise | Terms of Use |
---