2011 NFL Draft Running Back Prospects
The 2011 running back class doesn't include many superstars, but rather a large crop of talented young men whose NFL future's broadcast a career of effective role-playing. All of the prospects on this list excelled, however quietly, in the art of the balanced attack. These backs can handle a heavy workload, line up in the slot, and maintain their own unique style while doing it. (*Indicates underclassman yet to declare.)
1. Mark Ingram, Junior – Alabama
-We've all heard this name before. The 2009 Heisman Trophy winner cemented his place in Tide history by claiming the award his alma mater had coveted for over 70 years. But the award isn't the only attractive component of this well-rounded back's resume - Ingram accounted for over 3,000 rushing yards in his three years rolling with the Tide, and added a fresh coat of lipstick to this already sexy compilation by sanctioning close to 700 receiving yards. Ingram is a surefire 1st round pick, Pro-Bowler for years to come, and clearly the best running back that 2011 has to offer.
We've got your Mark Ingram jersey
2. DeMarco Murray, Senior – Oklahoma
-Murray's versatility may be the attribute that earns him 1st round money but his toughness and determination are unquestionable and often overlooked. Over his 4-year tenure at Oklahoma, Murray battled his way through contact on over 900 total touches while accounting for more total offense than another notable Sooner, Adrian Peterson. If these facts aren't convincing enough, the one stat that truly plays testament to DeMarco Murray's discipline is the big blank box where his career fumbles total should be. I would be shocked to see Murray fall out of the 1st round especially with teams like Green Bay and New England looking for a complementary running back.
Alabama running back and Heisman Trophy winner Mark Ingram, Jr. at the White House during the BCS national
champion Crimson Tide's visit. Thanks to Dlz28 from Wikipedia.org for this great picture of Mark Ingram.
---
3. Dion Lewis, Sophomore – Pitt.
-Dion Lewis represents all of the small, physical, bowling balls that have rolled through the odds and went on to have successful NFL careers. His 5'8'', 195lb frame didn't stop him from earning All-Freshman team honors in 2009, nor did it prevent him from eclipsing the 1,000-yard rushing mark in consecutive seasons at Pitt. Ball security has never been an issue for Lewis either, as he's yet to fumble the ball during his short career. Lewis will need to bulk up if he wants to break the starting lineup on an NFL roster, and may slide to the bottom of the 3rd round because of inexperience but I think whoever cashes in on this dynamic back will be getting a top-15 value for dirt cheap.
Shopping for a Adrian Peterson jersey
4. Ryan Williams, Sophomore – Va. Tech
-Williams would be ranked much higher had it not been for a sophomore season plagued by injury and a huge drop in touches. Williams's skill set is dazzling as he shows a flavorful burst, limitless vision, and a succulent variety of cutbacks worthy of an early 2nd round selection. His quickness was firmly on display during his Freshman season, and it was the success he achieved in that same year that will pave the path to a bright future for this young man.
5. Daniel Thomas, Senior – K-State
-The 2-year Wildcats' starter is rocketing up draft boards due to his impressive size and stature. Standing boldly at 6'2'' and 225lbs, Thomas has the power to crash through the line of scrimmage while still maintaining the agility to make defensive backs miss downfield. However, fumbles have been a major issue for the otherwise overwhelming Senior and I can't foresee anyone taking a chance on him with and early pick. I expect him to fall somewhere in the mid-2nd to early 3rd round range.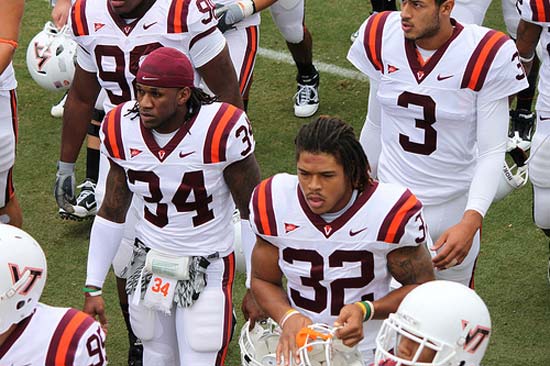 Thanks to Tech Sports from Flickr.com for this great picture of Ryan Williams (#34).
---
6. John Clay, Junior – Wisconsin
-The best power back to crash the draft boards since LenDale White in '06, Clay's 255lb wrecking ball of a body is nearly impossible to bring down. This authoritative runner still managed to stumble past the 1,000-yard mark in 2010 despite splitting carries in a three back carousel. I've got to play critic by denoting the talent that Clay had lined up in front of him. That big, physical unit up front consistently opened up holes you could have driven an SUV (or John) through, but he'll still draw high praise from team's in need of a short yardage/goal line back picking in the late 2nd round.
Looking for a Chris Johnson jersey
7. Mikel Leshoure, Junior – Illinois
-Big Ten box defenders have nightmares about this guy's tree trunk legs constantly thrashing about and concussing them as they get kicked around like a soccer ball. Leshoure broke out in a flashy way in 2010, running for over 1500 yards, averaging approximately 8.75 yard per touch, and infiltrating the endzone 17 times in the process. Kiper has him as a mid-late 1st rounder but I have serious concerns about his speed, agility, and durability. You can't be an every-down power back in the NFL if you can't take 16 games worth of hits.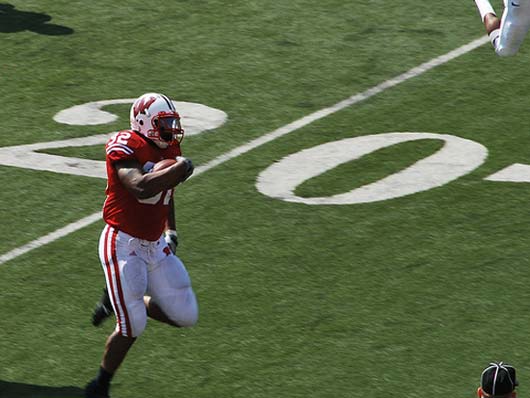 Thanks to Neil Staeck from Flickr.com for this great picture of John Clay's big TD run.
---
8. Stevan Ridley, Junior – LSU
-He didn't touch the ball much during his 1st two years in Baton Rogue, but when you watch this kid on film the one thing that sticks out like a third dimension is his effort. I'm stamping him as the hardest working back in this class – whether he's keeping a sharp eye in pass protection or taking the draw on 3rd and long Ridley is always going 100mph and looking for contact at the end of the play. This kid's work ethic will earn him some major props at the next level and he'll definitely see his fair share of touches.
9. Jordan Todman, Junior – UConn
-While maintaining an unusually petite physique, Jordan Todman has managed to keep his body in top form and keep the injury bug zapped while rushing for 1,000 yards in back-to-back seasons. You can't summon any concerns about his intangibles, but it's the extra-curriculars that have me concerned. To be frank, he's a very poor blocker and is anything but sure-handed when it comes to the screen game.
10. Kendall Hunter, Senior – Oklahoma St.
-This petite but agile Cowboy jarred open opposing defenses when healthy, but a barrage of tweaks including a fairly severe ankle injury suffered during his Junior season put his draft stock in jeopardy. Hunter needs to spend a lot of time in the weight room if he's going to boost his potential by the time the combine roles around.
2011 NFL Draft Articles:
---
What do you think?
We'd love to hear your comments and/or opinions. If you submit them here, other visitors can read them, rate them and comment on them. An e-mail address is not required.
---
From 2011 NFL Draft Running Back Prospects to NFL Football Blog | Sports Blog | NCAA Football Blog | NFL Football Archives | College Football Archives | MLB Baseball Blog | College Baseball Blog | MLB Baseball Archives | NBA Basketball Blog | NCAA Basketball Blog | NBA Basketball Archives | NCAA Basketball Archives | Fantasy Football | Fantasy Basketball | Fantasy Baseball | Soccer Archives | Olympics Archives | Stupid Athletes Archives | Other Archives | Football Forum | Basketball Forum | Baseball Forum | NFL Football Store | NBA Basketball Store | MLB Baseball Store | NCAA Football Store | NCAA Basketball Store | NCAA Baseball Store | Fatheads | NFL Football Tickets | NBA Basketball Tickets | MLB Baseball Tickets | NCAA Football Tickets | NCAA Basketball Tickets | NCAA Baseball Tickets |
---
Home Page
About Us | Contact Us | Site Search | Advertise | Terms of Use |
---