NFL Draft Sleepers
With the NFL draft quickly approaching the union not able to reach an agreement by the deadline NFL teams are going to have to enter the draft with little if any help from free agency. With players retiring and players not living up to there expectations teams often look for free agents with NFL experience but this year teams are going to most likely rely on young football players with no professional experience.
In this years draft their are a lot of big names in this draft such as Cam Newton, Nick fairley, and AJ Green players who are undoubtedly going in the first round but there are players who may be nabbed in the 2nd 3rd or even 4th round who may be just as NFL ready or perhaps even more NFL ready. Players like Christian Ponder quarterback out of Florida state who I feel could come into the NFL and start in a year or less. Ponder standing 6-3 weighing 227lbs has a sharp throwing motion ,a quick release, and the mentality of a mature NFL quarterback.
Ponder who is considered by Jimbo Fisher as one of the best quarterbacks he has ever coached boast a 3.7 GPA and commits to community service which is a nice sign that this kid will keep out of trouble. The only downside to Ponder is he is coming off of shoulder surgery and scouts may not believe he can sustain many hits in the NFL but many teams also believed with Sam Bradford's injury history that he could be a liability in their organization. If I was an owner in the NFL I would definitely take a gamble on Ponder just on his attitude and love for the game.
Teams such as the Chicago bears and the Atlanta Falcons who could use some help on the defensive line but don't have a high enough pick to get players such as Fairley or Da'quan Bowers those teams could trade up to get a higher pick but that is not likely. What these teams need to do is find a player they are comfortable with to run their system that they can snatch in the later rounds an example of a player such as this is Phil Taylor Defensive Tackle out of Baylor University. Taylor standing at 6-4 weighing 340lbs is a huge presence in the middle and can undoubtedly overwhelm an offensive lineman. Taylor also comes with some impressive credentials he was named All-Big 12 defensive 2nd team and is rated 10th in defensive tackles by Phil Steele he has started 22 of his 25 games at BU and has not missed a game do to injury which is an important factor to NFL scouts all in all Taylor could be a huge steal in this upcoming draft.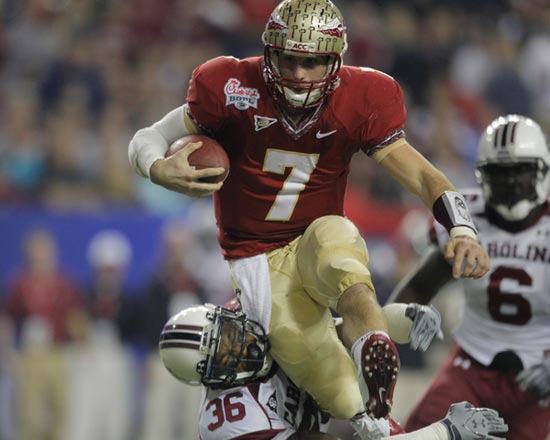 Florida State Seminoles quarterback Christian Ponder (7) leaps over South Carolina Gamecocks safety D. J. Swearinger (36)
at the Georgia Dome in Atlanta, GA.
---
We've got your Cam Newton jersey
Another big team need this season is wide receivers teams such as the Cleveland Browns and the Washington Redskins who've been lacking extraordinary talent at that position for years now. The browns receivers are young where as the Redskins receivers are getting old. In this years draft there is enough rookie receiving talent to hold off and wait until A later pick and address your other needs first. Talents including Dane Sanzenbacher out of Ohio State University and Jon Baldwin out of the University of Pittsburgh. Sanzenbacher only 5-11 and weighing a mere 180lbs is a small yet talented receiver was a 3rd- year letterwinner and an amazing impact on the buckeyes offense. He is a tough receiver created for the slot position he can make immaculate receptions and is great after the catch.
Shopping for a Blaine Gabbert jersey
Although I do not believe Dane could start his first professional year I do believe with experience he could be an amazing player in the future he is an intelligent team spirited player who would be a perfect pick-up for any NFL organization. Onto Jon Baldwin who unlike Sanzenbacher is a big target standing 6-5 weighing 250lbs Baldwin is built to play this sport. Baldwin averaged 19.5 yards per catch and was one of only three receivers who passed the one-thousand yard receiving mark. He was a 2009 Big East All-Academic Football Team honoree. This kid has great hands and amazing route running ability and would also be a steal for whatever team that nabs him up.
With teams not being able to even attempt to look in free agency right now this off-season rests on the scouts shoulders finding one of these diamonds in the rough will not only help a team but it would also make a team feel more comfortable not being able to pick up free agents this off-season. It's only a matter of time until the annual NFL draft gets here so now all we can do is wait and hope that the NFL reaches an agreement and teams will not simply have to depend on the draft.
Thanks to Nicholas Anderson for this article about the Sleepers in this year's NFL draft.
Other 2011 NFL Draft Articles:
---
What do you think?
We'd love to hear your comments and/or opinions. If you submit them here, other visitors can read them, rate them and comment on them. An e-mail address is not required.
---
From NFL Draft Sleepers to NFL Football Blog | Sports Blog | NCAA Football Blog | NFL Football Archives | College Football Archives | MLB Baseball Blog | College Baseball Blog | MLB Baseball Archives | NBA Basketball Blog | NCAA Basketball Blog | NBA Basketball Archives | NCAA Basketball Archives | Fantasy Football | Fantasy Basketball | Fantasy Baseball | Soccer Archives | Olympics Archives | Stupid Athletes Archives | Other Archives | Football Forum | Basketball Forum | Baseball Forum | NFL Football Store | NBA Basketball Store | MLB Baseball Store | NCAA Football Store | NCAA Basketball Store | NCAA Baseball Store | Fatheads | NFL Football Tickets | NBA Basketball Tickets | MLB Baseball Tickets | NCAA Football Tickets | NCAA Basketball Tickets | NCAA Baseball Tickets |
---
Home Page
About Us | Contact Us | Site Search | Advertise | Terms of Use |
---