NBA Deal Reached: Now What?
Today, the NBA and the Players Association reached a tentative deal on a new Collective Bargaining Agreement for professional basketball! This is very exciting but questions remain: what does the new agreement look like and how will it change the NBA?
The details of the new agreement are sketchy but it looks similar to the proposal voted down by the Players Association two weeks ago. The basketball related income (BRI) splits will hover right around 50/50 and the biggest system change will be simplification of the cap rules and loopholes combined with a much stiffer luxury tax penalty.
The simplification of the league's cap rules and harsher taxes translates to more freedom to spend but at a very stiff price. The old CBA had a series of complicated, arcane loopholes designed to give teams the ability to resign their own stars and improve their rosters while in tax territory through the "exceptions" contracts. Now, those contracts will exist but in a much smaller form. Teams will be able to trade more easily (because it will be easier to comply with simpler cap rules) but it will be difficult, if not impossible, for any teams to sign impact free agents if they are already spending close to, or more than, the cap number. In plain English, that means teams like the Lakers and Mavericks will be severely hamstrung by their larger, old CBA contracts but big market teams like the Bulls and Knicks with leaner balance sheets will have interesting opportunities.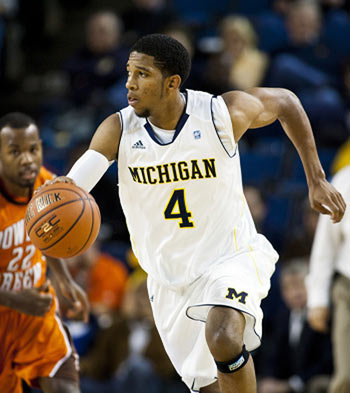 Michigan guard Darius Morris (4) breaks away in a college basketball game between Michigan and Bowling Green at Crisler Arena in Ann Arbor, Michigan. Morris was selected by the Los Angeles Lakers with the 41st pick of the 2011 NBA Draft.
---
On the player's side, there will be more freedom of movement but contracts will get shorter and smaller over time. With owners ever conscious of a near-unbreakable tax ceiling, they will be not tie themselves up in contracts over four years for anyone but a true superstar. However, players will get a significant piece of a growing revenue pie and of the NBA's overseas interests, which should keep the money flowing their way.
What about the fans? Now that a deal has been struck, free agency and training camp will begin in a week or so, which should result in some entertaining blooper videos of very out of shape players. No doubt Kobe Bryant will be in top shape but stars with a less stellar fitness history could be the butt of many jokes. The season itself should begin December 25th, which is exciting for fans and good for basketball. At 65 games (or so), it will be long enough to keep most of the NBA's new fans (and old die hards) and stave off what could have been a terrible public relations disaster if an entire season was missed!
Read More About The NBA Lockout:
---
What do you think?

We'd love to hear your comments and/or opinions. If you submit them here, other visitors can read them, rate them and comment on them. An e-mail address is not required.
---
From NBA Deal Reached: Now What? to NBA Basketball Blog | Sports Blog | NFL Football Blog | NCAA Football Blog | NFL Football Archives | College Football Archives | MLB Baseball Blog | College Baseball Blog | MLB Baseball Archives | NCAA Basketball Blog | NBA Basketball Archives | NCAA Basketball Archives | Fantasy Football | Fantasy Basketball | Fantasy Baseball | Soccer Archives | Olympics Archives | Stupid Athletes Archives | Other Archives | Football Forum | Basketball Forum | Baseball Forum | NFL Football Store | NBA Basketball Store | MLB Baseball Store | NCAA Football Store | NCAA Basketball Store | NCAA Baseball Store | Fatheads | NFL Football Tickets | NBA Basketball Tickets | MLB Baseball Tickets | NCAA Football Tickets | NCAA Basketball Tickets | NCAA Baseball Tickets |
---
Home Page
About Us | Contact Us | Site Search | Advertise | Terms of Use |
---