Why did the NFL Succeed Where the NBA Failed?
By Paul Grossinger
Late Monday, NBA commissioner David Stern announced that the first two weeks of basketball's regular season will be cancelled. There is no agreement between the NBA and the Players Union so, come November 1st, basketball arenas will remain dark. Why did the NBA fail to save its entire regular season at the 11th hour when, only a few months ago, the NFL did just that?
Flashback to the summer and the NFL nearly faced the NBA's exact predicament: a lockout was in force and negotiations were approaching the deadline for an on time regular season with no resolution. Owners and players had engaged in hardball tactics for months and there was no resolution. But, faced with an angry fan base and unprepared to lose games to a work stoppage, owners and players hastily bridged their differences and came to a compromise agreement.
The irony is that, as David Stern was making his announcement, the NFL was broadcasting its weekly rendition of Monday Night Football. As NFL fans eagerly watch the resurgent Detroit Lions defeat the Chicago Bears, Stern simultaneously told reporters that NBA fans would be deprived of basketball. The irony was powerful but begs the question: what factors of the NBA's labor dispute made it more unsolvable than the NFL's?
Back in July, The Best Sports Blog wrote that, unlike the NFL's own labor stoppage, the NBA's would last "a long time." That piece, which can be found The NBA Basketball Lockout Will Last a Long Time, noted that the NBA's situation was more desperate. Basketball's Collective Bargaining Agreement (CBA) was unsound: players earned a guaranteed 57% of Basketball Related Income (BRI) and were paid guaranteed contracts with longer terms (5-6 years) and higher amounts (an average of 5-6 million each) than any other sport. Considering that basketball is only the third most popular sport in America-after football and baseball-that makes for serious revenue problems.
The NBA's guaranteed BRI system was particularly bad because, even if owners and general managers spent less in a given year, players still received their 57% share of income. Owners grew tired of sending this "unearned" check to players on top of their already high salaries. When compounded by their league's penchant for overvaluing and overpaying roll players well past their prime, such systematic expenses created serious financial losses for most teams despite rapid growth in basketball's popularity worldwide.
But the players faced a desperate situation as well: owner's operating losses in a serious national recession meant that they faced the possibility of a dramatic system overhaul. The NBA's players had, over time, earned the best CBA in sports and were understandably unwilling to meekly part with their benefits. Complicating the situation was the fact that, unlike football, basketball is a popular sport with rival leagues spread across the globe, which means that many of the NBA's players can find alternate employment in a lockout. With only 15 players across 30 teams, the NBA has less than 500 players. Many of them are financially secure, others can find employment outside the league's purview, and the rest can be taken care of temporarily by union funds. So, unlike the NFL's Players Union, the NBA also had some leverage that it was prepared to use.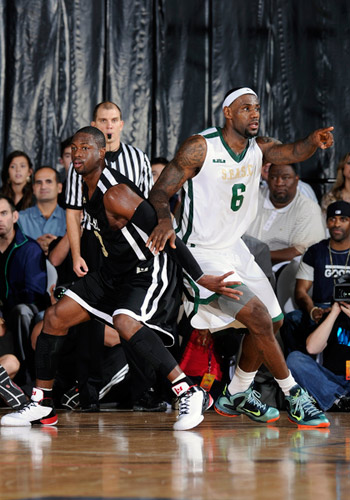 NBA player LeBron James is guarded by Dwyane Wade at the South Florida All Star Classic held at Florida International University's U.S. Century Bank Arena, Miami, Florida.
---
However, the main reason the two sides failed to reach an agreement was bungled leadership and an inability to compromise. NBA Players Union leader Billy Hunter failed to decertify the union, which was a serious legal mistake. Instead of gaining the ability to file anti-trust lawsuits and threaten owners with possible triple damages in the billions, the union sat on its hands and let the owners lock its players out with impunity. On the owners side, commissioner David Stern failed to learn from the 1999 lockout, which alienated NBA fans for over a half decade. The league's second lockout in ten years, at a time when its popularity and excitement are not at Jordan-era levels, will have serious consequences for the NBA's popularity for years to come.
The NBA failed because it lacked the negotiating pragmatism and realistic self-assessment of the NFL. Determined to use this opportunity to crush its own players, the NBA failed to compromise on a much better (but imperfect) agreement and save the entire season. Who knows what the ultimate consequences will be?
Read more about NBA Lockout Now Taking Away Games
Read more about Understanding the NBA's Lockout Terms
---
---
What do you think?

We'd love to hear your comments and/or opinions. If you submit them here, other visitors can read them, rate them and comment on them. An e-mail address is not required.
---
From Why did the NFL Succeed Where the NBA Failed? to NBA Basketball Blog | Sports Blog | NFL Football Blog | NCAA Football Blog | NFL Football Archives | College Football Archives | MLB Baseball Blog | College Baseball Blog | MLB Baseball Archives | NCAA Basketball Blog | NBA Basketball Archives | NCAA Basketball Archives | Fantasy Football | Fantasy Basketball | Fantasy Baseball | Soccer Archives | Olympics Archives | Stupid Athletes Archives | Other Archives | Football Forum | Basketball Forum | Baseball Forum | NFL Football Store | NBA Basketball Store | MLB Baseball Store | NCAA Football Store | NCAA Basketball Store | NCAA Baseball Store | Fatheads | NFL Football Tickets | NBA Basketball Tickets | MLB Baseball Tickets | NCAA Football Tickets | NCAA Basketball Tickets | NCAA Baseball Tickets |
---
Home Page
About Us | Contact Us | Site Search | Advertise | Terms of Use |
---