Lockout Impact on NBA Fans
The Fan in the NBA Lockout
By Paul Grossinger
My computer screen background slowly reddens as ESPN's homepage loads. I look briefly at the NBA page's feature article-complete with a large picture and a flashing "LIVE" button-and then scan the news articles for updates. The news update reads "NBA Owners and Players' Impasse Continues," I click on the link, and read the article slowly before shaking my head and emitting a grunt. The grunt is equal parts powerlessness, frustration, and annoyance. I am an NBA basketball fan in the LOCKOUT.
If there is no agreement by Monday, the first weeks of the NBA's regular season schedule will be canceled. Arenas will remain dark on November 1st, the currently scheduled opening day, and parking lots will be empty. Players will languish at home, working out, desperately trying to stave off muscle atrophy and mental boredom (I'm talking to you, Eddy Curry). And, on November 1st, the NBA's fans will begin to suffer from the basketball lockout.
There are lockouts and there are LOCKOUTS. The NFL's highly publicized labor dispute was a '˜lower-case' lockout because it was resolved before the start of the season. Despite the annoying, persistent nature of the updates of legal wrangling, judges' rulings, and rejected agreements, the fans did not suffer from football's '˜lockout' because no games were missed. When the time came to open my door for my friends, sit down in my armchair, crack open the beer fridge, and turn on the television, football was there.
What NBA fans, myself included, care about is that games are not missed. We read the daily news briefs, endure the endless pestering updates on SportsCenter, and stay informed because we care that basketball's season starts on time. At the moment, we are merely annoyed by the owners and player's wrangling; peeved that billionaires and millionaires could deprive us of basketball over a few percentage points of "BRI" (Basketball Related Income).
But, for the NBA fan in the lockout, everything will change if games are cancelled. Annoyance will turn to anger. A miffed, peevish attitude born out of care will turn into indifference and inattention. The feeling of, 'really, they cannot agree on a few percentage points come on,' will turn into, 'if they have no respect for my love of the game, why should I continue to watch?'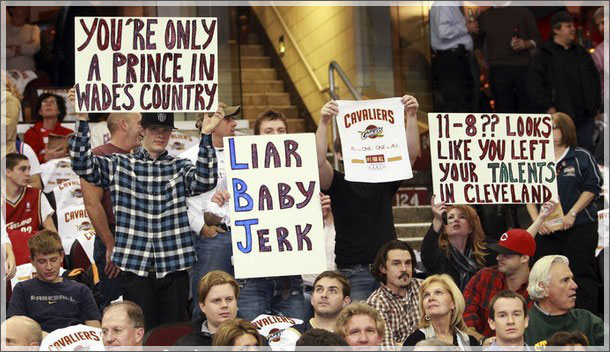 Thanks to www.chicagofabulousblog.com from Flickr.com for this great picture of NBA Fan.
---
The NBA fan in the lockout is outside of the realm of debate right now. Owners and players are wrangling over income splits, work-hours, employee freedom, contractual obligations, and countless other items but they are not discussing basketball fans. Despite statements to the contrary, NBA owners and players alike believe that the sport's fans will always be there; the diehards will tune in for opening day (whenever that is) and casual fans will trickle back in over time.
That is a critical mistake. The NBA fan whose concern drives him to pour over stale ESPN updates nightly is worthy of attention. He is the fan whose time, money, and care drive the basketball's record revenue and growth. He is the backbone of the sport's audience and its most avid marketer. And, if his interests are neglected, and his TV screen remains dark, that preoccupation and care will turn into anger and indifference.
The news briefs continue to roll in, an endless stream of updates saying exactly the same thing: the labor dispute is not over. The lockout is ever closer to becoming a LOCKOUT. Tired, worn out by the constant repackaging of the same news, Ileave the NBA homepage and click on the NFL link. Football is on and my hometown Bears are preparing for their game Sunday. I move on to MLB page where I read fresh news about the Cub's managerial search. I am intrigued by their progress. The NBA page remains stagnant and, as November 1st rolls by and my TV is dark and devoid of basketball, I turn on the football game instead. I flip to the World Series. I am an NBA fan but, in the LOCKOUT, it seems basketball is out of time and out of mind. When basketball starts again, will they bring me back?
Read more about Understanding the NBA's Lockout Terms
---
What do you think?

We'd love to hear your comments and/or opinions. If you submit them here, other visitors can read them, rate them and comment on them. An e-mail address is not required.
---
From Lockout Impact on NBA Fans to NBA Basketball Blog | Sports Blog | NFL Football Blog | NCAA Football Blog | NFL Football Archives | College Football Archives | MLB Baseball Blog | College Baseball Blog | MLB Baseball Archives | NCAA Basketball Blog | NBA Basketball Archives | NCAA Basketball Archives | Fantasy Football | Fantasy Basketball | Fantasy Baseball | Soccer Archives | Olympics Archives | Stupid Athletes Archives | Other Archives | Football Forum | Basketball Forum | Baseball Forum | NFL Football Store | NBA Basketball Store | MLB Baseball Store | NCAA Football Store | NCAA Basketball Store | NCAA Baseball Store | Fatheads | NFL Football Tickets | NBA Basketball Tickets | MLB Baseball Tickets | NCAA Football Tickets | NCAA Basketball Tickets | NCAA Baseball Tickets |
---
Home Page
About Us | Contact Us | Site Search | Advertise | Terms of Use |
---