NBA and Its Players Hit Mutually Assured Destruction Button
By Paul Grossinger
Nuclear winter has come to the NBA.
Last week, as the NBA Players Association reps stood in front of the microphone, rejected, the league's offer, and dissolved the union to make way for an antitrust lawsuit, my friends and I just sat there in disbelief. How did we get to this point and what are the consequences?
The road to mutually assured destruction began the moment the NBA and its players agreed to the recently expired Collective Bargaining Agreement. Everyone, the players included, now agrees that CBA disproportionally benefited the players and the annual losses incurred by the league's teams set the stage for the current mess. Now, both sides seem to have forgotten the golden rule of sports labor battles: if the product goes away, so does the revenue. And, if you are gone long enough, it doesn't come back.
Under the old CBA rules, the owners lost money for two reasons: they were giving the players 57% of total basketball related income and the agreement's rules encouraged teams to outbid one another for mediocre, overpaid players. The common refrain, from agents, players, and talking heads alike, has been "it's the owner's own fault because they didn't have to give out those bad contracts! No one made them do it!" That is partly true: some contracts, like 35 million dollars over five years for Josh Childress, are simply inexplicable. But most such contracts, including famous millstones like Gilbert Arenas' max contract and Carlos Boozer's deal, were dictated by the market. It's easy to forget that the Golden State Warriors offered Arenas more money and he came back to Washington for less and Boozer's deal was seen as a bargain when it was signed. The old CBA guaranteed long contracts in exchange for past performance and gave players such a high percentage of BRI that the owners were guaranteed to lose money-one way or the other.
But, the owners are hardly blameless: they let a half decade of frustration, lost profits, and pent up greed dictate their negotiations strategy. They tried to squeeze the players to the point of humiliation and, even when they got to a deal last week that would have created a profitable system with shorter contracts and a 50/50 BRI split, they tried to embarrass the players further by sticking them with bitter system changes. The result: a player revolt no one wanted, a decertification battle that will serve only lawyers, and an angry fan base that will leave basketball behind.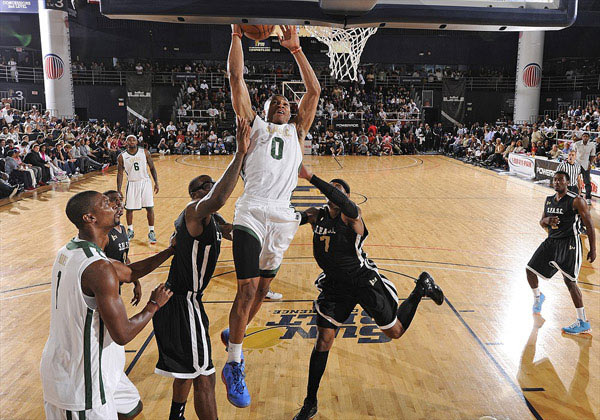 NBA player Russell Westbrook shoots at the South Florida All Star Classic held at Florida International University's U.S. Century Bank Arena, Miami, Florida.
---
NBA Basketball was worth three billion dollars last year. The system issues and 1% of BRI that split players and owners in the last days were worth about 100 million per year. That is 3% of the annual income pool. If you can find me a single economist who sincerely believes that the NBA's revenues will decrease less than 3% after a missed season, I will find you a 100 million myself! The reality is that the NBA's revenue pool will decrease significantly because of the missed games. If the NHL is any guide (and, contrary to popular belief, the NBA is a lot closer to the NHL than the NFL on the American fans' collective sports list) it will take the NBA a half decade to recover. By that time, they will be negotiating a new labor deal. So, from an economic perspective, this lockout makes no financial sense for either side.
The reality is that it was financial up to a point-but then it got personal. I am not, unlike some commentators, willing to attribute it to a racial battle. If that true-and that perception exists within the majority of either side, they it's sad and pathetic that we have reached that point as a society.
No, it's personal because the owners want to remind the players that they are employees. LeBron James' "Decision" was an affront to every owner's sense of control over their team and the subsequent antics of Carmelo Anthony and Deron Williams only reinforced the idea that players could dictate whatever they want in the "New NBA." As an owner, you can't run a business when your star players think that they run the place.
From their side, the players wanted to hang on to as much as possible and, when the owners' greed took over, they felt humiliated and rebelled. Pride took over from reason, which led to that disastrous press conference and decertification, instead of a revised proposal with tweaks and a subsequent labor deal. Players have their pride now but, if games are missed, they will never make the same money again….ever.
So it's personal. Unlike in the cold war, David Stern and Billy Hunter failed to install a "red phone" to avert the crisis and come to a peaceable agreement. The result: Nuclear Winter.
Read more about NBA Lockout:
---
What do you think?

We'd love to hear your comments and/or opinions. If you submit them here, other visitors can read them, rate them and comment on them. An e-mail address is not required.
---
From NBA and Its Players Hit Mutually Assured Destruction Button to NBA Basketball Blog | Sports Blog | NFL Football Blog | NCAA Football Blog | NFL Football Archives | College Football Archives | MLB Baseball Blog | College Baseball Blog | MLB Baseball Archives | NCAA Basketball Blog | NBA Basketball Archives | NCAA Basketball Archives | Fantasy Football | Fantasy Basketball | Fantasy Baseball | Soccer Archives | Olympics Archives | Stupid Athletes Archives | Other Archives | Football Forum | Basketball Forum | Baseball Forum | NFL Football Store | NBA Basketball Store | MLB Baseball Store | NCAA Football Store | NCAA Basketball Store | NCAA Baseball Store | Fatheads | NFL Football Tickets | NBA Basketball Tickets | MLB Baseball Tickets | NCAA Football Tickets | NCAA Basketball Tickets | NCAA Baseball Tickets |
---
Home Page
About Us | Contact Us | Site Search | Advertise | Terms of Use |
---