Dwight Howard Trade Reaction: The Magic is Gone From Orlando
By Lorenzo Tanos
Are the Orlando Magic committing basketball suicide?
Obviously, one will have to look at the ramifications of the recent four-team, 12-player trade that notably sent Dwight Howard to the Los Angeles Lakers, Andrew Bynum to the Philadelphia 76ers and Andre Iguodala to the Denver Nuggets. Now those are three teams that would certainly benefit from their new acquisitions. The Lakers now have the makings of a super-team capable of winning a 17th NBA title. The 76ers instantly improved their frontcourt - with Bynum manning the pivot spot, Spencer Hawes can replace Elton Brand at power forward, while Evan Turner can finally become a full-time starter and show his tremendous potential. The Nuggets would benefit from Iggy's versatility, athleticism and ability to contribute consistently on both ends of the floor. Now what about the Orlando Magic? What did they get for their troubles?
Unfortunately, they've got the makings of a lineup bound for the 2013 NBA Draft lottery. From the 12-player trade, the Magic got ArronAfflalo, Al Harrington, Christian Eyenga, Josh McRoberts, Nikola Vucevic and MoeHarkless. That's six newcomers in one go, but combine all six and you won't get the impact of one Dwight Howard. To his credit, Afflalo has improved consistently in each year he's been in the NBA - he's a skillful backcourt defender and underrated scorer. I believe he'll be a cinch to play better than Jason Richardson did last year at the two spot. J-Rich, who ended up with the Sixers after the recent mega-trade, was inconsistent and/or tentative in his two years with the Magic - after eleven seasons in the league, he's seen better days.
Then there's everyone else. The pickings are so slim at the four and five that Harrington has the best chance of starting at power forward. At this point in his career, he's best filling the role of an "instant offense" frontcourt guy off the bench - lots of points in 20-25 minutes a game, little of everything else, especially defense. Vucevic can compete with Glen "Big Baby" Davis to replace Howard as the starting center - there may be some potential in the second-year big man. Harkless, the rookie forward out of St. John's, is too raw to start. Eyenga and McRoberts are solid role players off the bench and little else.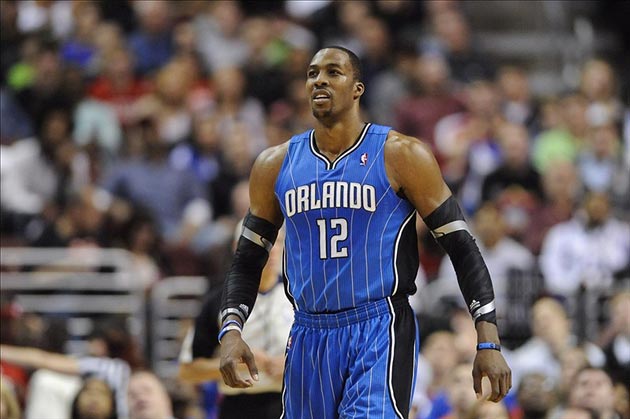 ---
But that's not the only trade Orlando was involved in - earlier in the off-season, the Magic traded 2011-12 Most Improved Player Ryan Anderson to the New Orleans Hornets for Gustavo Ayon. Now this trade does not make the smallest bit of sense. Anderson had become a very solid scorer and three-point shooter at the four - Keith Van Horn for the 2010s. Ayon, on the other hand, is a good rebounder, defender and passer for a big man, but he's strictly a role-player. Anderson was playing at borderline All-Star level last year. This, as I see it, was the trade that convinced me of a potential sandbagging attempt. Dwight's on his way out and would rather drink poison than spend another year with the Magic, so why not replace the second-best player with someone who wasn't even a regular starter for a non-playoff team?
The recent trades have turned a perennial playoff team into a ragtag bunch of career reserves and raw youngsters, with a few competent starter-types (Afflalo, Jameer Nelson, possibly Al Harrington) thrown in, but not even a legitimate star-quality player. If the Orlando Magic make the Playoffs in the 2012-13 season, it will be something out of a Disney movie.
Please read these other related pages:
---
What do you think?

We'd love to hear your comments and/or opinions. If you submit them here, other visitors can read them, rate them and comment on them. An e-mail address is not required.
---
From Dwight Howard Trade Reaction: The Magic is Gone From Orlando to NBA Basketball Blog | Sports Blog | NFL Football Blog | NCAA Football Blog | NFL Football Archives | College Football Archives | MLB Baseball Blog | College Baseball Blog | MLB Baseball Archives | NCAA Basketball Blog | NBA Basketball Archives | NCAA Basketball Archives | Fantasy Football | Fantasy Basketball | Fantasy Baseball | Soccer Archives | Olympics Archives | Stupid Athletes Archives | Other Archives | Football Forum | Basketball Forum | Baseball Forum | NFL Football Store | NBA Basketball Store | MLB Baseball Store | NCAA Football Store | NCAA Basketball Store | NCAA Baseball Store | Fatheads | NFL Football Tickets | NBA Basketball Tickets | MLB Baseball Tickets | NCAA Football Tickets | NCAA Basketball Tickets | NCAA Baseball Tickets |
---
Home Page
About Us | Contact Us | Site Search | Advertise | Terms of Use |
---