Dwight Howard Trade Analysis: Philadelphia 76ers
By Jack SerapigliaJr.
Did you know that there were other teams involved in the Dwight Howard to LA trade? I went on the Internet and looked it up and…YES, there were in fact two other teams, besides the Magic. In our last article we looked at what the trade did for the Denver Nuggets. Today we will examine how the trade has made over the Philadelphia 76ers.
For the past two years, the Sixershave been the little engine that could, a sort of "Denver Nuggets" lite. They too lacked a true dominant player. Their leading scorer for much of this past season was a bench player. Instead of relying on up-tempo offense (like the Nuggets) they decided to hunker down more on defense. This was in-line with their coach, of the past two seasons, Doug Collins, a no-nonsense kind of guy who stresses defense.
The game plan resulted in two straight playoff berths these past two seasons, including an advancement to the second round and a bitterly fought contest with the Celtics (Boston eventually won the series in seven games).
The 76ers brass, though, knew that much of their success was fool's gold. They had made the 7th seed in 2010-11 and then regressed to an 8th seed in 2011-12. Advancing to the second round was more a result of the injuries the top-seeded Chicago Bulls (their first round opponent, who lost all-everything point guard Derrick Rose in the closing minutes of Game 1) than anything the 76ers actually accomplished. The 76ers always competed, always fought hard (Collins would not have had it any other way). But they were never a threat to the elite teams of the East.
With the addition of Andrew Bynum (and just for clarity's sake we will say Jason Richardson, a good player that was a contract albatross for the Magic) a path to more sustained success has opened up. Instead of just having good but not great players, the 76ers have added the second best center in the league in Bynum. And big men, especially dominant big men, win championships. The 76ers, with Howard in the Western Conference, now should have the East's best center. A big man who is eager to bring what the 76ers lacked last year: scoring. Bynum will be the first option in the offense now, getting the shots that he feels he deserves (shots that had gone to Kobe Bryant). Bynum proved to be an efficient scorer last year.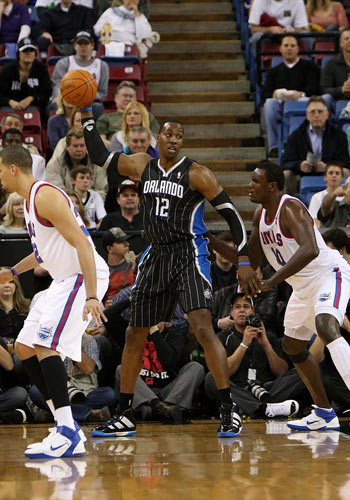 ---
But can he be an elite one? Can he carry a team? It is much easier to score when the focus is not squarely placed on you. When teams are not double teaming you in the post.When a super star is there to bail your team out. Bynum is about to become "the man." The 76ers wins and losses will be laid squarely at his feet. Will he be able to handle it?
And will he even be there for the long term? Bynum only has one year on his contract. One year to show he deserves a max deal (though, in this league and its dearth of big men, he will most likely get one). Will the year show him to be the dominant center he believes himself to be, or an Elton Brand 2.0 for Philly?
Please read these other related pages:
---
What do you think?

We'd love to hear your comments and/or opinions. If you submit them here, other visitors can read them, rate them and comment on them. An e-mail address is not required.
---
From Dwight Howard Trade Analysis: Philadelphia 76ers to NBA Basketball Blog | Sports Blog | NFL Football Blog | NCAA Football Blog | NFL Football Archives | College Football Archives | MLB Baseball Blog | College Baseball Blog | MLB Baseball Archives | NCAA Basketball Blog | NBA Basketball Archives | NCAA Basketball Archives | Fantasy Football | Fantasy Basketball | Fantasy Baseball | Soccer Archives | Olympics Archives | Stupid Athletes Archives | Other Archives | Football Forum | Basketball Forum | Baseball Forum | NFL Football Store | NBA Basketball Store | MLB Baseball Store | NCAA Football Store | NCAA Basketball Store | NCAA Baseball Store | Fatheads | NFL Football Tickets | NBA Basketball Tickets | MLB Baseball Tickets | NCAA Football Tickets | NCAA Basketball Tickets | NCAA Baseball Tickets |
---
Home Page
About Us | Contact Us | Site Search | Advertise | Terms of Use |
---