Breaking Down The Winners and Losers of the NBA's Dwight Howard Trade
By Jake Brown
The Lakers are the obvious winners in the four-team trade landing Dwight Howard in Los Angeles. The deal comes as a steal for the Lakers who only gave up Andrew Bynum and a protected first round pick. The Lakers also receive backup point guard Chris Duhon and backup forward Earl Clark in the trade that turns the Lake Show into Championship favorites in the NBA. Dwight Howard joins an already stacked Lakers squad who have had a tremendous offseason. The Lakers added Steve Nash in a sign and trade to become their new starting point guard. Nash joins Kobe Bryant forming arguably the best backcourts in the NBA. Los Angeles also added power forward Antwan Jamison to add some frontcourt depth off the bench. The Lakers are now 12 men deep and become favorites in the Western Conference to beat the Oklahoma City Thunder.
The Sixers also come out as winners in this trade. While giving up their star, Andre Igoudala, they bring in a young center that has a lot of potential in Andrew Bynum. After losing Elton Brand this offseason, the Sixers were in dire need of a big man and Bynum is one of the best in the NBA. The Sixers also get a solid shooting guard in Jason Richardson. Richardson comes as a big addition for Philadelphia who lost Lou Williams to the Hawks in free agency. Richardson was a guy the Magic were looking to get rid of in any Dwight Howard trade as they wanted to dump his salary off the books. The Sixers, who surprised everyone getting to the Eastern Conference Finals last season, have a bright future ahead. The Eastern Conference has improved vastly this offseason and expect the Sixers to be back in the playoffs again this season.
The Nuggets also come out as major winners in this four-team blockbuster deal. They bring in Andre Igoudala to add to their already deep roster. Igoudala is not the star he once was but he is another scorer to help out DaniloGallinari and Wilson Chandler. Chandler returns this season after only playing eight games last season after playing in China. The Nuggets are one of the deeper teams in the league and getting rid of an aging Al Harrington and a mediocre ArronAffalo was no problem for them. With that impressive backcourt including Ty Lawson and a frontcourt of Javale McGee, Kenneth Faried, and TimofeyMozgov, the Nuggets will continue to climb the standings in the Western Conference. The Nuggets definitely get better in this deal.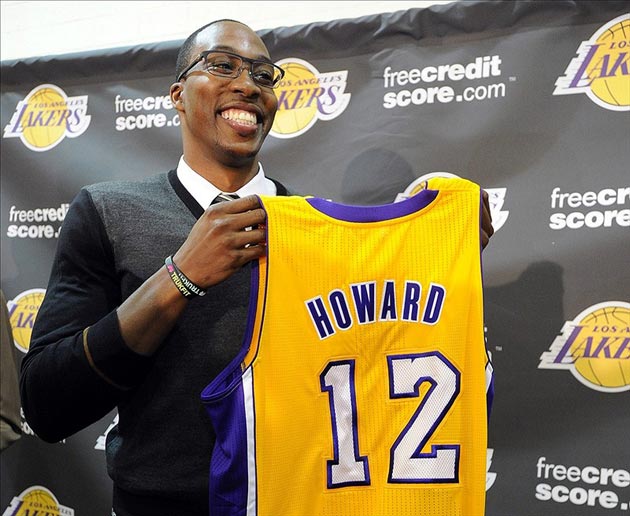 ---
The major loser of the trade has to be the Orlando Magic. General Manager Rob Hennigan did a pitiful job in this trade of bringing in enough talent for Dwight Howard. They received a much better offer from the Brooklyn Nets where they would have gotten Brook Lopez, MarShon Brooks, and possibly Kris Humphries, and several first round picks. The Magic did one good thing in this trade and that is dump some big contracts. They bring in ArronAffalo who should become their starting shooting guard. They bring in veteran Al Harrington, who also will most likely be inserted in the starting lineup. Getting rookie Moe Harkless was one of bright spots in the deal for them as he is a young guard with a bright future. They did receive three first round picks as well, but they are all lottery protected and also will be coming from three teams that will make the playoffs. The Magic will have tons of trouble filling seats this season. They come out as losers in this deal.
Please read these other related pages:
---
What do you think?

We'd love to hear your comments and/or opinions. If you submit them here, other visitors can read them, rate them and comment on them. An e-mail address is not required.
---
From Breaking Down The Winners and Losers of the NBA's Dwight Howard Trade to NBA Basketball Blog | Sports Blog | NFL Football Blog | NCAA Football Blog | NFL Football Archives | College Football Archives | MLB Baseball Blog | College Baseball Blog | MLB Baseball Archives | NCAA Basketball Blog | NBA Basketball Archives | NCAA Basketball Archives | Fantasy Football | Fantasy Basketball | Fantasy Baseball | Soccer Archives | Olympics Archives | Stupid Athletes Archives | Other Archives | Football Forum | Basketball Forum | Baseball Forum | NFL Football Store | NBA Basketball Store | MLB Baseball Store | NCAA Football Store | NCAA Basketball Store | NCAA Baseball Store | Fatheads | NFL Football Tickets | NBA Basketball Tickets | MLB Baseball Tickets | NCAA Football Tickets | NCAA Basketball Tickets | NCAA Baseball Tickets |
---
Home Page
About Us | Contact Us | Site Search | Advertise | Terms of Use |
---