Dwight Howard Trade Analysis: Orlando Magic
By Jack SerapigliaJr.
After covering the Denver Nuggets and Philadelphia 76ers (two team who literally took advantage of the Dwight Howard saga) it is time to look at the team whose ineptitude at team-building caused this fracas to begin with. This is the team that once gave Rashard Lewis a contract $20-$40 million dollars above his market price. A team that went to the NBA Finals, then thought it best to replace one of its most clutch players with Vince Carter. A team that has now twice in its short history watched as the most dominant center in the league moved on to the sunnier skies of Los Angeles. In short, it is time to look at the Orlando Magic's end of the Dwight Howard trade.
The Magic received the majority of the players in the four team swap. They also gave up most of the talent. Getting Afflalo, Al Harrington, Nikola Vucevic and one protected future first-round pick from each of the other three teams in the trade won't make cause its fans to mistake the Magic for the 1986 Celtics next year. Or even the 1986 Nets.
To analyze what the Magic will look like next year is pointless because this is a team that is not going to go anywhere. The players they received could play to their potential. They could play above it. They could far exceed it. It simply will not matter. The Magic, as presently constituted, are not a playoff team.
But perhaps that's the point. Perhaps the Magic know something that we don't. Not that any of the players they received could be potential superstars (of the three players only Afflalo could be described as having some potential. As for the picks, non-lottery picks usually don't have much of an impact). As always, history shows us the way. In the past, whenever a team trades a superstar, it can never get equal value in return. The trade always brings in a slew of good but not great players. In a league where superstars win championships, giving up a superstar means giving up a chance at that championship.
But the team dealing the super star usually gets back some talent, not enough to put them over the top, but too much for them to simply bottom out. Think of when the Lakers traded Shaquille O'Neal. Or when the Nets traded Jason Kidd. They fall into NBA purgatory, fighting for a 7th or 8th seed (to become a sacrificial lamb in the first round of the playoffs) or with too few ping pong balls in the NBA lottery. They meander for several years before finally bottoming out, where they are then rewarded with several high lottery picks (only the Lakers could luck out in the aftermath of the Shaq trade, when they scored a lower lottery pick that still netted them Andrew Bynum).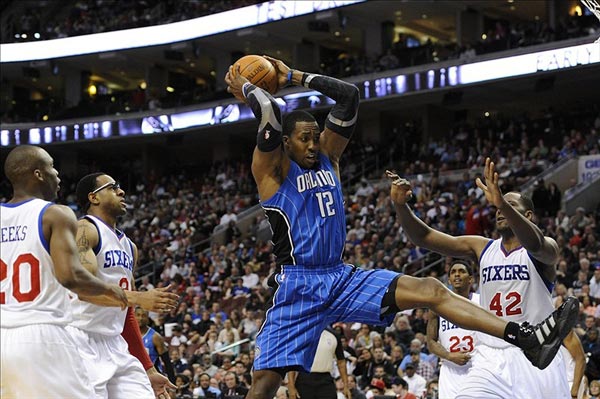 ---
The Magic, with this trade, sped up that process. Instead of getting 85 cents on the dollar for their superstar, or 50 cents, they got about a quarter. They unloaded some bad contracts (though the failure to include HedoTurkologu shows that it was not a perfect storm for the team. Then again, they also decided to re-up with Jameer Nelson, a fading point guard, so perhaps they know something we don't there too). It's almost as if they purposely traded to become a bad team. They traded to become a lottery team, hoping to put themselves in position for the "next" Dwight Howard. Is it a crazy proposition? Perhaps. Would they admit to it? Certainly not. Instead they will tell you how they filled multiple positions with one move. But look below the surface. The Magic just got a whole lot worse. Perhaps they did so to become a whole lot better some day.
Please read these other related pages:
---
What do you think?

We'd love to hear your comments and/or opinions. If you submit them here, other visitors can read them, rate them and comment on them. An e-mail address is not required.
---
From Dwight Howard Trade Analysis: Orlando Magic to NBA Basketball Blog | Sports Blog | NFL Football Blog | NCAA Football Blog | NFL Football Archives | College Football Archives | MLB Baseball Blog | College Baseball Blog | MLB Baseball Archives | NCAA Basketball Blog | NBA Basketball Archives | NCAA Basketball Archives | Fantasy Football | Fantasy Basketball | Fantasy Baseball | Soccer Archives | Olympics Archives | Stupid Athletes Archives | Other Archives | Football Forum | Basketball Forum | Baseball Forum | NFL Football Store | NBA Basketball Store | MLB Baseball Store | NCAA Football Store | NCAA Basketball Store | NCAA Baseball Store | Fatheads | NFL Football Tickets | NBA Basketball Tickets | MLB Baseball Tickets | NCAA Football Tickets | NCAA Basketball Tickets | NCAA Baseball Tickets |
---
Home Page
About Us | Contact Us | Site Search | Advertise | Terms of Use |
---