Breaking Down the NBA Eastern Conference in 2012 - 2013
By Dennis Berry

We are getting closer to the start of the NBA season. Training camp begins for some teams at the end of this week and for the rest of the teams, it begins next week. We have already looked at some key free agent signings and which rookies will have the biggest impact.

Let's take a look at how the NBA will shake down this year. Here are our predictions for the Eastern Conference:
Non-playoff Teams
First let's look at the teams that will miss out on the Playoffs this season.

Charlotte Bobcats

Last year the Bobcats were the worst team in the NBA. They won only seven games and lost their final 23 games in a row. They have made plenty of changes to their team. They hired Mike Dunlap as head coach, used their first round pick on Michael Kidd-Gilchrist and brought in some veteran players in Ramon Sessions, Brendan Haywood, and Ben Gordon. They will be better, but not good enough for the playoffs.

Chicago Bulls

The Bulls finished with the best record in the Eastern Conference the past two years. That will change this year. The Bulls will be without Derrick Rose for a good chunk of the season. In his absence the Bulls will struggle to be a .500 team. When Rose returns they might be able to make a run for the eighth playoff spot, but will fall short.

Detroit Pistons

There is plenty to like about the Pistons. They have a young core to build around in Andre Drummond (2012 1st Round Pick), Greg Monroe, and Brandon Knight. They also have some good veteran players in Charlie Villanueva, Corey Maggette, and Tayshaun Prince. Still the best Detroit can hope for is to finish around .500 this year.

Milwaukee Bucks

You never know what you will get with the Bucks. When their shots are falling they can be a high scoring team. Last season that did not happen enough. The strength of this team is in the backcourt. They have a solid pair of starting guards in Brandon Jennings and Monta Ellis. Outside of that, there is not much to fear about the Bucks.

Orlando Magic

This might be the worst team in the NBA this year. When they traded away Dwight Howard, they lost any chance they had to contend. To replace Howard they have Moe Harkless and Andrew Nicholson. Still the Magic are rebuilding and trying to figure out where to go without Howard in their lineup.

Toronto Raptors

When you look at the Raptors roster, there is nothing that jumps out at you. Andrea Bargnani is a good NBA center that can get you a double-double any night and DeMar DeRozan is a highlight dunk waiting to happen. Outside that, there is not much. They play good defense, but are missing that go-to scorer to carry the offense on a nightly basis.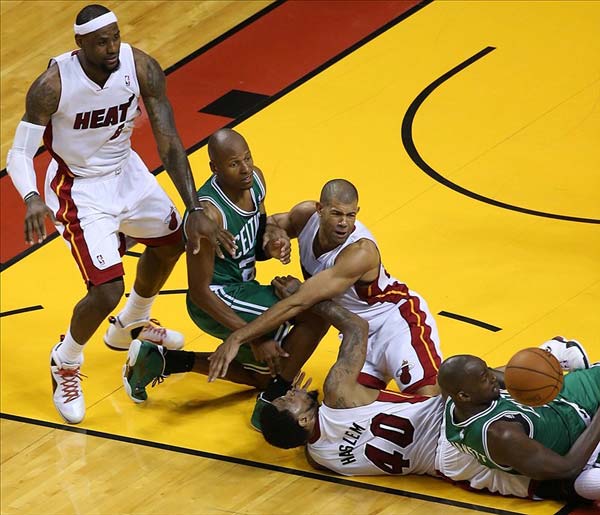 Playoff Teams
Now let's see what the Eastern Conference playoff picture will look like.

8. Washington Wizards

It is time for the Wizards to take that next step. They have the superstar player in John Wall, who might finally be starting to understand what it takes to be a NBA point guard. They drafted Bradley Beal out of Florida to pair with him in the backcourt. The have a veteran frontcourt in Trevor Ariza , Emeka Okafor, and Nene. They will need some of their young bench players to step up, but the Wizards should be a playoff team this season.

7. Atlanta Hawks

Over the past few years the Hawks have had very successful regular seasons, but always fade in the playoffs. This season the Hawks should be a playoff team again, but they will not be as dangerous. Gone is Joe Johnson, but they still have talented players in Jeff Teague, All Horford, and Josh Smith. This year could be a big one for Josh Smith, who should be the go-to man for the Hawks.

6. Philadelphia 76ers

The 76ers got the next best piece in the Dwight Howard trade in Andrew Bynum. They now have a legit post player on offense and defense. The only question is will he be committed enough to be a force for Philly. He will have help on the perimeter with Jason Richardson, Jrue Holiday, and Nick Young. The 76ers are also counting on Evan Turner to become a go-to scorer as well.

5. New York Knicks

The Knicks are one of the biggest question mark teams in the league. They have one of the best scorers in the NBA in Carmelo Anthony. He finished the 2011-12 season strong and carried it over to the Olympics. Can he keep it going? With Amare Stoudemire and Tyson Chandler the Knicks have an outstanding frontcourt. If they get solid play from their guards, they could be dangerous.

4. Brooklyn Nets

There were two big storylines surrounding the Nets this offseason. First was their move to Brooklyn. Second was the franchise's attempt to trade for Dwight Howard. They did not get Howard, but still built a solid team. It started when they resigned Deron Williams, Gerald Wallace, Kris Humphries, and Brook Lopez. Then they traded for Joe Johnson from Atlanta. They have a solid starting lineup, with a good bench. The Nets will make some noise in Brooklyn.

3. Indiana Pacers (Central Champs)

The Indiana Pacers feel like they are the second best team in the East. That very well could happen, but it is hard to pick them over Boston and Miami. There is plenty to like about Indiana. What you should like most is that they play as a team and do not care who the leading scorer is. They have a great core with Danny Granger, David West, George Hill, Roy Hibbert, and Paul George. The bench is deep and everyone knows their role. Before they can claim a top two spot, they need to beat the top teams in the East.

2. Boston Celtics (Atlantic Champs)

You can never rule out the Boston Celtics. They were just one game away from making the NBA Finals again last year. They return most of their key pieces, minus Ray Allen who went to Miami. To replace him they signed free agent Jason Terry, who should be a spark off the bench. They were able to convince Kevin Garnett to come back which is huge after the way he played last season. They still have Rajon Rondo to run the point and Paul Pierce is still there as well. Boston will be looking at another deep playoff run.

1. Miami Heat (Southeast Champs)

The defending Champions should finish first overall in the East this year (finished second the previous 2 years to Chicago). They have the best player on the planet in LeBron James. They still have Dwyane Wade and Chris Bosh also. Adding Ray Allen and Rashard Lewis gives them legit shooters on the outside. The rest of the team proved they are good enough to get the job done in the Finals.

Until a team beats Miami they should represent the Eastern Conference in the NBA Finals for the third straight year.

What do you think?

We'd love to hear your comments and/or opinions. If you submit them here, other visitors can read them, rate them and comment on them. An e-mail address is not required.
From Breaking Down the NBA Eastern Conference in 2012 - 2013 to NBA Basketball Blog