Best NBA Free Agent Signings of 2012 Offseason
By Dennis Berry

We are getting closer to the start of the 2012-13 NBA season. This year we get to enjoy a full 82 game schedule. What better way to get ready than to look at some of best free agent signings of the past offseason.

Now this list does not include Dwight Howard, who was not a free agent when he was traded to Los Angeles. To get on this list you had to be a restricted or unrestricted free agent this past summer.
Goran Dragic – Phoenix Suns

The Suns needed a point guard when Steve Nash moved on to Los Angeles. They got someone they are very familiar with in Goran Dragic. He spent his first 2 ½ seasons in Phoenix as Nash's backup. Now he will be asked to run the offseason. He is coming off his best season of his career in Houston. He averaged 11.7 points and 5.3 assists in 66 games.

Jamal Crawford – Los Angeles Clippers

Crawford has been in the NBA since 2000. Los Angeles will be his sixth team in his career. The one thing that he has done in that time is score. He has averaged 15.3 points in his career that has seen him play point and shooting guard. Although his scoring has dropped the past few years, moving to LA might be a good thing. With Chris Paul and Chauncey Billups on the roster, Crawford should play primarily off the ball.

Jeremy Lin – Houston Rockets

Although Houston missed on acquiring Dwight Howard they were able to convince Lin to sign as a free agent. Last year was Lin's breakout season. He averaged 14.6 points and 6.2 assists in a injury shortened season. The question with Lin will be if he can produce over a full year. Lin is a great passer and works well in pick and rolls with players spread out. If Houston gives Lin the freedom he had before Carmelo Anthony returned from injury in New York, then he should put up big numbers.

Ray Allen – Miami Heat

One thing that Miami needed was a great outside shooter. It's not like they could count on Mike Miller and Shane Battier to shoot like they did in the Finals. Enter one of the best shooters in NBA history, Ray Allen. The NBA's all-time leader in made three pointers left Boston and went to South Beach. He should get plenty of open looks with LeBron James and Dwyane Wade driving to the basket.

Jason Terry – Boston Celtics

The rise of Avery Bradley allowed the Celtics to let Ray Allen leave as a free agent. While Bradley had a great year once he became a starter, Boston knew they needed to add another scoring threat. Adding Jason Terry should take care of that. He won the NBA sixth man of the year in 2009 and has averaged at least 15 points off the bench since moving there in 2007. He is a great outside shooter and should benefit from having a great passer in Rajon Rondo to find him when he is open.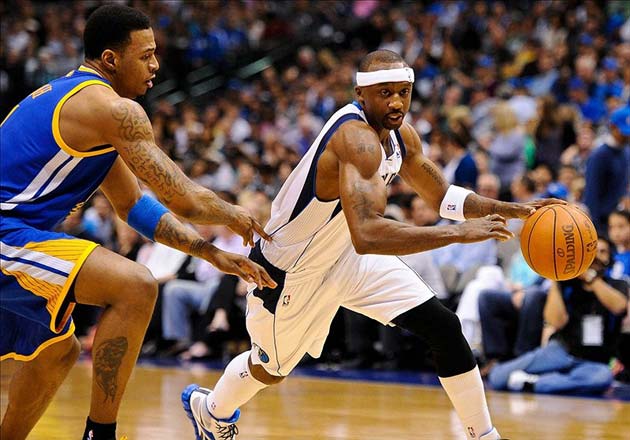 Tim Duncan – San Antonio Spurs

So it would have been weird to see Tim Duncan in another uniform. He has spent all 15 years of his career in San Antonio and has led the Spurs to four NBA Championships. Sure his scoring and rebounding has dropped the past couple of seasons, he is still a threat to get you a double-double any night. He is also a great post defender, which is something the Spurs will need with LA bringing in Dwight Howard. While this may be Tony Parkers team now, Tim Duncan is still an important part if they want to win another NBA title.

Eric Gordon – New Orleans Hornets

One of the more interesting free agents from this summer was Eric Gordon. At one time it appeared that he might be headed to Phoenix, but New Orleans matched their offer and he is still a Hornet. He will probably enjoy it a lot more than last season. Gordon only played in nine games last season due to a knee injury. In those nine games he averaged 20.6 points a game. If he is healthy, he will join Austin Rivers in the backcourt and have the number one overall pick Anthony Davis in the post.

Kevin Garnett – Boston Celtics

No one could blame Garnett if he called it quits after last season. After moving to the center spot, Garnett had a big second half and the Celtics were one game away from returning to the NBA Finals. Garnett can still be an effective scorer, as well a great defender and rebounder. If he can put up the same type of numbers this coming season as he did last season (15.8 points & 8.3 rebounds) the Celtics will be fine in the post. He will also be asked to be a mentor to two rookie big men in Fab Melo and Jared Sullinger.

Steve Nash – Los Angeles Lakers

The Lakers acquiring Steve Nash as a sign and trade is probably the biggest free agent move of the 2012 offseason. He is probably the perfect point guard for Los Angeles even at the age of 38. He will be asked to direct an offense that will feature Pau Gasol, Dwight Howard, and Kobe Bryant. It is a good thing that Nash is a great passer; because he will be busy making sure that everybody gets enough shots. Plus Nash is still a consistent outside shooter who can hurt teams if he is open. There should be no concern with Nash in LA, as long as his teammates let him control the offense.

Deron Williams – Brooklyn Nets

When it comes to a player a team must resign; it is Deron Williams. Williams is the face of the Nets franchise and has been since coming over in 2011. With the team moving to Brooklyn this year they needed to keep Williams to help sell the team. He can get you 20 points and dish out 10 assists on most nights. While the Nets were not able to acquire Dwight Howard, they still have put together a team that should be a playoff contender with Williams leading the team.


What do you think?

We'd love to hear your comments and/or opinions. If you submit them here, other visitors can read them, rate them and comment on them. An e-mail address is not required.
What Other Visitors Have Said
Click below to see contributions from other visitors to this page...

Where the Rockets are Going? Not rated yet
Right now Lin is overpaid, time will tell if he'll turn out to be a star that everyone believes he can be. Honestly, I don't know where the Rockets …