Which NBA Rookies will have the Most Impact?
By Dennis Berry

Continuing our look ahead to the 2012-13 NBA season, here is a look at the incomings rookies for this year. Which rookies will have the most impact for their new team this season?
Royce White – Houston Rockets

The Rockets may have gotten the most versatile big man in the draft when they selected White at number 16. White brings a unique set of skills that Houston can use. He led Iowa State in almost every major statistics column. He was point forward who handled the ball a lot and set up their offense. If the Rockets can find a way to use his skills when he is on the floor and not try to force him into only one role, the Rockets could have the steal of the 2012 Draft in White.

Harrison Barnes – Golden State Warriors

There was a lot pressure on Barnes in two years at North Carolina and he never quite lived up to the high expectations. Barnes is a great scorer for the perimeter. He shot 44% from the floor, but only 36% from the three point line. He is also a sound defender and is a very smart player. He still needs to improve his three point shooting and his ability to drive to the basket, though.

Perry Jones III – Oklahoma City Thunder

If there was a better team for Jones to end up on than the Thunder, please tell us. He will fit in perfectly with Oklahoma City's young core. He will probably spend most of the year coming off the bench, but should be able to impact the game on both ends. He is a great athlete and has a lot of upsides. He will not be asked to be an offensive threat his first year, but can impact the game when he is on the floor.

Bradley Beal – Washington Wizards

The Wizards needed another scoring threat to pair with John Wall. They got it in Florida's Bradley Beal. He will probably step right into the starting lineup. He will have the benefit of teaming with Wall in the backcourt and having Nene and Emeka Okafor in the post. The only thing he will have to worry about is being a constant scorer from the perimeter. This is something that he should have no problem doing.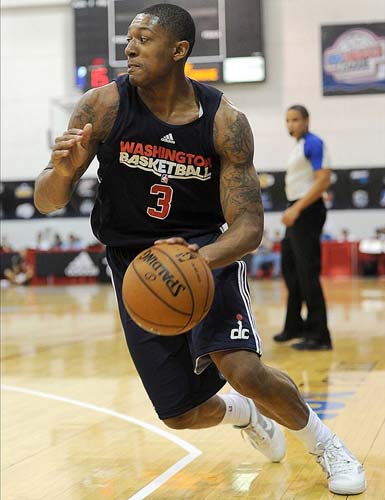 Michael Kidd-Gilchrist – Charlotte Bobcats

Last season was a rough one in Charlotte. The Bobcats went 7-59 in the strike that shortened the 2011-12 season. To put it simply the Bobcats needed to change their culture. It started with the hiring of Mike Dunlap as head coach. Then they drafted Kidd-Gilchrist with the second overall pick. He may not be a great scorer, but he is a great competitor. His energy should spread throughout the whole team and help everyone play better.

Anthony Davis & Austin Rivers – New Orleans Hornets

New Orleans had a big night for their franchise at the 2012 NBA Draft. They had two picks in the first 10 selections. They used them to bring in two players who should help turn the team around. Anthony Davis is a once in a generation type player. At 6'10, 220 pounds he is an athletic freak that should provide a defensive presence in the paint. He blocked 186 shots in his only year at Kentucky. His offensive game is better than many want to give him credit for.

Austin Rivers is definitely a scoring guard. As a freshman at Duke he led the Blue Devils in scoring at 15.5 points a game. If the Hornets can find a way to get him and Eric Gordon on the court at the same time, they will have a great scoring backcourt. The only problem with that is that Rivers would probably move to the point guard spot. Can he be an effective player if he is asked to do that?


What do you think?

We'd love to hear your comments and/or opinions. If you submit them here, other visitors can read them, rate them and comment on them. An e-mail address is not required.
From Which NBA Rookies will have the Most Impact to NBA Basketball Blog