Can Carmelo Anthony Carry Strong Play into 2012-13?
By Dennis Berry

The start of 2012 was not very good for Carmelo Anthony.

After a 91-89 loss to the Boston Celtics, the New York Knicks were 8-15. They had lost 11 of their last 13 games after a 6-4 start to the season. Then Anthony was injured 6 minutes into a game against the Utah Jazz. This came just as "Linsanity" was hitting the Knicks.
With Anthony injured, Jeremy Lin would lead the Knicks to a 7-1 record. Knicks fans had hope that the Knicks would be contenders in the Eastern Conference, but still worried about how the return of Anthony would affect the team. After his return to the lineup the Knicks went 2-8 over their next ten games.

Following that stretch the Knicks fired head coach Mike D'Antoni. Much of the blame from the fans went to Anthony. Reports swirled that he did not mesh with D'Antoni and did not like the offensive system in place.

After the Knicks replaced D'Antoni with Mike Woodson, the Knicks started winning again, but Anthony still struggled after the groin injury. April would prove to be a turning point for Anthony in 2012 though.

Anthony's improved play started in April. That was Anthony's best month of the shortened 2011-12 season. He averaged 29.8 points in 12 games that month. He shot 49% from the floor and 46% behind the arc. He scored at least 30 points in seven games; the Knicks went 5-2 during those games. He scored 40 points twice, including 43 in a 100-99 win over Chicago.

Although he struggled shooting the ball in the playoffs, Anthony still averaged 27.8 points in five playoff games. His 41 points in game four led the Knicks to their first playoff win in 12 years.

Next up for Anthony was the Olympics and helping the United States defend their gold medal.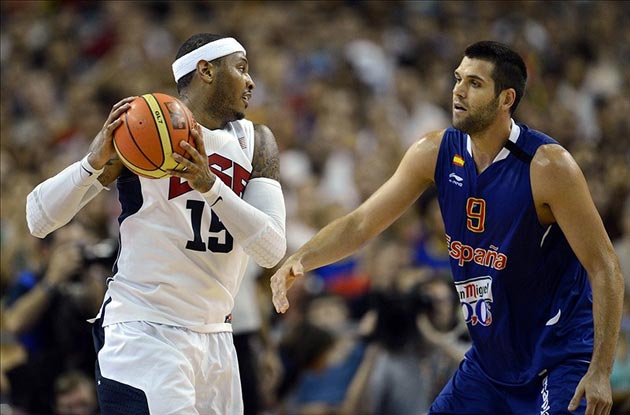 Anthony played great for the United States. He was second on the team in scoring at 16.3 points a game, while only being fifth in average minutes played a game 17.8. He shot 53.5% from the floor and 50% from behind the three point line.

Anthony also had the best performance by a United States player in the Olympics. It came during the United States 156-73 win over Nigeria. Anthony shot 13-16 from the field, including 10-12 from the three point line. He scored a United States Olympic record of 37 points in the win.

At times he was asked to play out of position. Injuries before the Olympics eliminated some big men from being to play in the Olympics. Dwight Howard, Chris Bosh, and Blake Griffin were unable to participate due to injuries.

This meant at times Anthony would have to play power forward for the United States. He proved that he was up to the challenge during international play. Anthony would average 4.8 rebounds a game, good for fourth best during the Olympics.

The best thing Anthony is that perhaps he has repaired his image. During the Olympics Anthony appeared to be different player. Even USA Head Coach Mike Krzyzewski was impressed with Anthony. In a story from USA Today by Jeff Zillgit:

"I don't know why he takes a beating about his game at any time," U.S. coach Mike Krzyzewski said. "Carmelo is one of the better international players. He's one of the best players, but it doesn't always translate to being that good internationally."

Now Knicks fans hope that Anthony continues to play at a high level this coming season. The pressure to win in New York never goes away. The pressure will be even greater now that the Nets have moved to Brooklyn.

The Nets already made headlines during the offseason resigning Gerald Wallace and Deron Williams. They also traded for Joe Johnson from Atlanta. They might have missed out on Dwight Howard, but they still have a good core that should be able to win right away.

New York fans expect to contend for championships every year. With the way Anthony has been playing since April, Knick fans will expect a big year from their superstar.


What do you think?

We'd love to hear your comments and/or opinions. If you submit them here, other visitors can read them, rate them and comment on them. An e-mail address is not required.