The Jacksonville Jaguars Quarterback Situation
The Jacksonville Jaguars aren't in the same boat as the Jets, where they have a quarterback like Mark Sanchez – an average quarterback that was briefly masked in an aura of team success to look like he had to intangible aura of a winner.  They aren't in the same boat as the Raiders, either, having made a move to go with an unproven young player in an attempt to shake things up.  Nope, they've got Blaine Gabbert, who has seemed absolutely overwhelmed in his short pro career, yet to turn out a decent season as a starting quarterback.  It's a player starting off badly and then regressing.  In 2012, Gabbert was dead last in yards per pass attempt, ending up under six yards a throw.
It was the second worst season that Football Outsiders has ever tracked, stretching back to 1991 – only David Carr's rookie season with the expansion Texans ranked below it, and they had Swiss cheese for an offensive line.  Last season, he was 34th in the NFL in DVOA and 30th in QBR before his shoulder injury knocked him out for the year.  These are not the kinds of sentences the Jaguars were hoping to read two years into their franchise quarterback's career.  He seems to be regressing more, too – you don't like your beat writers saying that they've now seen the worst day of QB play in years.

Unlike those aforementioned Jets and Raiders, though, the Jaguars decided not to take a gamble on the questionable pool of rookies and free agents this year, deciding to go with Gabbert for one more season.  They did get a promising undrafted rookie quarterback, Matt Scott – I think he might be the best undrafted rookie this season – but he's nowhere near any actual game action.  His mechanics, accuracy, decision making – everything needs a lot of work before it's ready to take over.  He's not a backup plan – he's a lottery ticket that may or may not go off.

There were a lot of assumptions this offseason that the Jaguars would go after Tim Tebow – at this time last month, he was the best free agent quarterback available, and had obvious ties to Florida, so it would have made some sort of twisted sense – that sense being ticket sales.  Now, of course, he's gone off to New England in what, amazingly, is only the second or third most talked about story in Patriots camp – I figured Belichick would find some way to divert media attention, but...

Anyway, after Tebow, the remaining top free agent quarterbacks were Trent Edwards, Charlie Batch, and Caleb Hanie – not exactly a murderer's row.  They did pick up Mike Kafka, released after Tebow joined the Patriots, but he's not expected to make the roster.  So, they're stuck with what they had coming in, and it's not a pretty sight.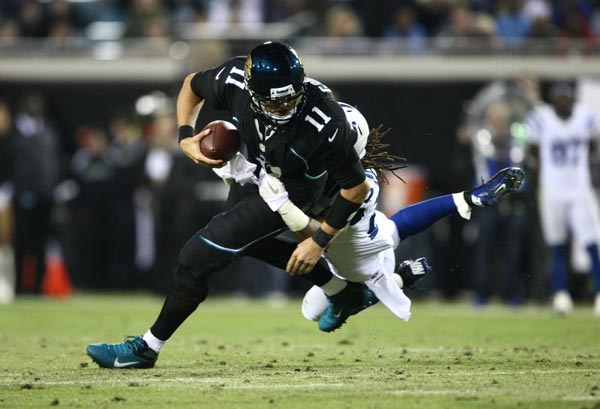 Quarterbacks with as much starting experience as Gabbert has simply don't start out as poorly – it's practically unheard of for a quarterback to have this little success and still be sent out there, week after week.  Only two quarterbacks pop up as comparable on Pro Football Reference, and neither of them are really a very good match.  Alex Smith doesn't work – the only reason his numbers are low enough to qualify for this comparison is his horrific rookie season on the '05 49ers, which has to be on anybody's short list for worst teams of all time – he actually showed signs of improvement in his sophomore season, before coaching changes and injuries derailed his progression.  The other match was Randy Johnson – no, not that one – and you have to write him off because he was the first quarterback in Falcons history, and thus suffered from expansion-itis – the same bug that caused David Carr's numbers to plummet.

Any quarterback who has performed as badly for so long as Gabbert has been given the heave-ho long before now.  He doesn't set his feet and step into throws, instead fading away from the line of scrimmage and tossing the ball up for grabs.  He can't hit wide-open receivers, and he doesn't have the arm strength or accuracy to throw the ball in places where only his covered receivers have a chance.  Any sort of accuracy he does have vanishes when under pressure – or when his receivers go beyond 20 yards down the field.  He often looks confused and befuddled, struggling to complete short passes.  I'm saying that he really hasn't earned a third year as a starter. Would anyone place a bet on him at bwin.com/en/nfl?

The problem with that is the only other challenger on the roster is Chad Henne, another former Florida castoff, and he's not a long-term answer, either.  He's a journeyman at this point in his career, not the future of a franchise.  Once he had time to settle into the Jaguars offense last year, they did start to pick up a tad – more points, more touchdowns, and so forth.  However, Henne couldn't even pass Gabbert in completion percentage or interception percentage, and he rated just about equal in all the various advanced stats.  The splits do show him getting better as the year went on, so, perhaps if he had the starting job from day one, he'd end up performing better than Gabbert, and he does have the better pedigree.

In 2009 and 2010, he was the regular starting quarterback for the Dolphins, where he hovered above 60% completion, and was actually a bit underrated as a player – but something happened at the end of the 2010 season, when his numbers sharply tailed off.  Add in an injury at the beginning of the 2011 season, and any hope that he'd develop into anything was lost.  It says a lot that he couldn't push Gabbert out of the starting role last year until Gabbert was injured, and even if he does win out, he's not going to take the Jaguars anywhere noticeably better than Gabbert.

This is all very depressing if you're a Jaguars fan – there doesn't seem to be any hope in sight at the league's most important position.  In all honesty, the Jaguars quarterback of the future won't be playing on Sundays in 2013, but on Saturdays.  Maybe it will be in Louisville, where Teddy Bridgewater shows NFL-style arm strength and release.  Maybe it will be at Syracuse, were Tajh Boyd has a laser-rocket arm.  Maybe it will be down at Texas A&M, where Johnny Manziel has become a perennial Heisman candidate.  One way or another, with no improvements made at the quarterback position, it looks like another long season in Jacksonville.


What do you think?
We'd love to hear your comments and/or opinions. If you submit them here, other visitors can read them, rate them and comment on them. An e-mail address is not required.