The Oakland Raiders Quarterback Controversy
The Jets aren't the only team locked in a quarterback controversy this offseason.  But while they're dealing with trying to decide between a disappointing known quantity and some new hope for the future, the Oakland Raiders find themselves with three giant question marks, trying to figure out which unproven player will fit best in their offense in 2013.
The Raiders hit he reset button on their quarterback situation this offseason.  They sent Carson Palmer packing, headed down to Arizona in a trade for essentially nothing, and they also let Matt Leinart walk as his contract expired.  That's 598 pass attempts gone from their roster – but it's not like those pass attempts were all that successful to begin with.  This means that, more than any other team, the Raiders starting quarterback job truly is completely wide open – there are three players who all have to be considered realistic possibilities for starting the season under center.

If you're a fan of small sample sizes, you're probably a fan of Matt Flynn, who came to Oakland in a trade from the Seahawks.  The memories of Flynn are limited, but spectacular – the 480 yard, six TD game in the last week of the 2011 season had teams salivating over Flynn, and his 2010 duel with Tom Brady showed promise, as well.  The issue is – that's the only thing we have.  That's the extent of Flynn's experience; he only has 141 career pass attempts.  So, maybe we shouldn't have been as surprised when, after signing a big-time free agent contract in Seattle, he was beat out by some mid-round rookie named Russell Wilson.  However, al that potential is still there.  We know that Flynn has shown very good accuracy, especially on the shorter and mid-range throws, and that his fundamentals are very solid.

In the limited action we have to work with, he's shown good decision making skills, and doesn't end up making mistakes.  What he doesn't have is what the Raiders historically have looked for – the cannon arm for the deep ball.  He's more of a touch passer – he's not going to challenge you deep or out past the hashmarks too much.  He doesn't have the super-elite tools some of the top quarterbacks have, which is why he lost out to Wilson last season.  Now, what he'll be able to do over a full season is all speculation at this point – he's not going to have sixteen games like his 2011 finale, but generally speaking, games of that sort haven't been flukes – if you're capable of doing that, you're capable of being at least a solid starter.  And, for all his experience, 141 attempts makes him the grizzled old man of the Raiders quarterback staff.

If Flynn's weakness is mid-round quarterbacks named Wilson, then he's in big trouble in Oakland.  The Raiders took Tyler Wilson out of Arkansas in the fourth round of this year's draft – several rounds later than he likely would have gone if he had come out last year, when he looked very good under Bobby Petrino.  Even with the slide he had last season, however, he's physically and mentally tough – just in need of a lot of polish.  He's your classic gunslinger-type – reckless, willing to trust his arm strength to force the ball into tight spaces, gambling for the big gain.  His sense of pocket awareness is good, too, especially for a fourth round project QB.  He's able to work plays out when they break down, too, with a good sense of improvisation.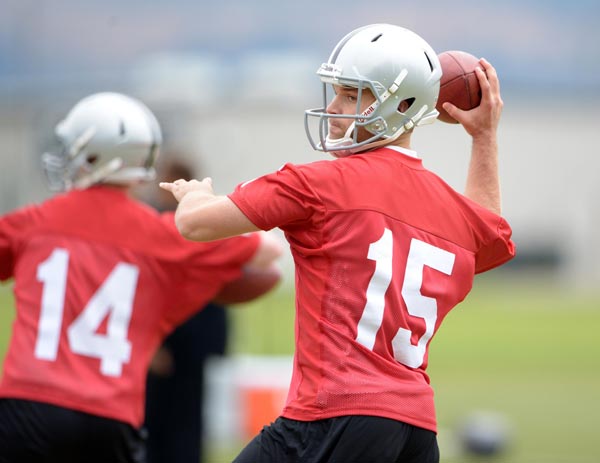 Now, if he can tone that recklessness down two or three notches, the Raiders have a very interesting prospect here.  If Al Davis were still alive, he'd be the obvious favorite for the starting job, as he's an anti-Flynn – his ceiling is Brett Favre, with worse physical tools but better decision making skills than 2000s-era Favre.  He's not ready for the big time quite yet, but he has been making quite a splash in OTAs and workouts.  There are people saying that he doesn't look like your normal ordinary rookie.  Of course, this is still just OTAs, and this could all vanish when we get to actual competition, but if he's outperforming Flynn there, we have to at least consider the possibility of a repeat of Seattle's QB competition from last year.

Of course, the third man in this quarterback competition hopes to have something to say about this too.  Terrelle Pryor is the one remaining holdover on the Raiders roster from last year.  The Raiders liked him enough to enter the supplemental draft and take him with a third round pick there.  He's the best raw athlete of the three, too – he's got elite level speed, and was good enough to be recruited to play college basketball as well, though he eventually abandoned that to concentrate on football.  He also has the biggest arm of the three of them – but his accuracy is lacking.  He has not yet shown the crisp passes you need to succeed in an NFL environment, and, for that matter, his ability to read the defense at the line also is lacking.

All the reports out of training camp indicate that he's not performing as well as the other two, but remember – the NFL is first and foremost a copycat league, and after the league just saw Russell Wilson, Robert Griffin III, and Colin Kaepernick run wild over the competition, there's plenty of interest in the Ohio State product.  The bottom line, however, is that his mechanics and decision making are leagues below those three – his accuracy issues leave him in a major hole in his goal to becoming an NFL starter.  Honestly, Matt McGloin – the undrafted QB out of Penn State who the Raiders have been working out – might have a better shot at making the final roster.  It wouldn't be the biggest upset ever, at least.

This is the hardest battle in the NFL to handicap.  If I had to put money on it, I'd say Flynn will be the starter in Week 1, followed by Wilson and then Pryor as the third quarterback.  Flynn's the most game-ready at the moment.  However, if I were the Raiders management, I would take a long look at Wilson, and strongly consider slotting him in to the starting role right away.  I would definitely at least give him a preseason start or two, to see what he does in live-fire conditions.  Both quarterbacks have the potential to be solid NFL starters, they just need some experience.  Preseason games are normally quite boring to watch, but, for Raiders fans, the battle behind center might just make them worth staying awake for.

What do you think?
We'd love to hear your comments and/or opinions. If you submit them here, other visitors can read them, rate them and comment on them. An e-mail address is not required.