Breaking Down the New York Jets' Quarterback Mess
Mark Sanchez has not had the best off-season.

When teammates are coming out of the woodwork to say that, while you're still a good guy and all that, "there's a general feeling among some of the players that maybe it's time to give someone else a chance," well, that's not a good thing.  When your team goes out in the draft and takes the top-rated player at your position, it may be time to start hitting the classified ads.  And, when, with all the media around you, you are picked off three times in eleven throws in OTAs, you're going to find yourself in trouble.
Not that you weren't in trouble beforehand – the Jets QB situation was a crumbling disaster last season.  Sanchez, in terms of total value, was rated as the absolute worst quarterback in the NFL last season by Football Outsiders.  It doesn't get much better when you look at value on a per-play basis (35th out of 39th), where he was 29.9% worse than your average quarterback on any particular snap – 'average', in this case, being the Sam Bradfords and Cam Newtons of the world, each of whom are younger than Sanchez to boot.  ESPN's QBR statistic had him 37th out of 39th, ahead of only the disaster in Arizona with Skelton and Lindley.  It's not like Sanchez was producing on the ground, either – he was dead last in rushing statistics, too – not a good sign when the league seems to be headed in that general direction.

Then there are the GIFs. Oh lord, are there ever the GIFs.  Suffice it to say, it's a year he'd like to forget.

The meme is that "Sanchez has regressed", and, well, I'm not sure how accurate that is.  To regress, you must have been good in the first place, and Sanchez has never been above about league average.  His reputation comes on a 4-2 record in the playoffs in his first two years, as well as the six game winning drives in 2010, which led the league.  But look past the highlights – Sanchez has never completed more than 56.7% of his passes in a single season, and he's never cracked the top 20 in Football Outsider's advanced stats (and only once managed to make the top 30).  He's never sniffed the Pro Bowl, and has never been snubbed out of one – but he plays in New York, and before that at USC, and had great nationally televised games, and that created this perception that he was better than he is.  I'm not arguing he was drafted too early – that's revisionist history of the worst sort – just that he hasn't developed into the kind of player you need to get out of a top-5 pick.  He hasn't improved from where he was when he came in.

Now, don't overreact too much to the interceptions in OTAs.  That's crazy-talk – it's the first offseason practices, where he was missing his experienced receivers in Santonio Holmes and Stephen Hill.   Geno Smith, his competition, also threw an interception in the same OTA session, and had footwork issues that made him look like Frankenstein's monster.  The OTA shouldn't change your mind.  If you think that they should go with Geno Smith, then you have four seasons of actual mediocrity to point to, rather than one day of practice.  If you think Sanchez should retain the job, there's nothing here that should change your mind.  If you think Greg McElroy or Matt Simms should start... well, consult your physician, as they are and should be battling out for the third string job rather than the starting role.

But who should start for the Jets?  What are our expectations for Sanchez and Smith?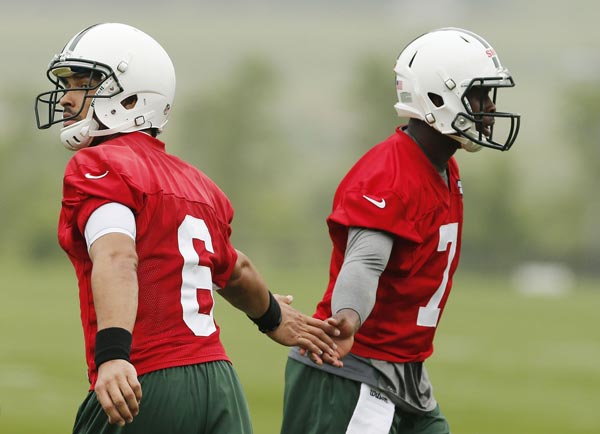 Let's start with Sanchez.  He's had four years of experience in the league, and if he's reached a plateau, there's no reason to stick with him.  Let's look at players who had similar statlines to Sanchez over his first four years, and see what sticks out.

Here's a list, based on QBs who started 50 or more games in their first four seasons, yet had an Approximate Value of less than 35 – Sanchez has 62 games started and 29 AV in his first four years.  It's not the most promising list imaginable.  Rick Mirer and Tim Couch never were a regular starter again after season 4, and Joey Harrington was out of the league very shortly afterwards, as well.  All of the other names on this list had a better season in their first four than Sanchez, too, so they may even be too good for this comparison – Trent Dilfer made the Pro Bowl in '97, and became arguably the worst quarterback to ever win a Super Bowl, led there by Ray Lewis' Ravens.  Tony Banks also had a break-out season in 1997 for St. Louis, but injuries, fumbles, and bad timing cut his career short.  David Carr essentially kept getting starting gigs due to a lack of competition in Houston, and led the NFL in sacks three out of his first four seasons, and now has a much more comfortable career as a backup to the stars. Jason Campbell is still kicking around, too, with injuries derailing his career path.  Jake Plummer might be the most apt comparison to Sanchez; one of the most up-and-down players in recent NFL history, bouncing from one of the top young players in football down to being widely described as the worst QB in football, and back again.  He did last for a 10 year, respectable career in the league, but that's helped by the fact that his highs were higher than Sanchez's (1998's 3700 yard season with 7 game winning drives is a better version of Sanchez's 2010 season), even if his lows were lower (Plummer's 1999 season makes Sanchez's 2012 look like a pro bowl year).

If you're a Sanchez supporter, though, your eyes immediately jump to one Eli Manning, but you can drop that line of thinking right now.  First of all, he put up more value in three seasons than Sanchez did in four – remember, Manning's rookie season had him starting behind Kurt Warner.  Also, while the turnover numbers are about the same, the way they occurred are very different.  Manning throws deep – high risk plays, that, when they connect, bring with them an equally high reward.  He lead the league in 20+ yard passes in 2011, a number fairly consistent with his career numbers.  So, while he did lead the league in turnovers in his fourth season, and threw 64 interceptions overall in his first years, his 4.7% TD rate helps show that these risks pay off fairly often – and, as he's grown as a player, the risk has dropped and the reward has grown.

Sanchez, on the other hand, has 67 interceptions as well, but this is while he's actively being coached to emphasize ball security over risk.  His yards per attempt – and touchdown percentages – are consistently below league average, and trending down.  His interceptions, on the whole, don't come on bombs 30 yards down the field into the end zone, but on checkdowns and short outs, the 'safer' throws that are the bread-and-butter of the Jets offense.  Add in his 43 fumbles – Manning had 34 in his first four seasons – and you can see why such a comparison is way overly optimistic.

Right, so we have Sanchez down as probably a journeyman quarterback – more Mirer than Manning.  What about Geno Smith, then?

Smith is being heralded as the 'obvious' choice, but, well, there's a reason he slipped all the way to the second round.  There are questions about his ability, though at this point, they are only questions as opposed to the more certainties Sanchez brings with him.  Smith is the 44th QB drafted at the end of the first round / beginning of the second round since the NFL opened up passing rules in 1978, and Chase Stuart, who you should be reading if you're not already, broke them down statistically.  To summarize, he's somewhat doubtful that Smith will be able to step right into Marty Mornhinweg's West Coast offense and succeed, noting that the rookies who have taken off recently either didn't player in a WCO, or had it specially tailored to their skillset as the obvious starter apparent – which, in a QB battle between Sanchez and Smith, wouldn't be practical.  I tend to agree.

Now, however, remember that this is going to be a lost season for the Jets no matter who sits behind center – and the Jets realize this.  That's why DarelleRevis was shipped out of town, and the rest of the roster has been purged as well.  Why stick with Sanchez, then, if you're not trying to win this year.  This is the perfect time to stick Smith out there and see what he can do.  It's not like your quarterback play could get much worse, could it?  And, heck, if it ends up Smith IS much worse, you'll probably end up with the #1 overall pick in 2014, where a bunch of more talented QB prospects lie – your Teddy Bridgewaters, your TajhBoyds, and your Johnny Manziels.  One way or another, for your long term success, you should really stick Smith back there.


What do you think?
We'd love to hear your comments and/or opinions. If you submit them here, other visitors can read them, rate them and comment on them. An e-mail address is not required.