NFL Season Previews: AFC West
2012 Standings:
Denver Broncos (13-3)
San Diego Chargers (7-9)
Oakland Raiders (4-12)
Kansas City Chiefs (2-14)
This division is similar, in many ways, to other divisions we've looked at. In our AFC East preview, we talked about how one team was likely to run away with the division without too much trouble. In our AFC South preview, we talked about how the division was going through a period of transition as they try to figure out who will be alpha dog in the absence of Peyton Manning. Here in the AFC West, Peyton Manning's presence makes this a one-team division, at least for the immediate future.
I'm going to try to be hard on the Denver Broncos in this section, but don't mistake that for thinking they're not going to the playoffs – there's only one other team in the division that I could see even challenging them, even in the best case of scenarios. The Broncos season isn't defined by the AFC West; it's defined by Super Bowl XLVIII; anything short of that is a failure. Offensively, there isn't much to nitpick, either – you have possibly the best quarterback of all time with possibly his best supporting receiver cast ever, with Wes Welker joins Demaryius Thomas, Eric Decker, Jacob Tamme, and Joel Dressen. They just re-signed Ryan Clady to anchor one of the best offensive lines in football, as well as adding Louis Vasquez. The running game is a bit of a question mark, as they're going with the unproven Montee Ball, but with a passing game like that, they can handle an average running game.

No, if anything's going to cause the Broncos to slip up, it will be regression on the defensive side of the ball. The unit was one of the top five in football last year, but there are reasons to wonder if it'll stay in that rarified air in 2013. There's some personnel turnover – Elvis Dumervil, of course, is out of town due to Faxgate, Keith Brooking wasn't resigned, and Von Miller is likely to be suspended for four games for violating the NFL's drug policy. Age is another question – Champ Bailey was still great, but at some point, father time is going to catch up to the 35-year old cornerback, bringing him down to the level of us mere mortals. Then there's simply the law of averages catching up with them. The Broncos were very healthy last year on defense, really missing only Ty Warren and Tracy Porter for any significant periods of time, and I'm using the word 'missing' loosely. Health doesn't carry over from year to year like that, so injuries could slow the team down.

We're picking nits here – the Broncos are going to be good. Very good. So good that, as of right now, before any preseason games or meaningful training camp action, they are my pick to win the AFC and head to the Super Bowl. Any other team making it there will be an upset.

I mentioned that only one team could challenge the Broncos in even the best-case scenario. That scenario basically hinges around Peyton Manning going down with an injury, forcing Brock Osweiler into action. The door would be open, but who could step through? The only team I could see taking advantage of that scenario would be the San Diego Chargers, who finally, finally have started a new era after getting rid of GM AJ Smith and coach Norv Turner. After their 13-3 season in 2009 , the Chargers have just drifted down, getting a little worse and a little older each and every year, and their window to win a Super Bowl seems to have shut on them. To open it back up again, and catch the Broncos in even the best of circumstances, they need the old Philip Rivers back.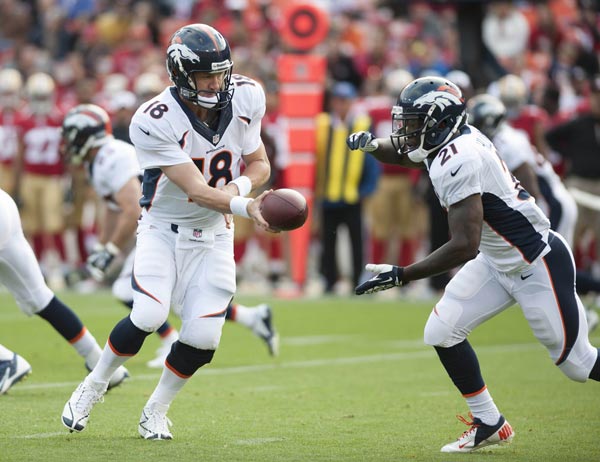 Rivers was a great quarterback as recently as 2011, but last season saw him fall off of a cliff, plummeting to only 3600 yards receiving and seeing his yards per attempt crash under seven, and his DVOA plunge into the negative numbers. I'd say this was a fluke, but watching him play last season, it's as if he suddenly aged four years overnight. His arm strength was down, and his accuracy fell through the floor. This is new coach Mike McCoy's first, second, and third priority – figuring out what went wrong for Rivers last season and fixing it. Part of the problem might have been the collapse of the offensive line, hence the pick of DJ Fluker in the first round to try to shore it up, but he's a run-blocker first and foremost, no great shakes in the passing game. I don't know if there's enough talent on the line to give Rivers the time he needs to make accurate reads and throws.

The defense looks relatively solid, with a strong pass rush helping mask secondary concerns, but none of that will matter if Rivers isn't the Rivers of old again. Even Brock Osweiler's Broncos will win the division if Rivers has a repeat of 2012.

The other two teams in the division aren't going anywhere this season, but at least there's signs of hope. The Kansas City Chiefs were the most talented 2-14 team in NFL history last season, I feel safe in saying. Jamaal Charles, Derrick Johnson, TambaHali, and Eric Berry all found their way to the Pro Bowl. Add in Dwayne Bowe, and you have quite a young core there. There were disasters elsewhere on the team, though, so this offseason, the franchise went out and got two big upgrades: Andy Reid and Alex Smith.

The Eagles eventually got tired of Andy Reid, and replaced him essentially for freshness – he had plateaued in Philadelphia, only once managing to get them to the Super Bowl and falling in the playoffs year after year. The Chiefs would kill to have those problems, and so they bring Reid in. Reid's an excellent coach at everything other than clock management, and both Philadelphia and Kansas City did the right thing in regards to him. He's got an excellent framework to build upon, and the first thing he had to do was get his quarterback to play up to average, as Matt Cassel and Brady Quinn were absolutely horrible last year. Enter Alex Smith – yes, they overpaid for him, but he's a vast improvement over anything Kansas City had last year. There is some thought that he'll regress without Jim Harbaugh, but Andy Reid is a cut above most of the other coaches and coordinators he's had, so I'm not too worried – Reid knows quarterbacks.

The question now, then, is what will the offense look like? Objectively, what looks like it would be the best is a run-first offense behind Jamaal Charles, one of the best backs in football, with Smith continues to play mistake-free, safe football – but that's never been Reid's style. His Eagles teams passed the ball 62.3% of the time, despite the presence of LeSean McCoy. Seeing what the Chiefs offense actually looks like will be one of the more interesting storylines of 2013.

Even with Smith, though, this team needs a little more time to gel properly – the team needs a second receiver to go with Bowe, and the secondary needs to figure out how to clamp down on big plays. There's talent here, and the Chiefs will be better for it, but they won't compete for anything significant for another couple years. Chiefs fans will just have to be happy they're going in the right direction.

The Oakland Raiders are also going in the right direction, but for them, that direction is backwards. The team was horrible over the past few seasons, and they are now paying the price, taking all of their lumps in one year. The Raiders have a bunch of their salary cap blocked off from players they've released or traded – Richard Seymour, Carson Palmer, Rolando McClain, Tommy Kelly, Darrius Heyward-Bey, Michael Huff, Aaron Curry, Kevin Boss, etcetra. None of them will play a snap for the Raiders this season, and yet they constitute $49 million in dead money against the Raiders cap. That's quite the handicap to play a season with.

So, what do they have? Well, they took a two-year flyer on Matt Flynn, to see if he can reproduce the numbers he put up in limited action in Green Bay. They didn't overpay for him, either, which is a change from recent Raiders quarterbacks. They brought Charles Woodson back to shore up their secondary, and have nine new starters overall – which is good, considering how bad they were last season. Stefen Wisniewski is a very good center, and they still have Sebastian Janikowski thumping those sixty-yard field goals.

More than any of that, they'll have $70 million of cap room next season and a high draft choice. Sometimes you have to get worse to get better, and the Raiders at least have the first part of that equation down pat.


What do you think?
We'd love to hear your comments and/or opinions. If you submit them here, other visitors can read them, rate them and comment on them. An e-mail address is not required.