NFL Season Previews: AFC South
2012 Standings:
Houston Texans (12-4)
*Indianapolis Colts (11-5)
Tennessee Titans (6-10)
Jacksonville Jaguars (2-14)

For essentially the entire history of the AFC South, this was Peyton Manning's division – sure, the Titans took a couple divisional titles here and there, but the favorite, year in and year out, were the Colts, due to having arguably the best quarterback in the NFL at the helm.  Since his injury and subsequent departure, the AFC South has been searching for its identity – will one team step up and take charge, like the Patriots in the AFC East, or will this be a back-and-forth, new champion every year-style division like the NFC East or AFC North?  Will the top of the division be a battle between Super Bowl contenders, or will they be teams struggling to get the automatic playoff berth, and nothing else?  All four teams find themselves at a bit of a turning point in their franchise history – some very much wanting a change, and others hoping the good times roll just a little bit longer.
The 2013 Houston Texans promise to be very similar to their 2011 and 2012 counterparts, especially on offense – the trio of Matt Schaub, Arian Foster, and Andre Johnson will provide the offense for the fourth consecutive season. The defense will still be ferocious, led by JJ Watt, coming off of arguably the single greatest defensive season in NFL history.  Gary Kubiak's still the coach, and there weren't any real offseason moves of any sort that will change the team very much – the closest thing to qualify is the signing of Ed Reed, and he's still only at 75-80%, and who knows when he'll next see the field. If it ain't broke, don't fix it, perhaps – the Texans have won the last two AFC South crowns, and are likely the favorite for the third.

Still... while a bunch of teams would be happy making the playoffs year after year, Texans fans have to be waiting for the team to make the next step.  The 2011 squad washed out in the divisional round, which was somewhat excused by injuries to their top two quarterbacks.  Last year's squad started amazingly hot – 11-1 hot – only to stumble through December, and again washing out in the divisional round.  What have they done to improve their odds of getting past there?  Matt Schaub and Andre Johnson are both turning 32 this season, so that's not a good point to look at for players actually improving– it's a downward slope from this point on, generally speaking.  That doesn't mean that they are going to be any worse this season, mind you – just that it's not the spot to look for the team going to the next level.  Arian Foster's coming off of a 351 carry season, and that's got to put some wear and tear on his legs, and there's been little improvement on the offensive line to give him better blocking.

Even Watt's likely to have worse numbers this season, if only because I can't imagine them going very much higher, and teams will be more ready for him.  The Texans of recent years are sort of like The Hangover movies – yes, the first one was amazing and unexpected, but the next two seasons/sequels have been more of the same, and brought with it diminishing returns.  Maybe being knocked out in the divisional round is a problem a lot of NFL teams wish they had, but the Texans window is closing, and they have to find something to kick them to the next level – and I'm not sure what that thing could be this year.

Their main competition for the division title will come from the Colts, who had probably the single most surprising season last year – you're not supposed to turn a 2-14 team into an 11-5 team while replacing most of your starting lineup, and nobody predicted them to go anywhere, as they began what looked to be a long rebuilding process.  Well, with a combination of a young stud quarterback in Andrew Luck, a little team spirit in #chuckstrong, and key contributions from players up and down the roster, and the Colts found themselves back in the playoffs.  They're back among the elite teams in the NFL, right?  Well, not so fast – a team's record isn't the only way to judge a team's success.  Look at their success more closely – they were 9-1 in games decided by a touchdown or less.  These weren't games against the toughest competition the NFL had to offer, either – they squeaked out victories over Detroit, Miami, Cleveland, Tennessee (twice!), Buffalo, and Kansas City.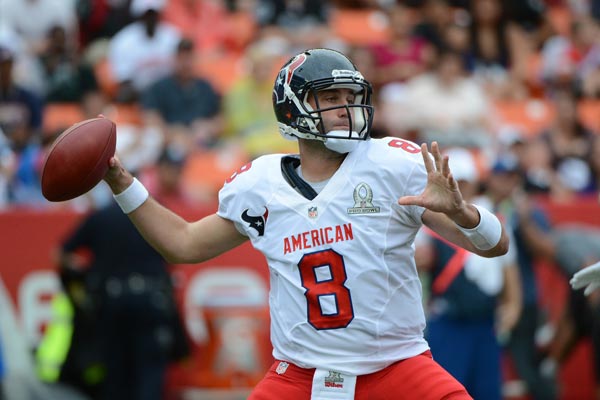 Yes, it says something that they won those games rather than lost them, but in games that close, a single bounce – a single play going the other way – could alter the outcome entirely.  Great teams don't squeak out close victories, great teams prevent games from becoming close to begin with.  There's also little correlation, year to year, in record in close games – if you see a team with an unusually good or bad record in one-score games, you can pencil them in for likely candidates to regress or improve.  Add in the fact that they were outscored over the course of the season – drubbings by the Patriots, Bears and Jets knocked their differential out of whack, and you can expect the Colts to come plummeting back to Earth, right?

Well, again, not so fast.  Maybe you disagree as to which young quarterback is the best, but Andrew Luck has all the talent in the world – and he could very easily take another big step forward this season.  Young talent with potential to improve permeates the roster on both offense and defense – the Colts got production out of rookies like TY Hilton, as well as a young linebacking corps.  They're bringing in help, too – Darrius Heyward-Bay projects as a possible starter and another weapon for Luck, and his offensive line has the potential to be much improved with GosderCherilus coming in as a free agent and a couple interesting mid-round draft selections having shots to start, as well. 
On defense, players like Ricky Jean-Francois and Cory Redding are coming in to bolster the front seven.  On top of all this is the fact that they will, again, face a somewhat easy schedule – four games against Tennessee and Jacksonville help, and, outside of Denver, the AFC West isn't fantastic, either.  They may not get to 11-5 again, but, record aside, this will be a better team, and has the potential to return to the playoffs – this time, with more behind them than just luck and Luck.

Then we start turning to the bottom of the division, and it's not a pretty sight – like the Colts, the Titans are counting on a young quarterback turning it on, and it just doesn't seem to be happening.  Jake Locker has yet to live up to his high draft status, as his mental game hasn't caught up to his physical game.  He has trouble going through his progressions and identifying defenses and blitzes.  His list of comparable players isn't fantastic, either – while you have a young stud in Colin Kaepernick there and a Hall of Famer in Roger Staubach, most of the comparables are in the Chad Henne or Tarvaris Jackson range – not exactly what you want out of the #8 overall pick.  Therefore, while the Titans work on shaping Locker up, they've decided to go with a running-game and defense style offense – a throwback in the modern NFL.

To this end, they've gone out and pumped a lot of value into their offensive line, giving a big free agent contract to Andy Levitre, and spending their first draft pick on Chance Warmack.  They're also getting David Stewart back from an injury, and all signs point to the line being much improved.  They'll need it – Chris Johnson depends on blocking perhaps more than any other top running back in the NFL.  That 2000 yard season back in 2009 seems further and further away every time he gets the ball – his success rate of 41% placed him 38th in the league, and though his 4.5 yards per carry sounds nice, that's hiding a lot of boom-and-bust plays – he turns it on for big yardage when he has room to get past the line, but he's also often stuffed if the blocking isn't there – he doesn't make something out of nothing anymore, or settle for three yards when that's all that's available.

Will the line help him out?  Probably, but unless Locker takes a step forward, they're going to see a lot of men in the box out there to stop him.   As for the defense, they were near last in the league last season – teams would spread them out and stomp over them, with their dime package giving up 8.3 yards per play.  They've upgraded their safeties with George Wilson and Bernard Pollard, but I don't think it's enough to make them competitive.  I'm expecting another poor season in Tennessee, and perhaps the end of Jake Locker's career as a starter, because of it.

But at least Tennessee isn't Jacksonville, who, last season, stumbled to a disastrous 2-14.  Why were they so bad?  It seems obvious to blame a lack of talent, but that's where you have to look – and that's why GM Gene Smith is history.  Smith's draft history is abysmal – the pick of Blaine Gabbert feels like the worst one, considering his total lack of success, but I point instead to third round punter Bryan Anger last year as the worst one, considering Russell Wilson was taken five picks later, TY Hilton and Chris Givens were talented receivers still on the board to give some weapons to their overmatched quarterback, and, oh, yeah, a punter was taken in the third round.  When I looked at the Jaguars, surely, the only thought possible was that only a punter could possibly put them over the top, and lead them to the playoffs.  From top to bottom, the Jaguars have drafted horribly, and they didn't help themselves by giving huge contracts to mediocre players, apparently thinking they were a guy or two away from contention.Smith got the old heave-ho, and rightfully so.

Enter new GM David Caldwell, and new head coach Gus Bradley, and look at all the work they have to do.  No cupboard was as bare as the Jaguars, and, let's be honest, there's only so much you can do in one season.  Maurice Jones-Drew, the one truly talented offensive player they have, is recovering from a Lisfranc fracture, and there's almost no depth behind him if he can't go.  The defense actually has some interesting pieces, with Tyson Alualu up front and Paul Posluszny in the middle.  They have entirely overhauled their secondary – 11 of the 16 players listed on the roster there were not on the team last season – and it's not like it could get much worse.  All that being said, the Jaguars are going to be horrible again.  It's going to take several years to sift through the rubble and see if Caldwell and Bradley can do anything in Jacksonville.


What do you think?
We'd love to hear your comments and/or opinions. If you submit them here, other visitors can read them, rate them and comment on them. An e-mail address is not required.