NFL 2013 Season Previews: AFC East
2012 Standings:

New England Patriots (12-4)
Miami Dolphins (7-9)
Buffalo Bills (6-10)
New York Jets (6-10)
In a new season, it seems like anything can happen – good teams can become bad, bad teams bounce back and make the playoffs.  If there's one constant in the NFL, it's change – at least, in every division not named the AFC East.  The last four division titles all have gone to the New England Patriots.  Not only that, but nine of the last ten have ended up in New England, with only the '08 Dolphins managing to steal one, in a year marred by Tom Brady's injury in week one.  The Brady/Belichick duo seems almost unbeatable, and that's brought with it consistency – since Belichick took over in 2000, the Dolphins have had seven different head coaches, the Bills five, and the Jets four. The Patriots?  They just keep rolling along, year after year, winning double digit games and winning playoff berths.

If that was going to ever change, though, wouldn't this be the season? The Patriots have had one of the most turbulent offseasons in the history of the NFL, an offseason that would cripple most teams. Their receiving corps has been decimated, almost literally – two thirds of their receiving yards from last season went to players no longer with the team, and that's not including Rob Gronkowski, who went under the knife multiple times. That sort of turnover just doesn't happen – only nine times previously in NFL history have top quarterbacks lost more than half their receiving yards from season to season. Then, you have all the offseason turmoil caused by the arrest of Aaron Hernandez. That would be enough to sink most teams before they start.

Most teams aren't the New England Patriots, though.  If you had to pick a quarterback to try to handle an entirely new receiving corps on the fly, you could do worse than picking one Tom Brady.  Arguably no one has been better at the quarterback position over the past three years, and he's not exactly showing signs of old age.  Also, the Patriots are more than one side of the ball – they do get to play defense, too, and that was trending up at the end of last season, until injuries depleted their secondary in the playoffs.  Now, that could get derailed, by, say, one of their top corners finding himself arrested last week, but it shouldn't be as bad as it was in 2012.  They've also got a linebacking corps worth envying – Jerod Mayo, Brandon Spikes, and Dont'a Hightower make an imposing combo in the middle, especially against the run.  That leaves weaknesses in the passing game for their opponents to exploit, and that's the way you'll have to play to knock off the Patriots.

So, it's certainly realistic to say that this is the most vulnerable the Patriots have been in years – someone just needs to step up and knock them down. Any takers?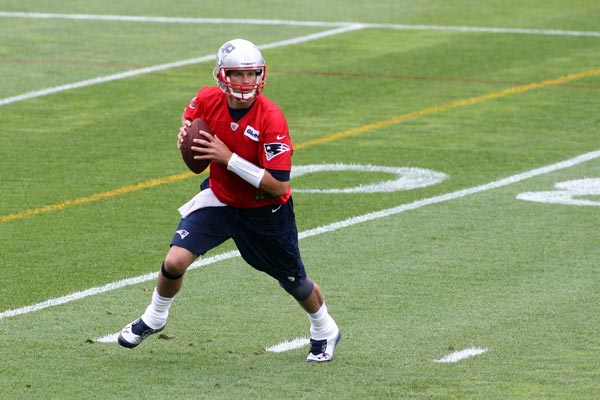 Alright, raise your hands if you had a) the Jets stumbling to a double digit loss season in 2012 and b) still enjoying the services of Rex Ryan and Mark Sanchez.  Anyone?  No?  I'm stunned, stunned by this development.  The days when Ryan and Sanchez stood proud, leading the Jets to back-to-back AFC Championship games seem like ancient history in the modern NFL, and, appropriately, the Jets were gutted this offseason in an attempt to kickstart a rebuilding phase.  Out went nearly every coach not named Ryan, out went DarrelleRevis, out went Bart Scott, Brandon Moore, Dustin Keller, Shonn Greene – out they all went, in ones and twos, taking their experience and hefty contracts with them.
 
Ryan's only still on the roster to coach the defense, and that's where any hopes the Jets and Ryan have for 2013 might lie.You can say whatever you want about Rex Ryan – and many people have – but the man knows how to coach defense. There's some talent there, too – they used their first round pick on Dee Milliner, who looks like he could be a decent replacement for Revis in time, and they've got Muhammad Wilkerson on the line, who I liked enough to name to my all-budget team. If there's an improvement on defense, now that Rex is calling the plays again, it'll have to be matched by an improvement at quarterback, and, as bad as Sanchez has been, he can't be that bad again, right?And if he is, surely Geno Smith can step in and provide a little bit extra quality? I don't know; I think the team might be able to get to .500, which might save Ryan's job, but challenging the Patriots? I don't see it this year. They might rise above mediocre status, however, and challenge for a wildcard in a weak AFC – but that's only if everything clicks.

The Bills, meanwhile, go through more regime changes than a floundering democracy – it's their fourth new head coach this decade, and this time, they swear to us, it'll stick.  They've got a hotshot college coach in Doug Marronne from Syracuse, they went out and drafted a first round signal caller in QB EJ Manuel, and they're charging ahead.  From scratch.  Again.  This isn't the first time Bills fans have had to go through this, of course – another new coach, another new philosophy, another new quarterback, and the same old results are par for the course in Buffalo.  This is why their last winning season was in 2004, and their last postseason berth was last millennium.  And so, here we are again, with the fifth five-year plan and yet another hope that this time, it will be the last time.
 
The most frustrating thing for Bills fans has to be that they are doing everything right – they're replacing players when they need to, they're willing to start from scratch, but still they end up stuck in this rut. Is it just optimism to hope that this time everything's fallen into place? It won't be this year, for sure – Manuel's selection in the first round was stunning, simply because he needs time to develop. He's either going to be thrown in the fire from the beginning or sit behind Kevin Kolb, who isn't going to lead them to the promised land either. As good as CJ Spiller is, he isn't enough to run the Patriots down all by his lonesome, and there's just not enough experience on the offense to let the Bills be serious challengers this season.

That leaves us with the Dolphins, who decided to try to beat the Patriots with large amounts of cash – leading them to make the splash of the offseason by bringing in Mike Wallace. $60 million over five years is quite the contract for a receiver who fell under 900 yards and 70 receptions last season, but they wanted to give Ryan Tannehill a top-tier quality weapon, and Wallace certainly was that in 2010 and 2011. I'm expecting a bounceback in his production, but that's going to be a little offset by the difference between Ben Roethlisberger and Tannehill. I expect him to get back over 1000 yards though, and his catch rate to rebound from the 54% he put up last season, significantly below his career average. He won't reach his averages, though, because of the quarterback situation. A football team isn't just one player, though, and signing Wallace had repercussions on the rest of the team – notably, the inability to resign Jake Long.

The offensive line will be shuffled this season, which isn't a word you want to hear associated with the guys protecting your quarterback. I'm not sure that Jonathan Martin is ready to slide into left tackle, and I'm pretty sure "Richie Incognito" is actually the anthropomorphic incarnation of a sack, as opposed to an offensive guard. Can Tannehill improve enough to offset that decline? I'm not sure. I also question the defensive line – Dion Jordan's college numbers were actually quite disappointing, though he excelled at the combine, so his high draft choice has to bring with it several question marks, especially in a 4-3 defense. They're gambling on him living up to his performance in the workout room, which is always a risky proposition. No, I see too many question marks to reserve a ticket on the Dolphins bandwagon this season.

The AFC East might end up being the most boring division race this season. No, none of the teams in it are liable to be absolutely horrible – though you never know when you're throwing inexperienced quarterbacks into the fray. The Patriots, by luck or design, have their biggest weakness – pass defense – up against a trio of quarterbacks that don't strike fear into opposing teams' hearts. They are working in a new receiving corps while two of their three opponents are actively rebuilding, and the fourth is still working their way up to the top level. Brady and Belichick have dominated the AFC East for years, and I don't see that changing this season.

What do you think?
We'd love to hear your comments and/or opinions. If you submit them here, other visitors can read them, rate them and comment on them. An e-mail address is not required.