Why We Hate LeBron and the Heat?
By Matt Green
This morning, I read an article that made me angry. It was telling me why I should root for the Miami Heat in the Finals over the Thunder. It was laughable. I understand his points about the Thunder and the theft from Seattle, and that does make me mad, but don't tell me I should root for the Heat. Rooting for the Heat is unacceptable if you aren't from Miami. It's like rooting for Hans Gruber in Die Hard or Tommy Hatcher in Green Street Hooligans. It's that cocky entity that seems like it would be entertaining, but, when it comes down to it, actually IS evil. I'm not trying to bash this other guy, because he is a great writer. It simply got me thinking: why do we hate LeBron and the Heat?
People ask the question, why the hatred of LeBron? They cite the decision, and really, unbelievably, cannot conjure up any more evidence. I don't understand. The evidence is right there in front of us. Now, for me, I hate Dwyane Wade more than LeBron, but that's because I'm a Mavs fan and Wade and Bennett Salvatore teamed up to cheat the Mavs out of the '06 title. But that is neither here nor there.
My real, deep, passionate hatred for LeBron came after Game 4 of the 2011 Finals against my Dallas Mavericks when he and Wade mocked Dirk's illness. See the video here(http://www.youtube.com/watch?v=LoOXKha7uL4). It's just sad and incomprehensible to me to mock a guy that just beat you with a 103 degree fever just days after he demolished your 15-point fourth-quarter lead and led the Mavs to the biggest comeback in NBA Finals history on your home court. It's James' immaturity that astounds us. And Wade too. But most people hated LeBron before that. So what happened before?
The celebration after acquiring the three stars. Yes, I'm referring to the "Not 1, Not 2, Not 3, Not 4", etc speech that James gave at the celebration. He was predicting championships for his team before they had even stepped on the court, and before they even knew whom else they would be able to snag to fill the other 2 positions on the floor. LeBron forgot that five people play on the court at the same time. And I have more evidence.
Everyone loves Michael Jordan, and he was a cocky man, and still is, although his GM-ship in Charlotte should probably have taken away some of that. LeBron is cocky, but has yet to back it up, and we can't stand that. If you're going to be cocky like Namath before Super Bowl III or Messier before Game 6 of the '94 Eastern Conference Finals, you better be able to back it up. Namath won the game and Messier netted a hat trick. LeBron has yet to back-up that cockiness in a big game. (As a matter of fact, after he dropped a grand total of 8 points in a huge Game 4 of the 2011 Finals, me and my friends made a sign at Game 5 that read: "Not 1, Not 2, Not 3, Not 4, Not 5, Not 6, Not 7, but 8 points." Yeah, I know, awesome.) 8 points in a Finals game for the supposed best player in the world? Unacceptable.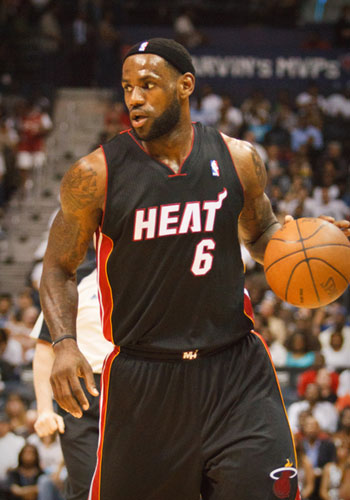 Miami's LeBron James in Atlanta Hawks 98-90 loss to the Miami Heat at Philips Arena in Atlanta, GA.
---
But finally, there is one last thing that gets me, and that I can directly point to as the reason that I very much dislike LeBron. He was a lucky guy. He was fortunate enough for his essential home-town team to get the 1st draft pick the year he came out. He was an icon in Cleveland.
Most people loved LeBron in Cleveland; I know I did. So what happened? I'm not mad that he went to Miami, he has the right to go wherever he wants. He earned that right. But what makes me mad is that he promised Cleveland he would win a championship for them. A direct quote from LeBron:
"I got a goal, and it's a huge goal, and that's to bring an NBA Championship here to Cleveland. And I won't stop until I get it."
There's no mistaking what he said in that quote. There's no other way to interpret his words. He promised his city that he would bring them a title. But he left before he did. Because he took the easy way out. The anti-American belief. The American dream consists of coming from nothing and working your way to the top and pulling yourself up by your bootstraps. Not by teaming up with two other cocky individuals to take the easy way out and win a championship the easy way.
Listen, don't tell me why I need to cheer for the Heat. I hate the Heat. Everyone hates the Heat. Nobody should ever cheer for the Heat, no matter the circumstance. Didn't know why you hated LeBron? I hope you do now.
Read the referenced article here: http://www.thenation.com/blog/168311/why-we-should-all-root-miami-heat
There are lots of reasons to hate LeBron James. Check out The Legitimate Reasons to Hate LeBron James.
---
---
What do you think?

We'd love to hear your comments and/or opinions. If you submit them here, other visitors can read them, rate them and comment on them. An e-mail address is not required.
What Other Visitors Have Said
Click below to see contributions from other visitors to this page...

Lebron and the Heat Re-energized the NBA! Not rated yet
Lebron is great at what he does. He is a leader and a mentor. He is a family man and well spoken. He may have Predicted bringing the championship to Cleveland …
---
From Why We Hate LeBron and the Heat to NBA Basketball Blog | Sports Blog | NFL Football Blog | NCAA Football Blog | NFL Football Archives | College Football Archives | MLB Baseball Blog | College Baseball Blog | MLB Baseball Archives | NCAA Basketball Blog | NBA Basketball Archives | NCAA Basketball Archives | Fantasy Football | Fantasy Basketball | Fantasy Baseball | Soccer Archives | Olympics Archives | Stupid Athletes Archives | Other Archives | Football Forum | Basketball Forum | Baseball Forum | NFL Football Store | NBA Basketball Store | MLB Baseball Store | NCAA Football Store | NCAA Basketball Store | NCAA Baseball Store | Fatheads | NFL Football Tickets | NBA Basketball Tickets | MLB Baseball Tickets | NCAA Football Tickets | NCAA Basketball Tickets | NCAA Baseball Tickets |
---
Home Page
About Us | Contact Us | Site Search | Advertise | Terms of Use |
---