Why the Nuggets Should Trade Carmelo Anthony Now?
[UPDATE: Maybe they were listening, cause it happened. Here's the follow up to this article: Carmelo Anthony Trade Analysis.]
The Carmelo Anthony Saga has captivated NBA fans for the last several months. The Denver Nuggets All Star forward's status has been in limbo for months because, while it increasingly clear that he has no interest in returning to Denver next season, the Nuggets have yet to trade him. The issue is complicated by Anthony's stated desire to go to New York and his refusal -as yet- to sign an extension with any other team willing to trade for him.
However, that does not change one simple fact: the Nuggets need to trade him and they need to do it as soon as possible. LeBron James' decision to leave Cleveland-without advance warning of any kind-served notice to every NBA team: if you have a star approaching free agency, either lock them up or trade them. There is no advantage to waiting in limbo and hoping that eleventh hour persuasion and notions of 'loyalty' will ultimately persuade them to stay. That is not reality anymore: players, their family, their agents, and others all weigh the pros and cons of free agency options long, long before it actually occurs and, as James and Bosh's 'independent' decisions to play for the Heat show, those decisions are made well in advance.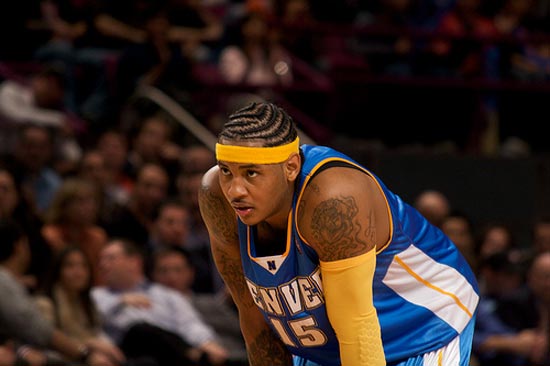 Thanks to AJENT.MSG from Flikr.com for this great picture of Carmelo Anthony.
---
That player mentality has created a new reality for NBA franchises: It now makes sense for teams to trade leaving stars sooner rather than later. In Denver's case, with every day that passes, they lose leverage and their return gets smaller. Why? Because no team will part with a serious package of assets to rent Anthony for the thirty games past the February deadline. Had the Nuggets traded him in the summer or at the very start of the season, they might have received close to equal value in a trade because that team would have had Anthony for a full season. However, that option is now gone and Denver must salvage what they can-and soon.
So, if Denver needs to trade Anthony, where should they turn? New Jersey has been the most available and willing option for months but that move is beset with problems. The largest issue with New Jersey is that Anthony remains unwilling to sign a long term extension there…and with good reason. From Anthony's point of view, it makes little sense to agree to play two years in Newark purgatory (that is the current perception of Newark in the NBA) and then join New York's little brother franchise in Brooklyn when he could become the biggest Knicks star since Patrick Ewing as early as this June. Commenting sportswriters often suggest that Anthony would sign his extension to lock in the sixty-five million dollar payday before the new labor talks hit a lockout but this argument doesn't really hold water: as the star of a contending Knicks squad, Anthony could make up the monetary difference in endorsements in just about five minutes. Knowing that, it doesn't seem likely that Anthony would turn around and, against his better judgment, agree to play in New Jersey long term.
So, does Denver have another compelling option? As a matter of fact, they do: the Knicks. The Nuggets should put the screws on New York by very publically offering to hold exclusive trade negotiations with the Knicks to complete an Anthony deal. At first glance this move would appear to concede essential leverage and 'give him away' to New York but the value of this option becomes apparent when it is considered counter-intuitively. That's because, contrary to what is often said in the sports news media, New York does not want to trade for Anthony, they want to sign him. As long as Denver continues to publically try to trade Anthony elsewhere, New York can look at Anthony and hold up their hands as if to say, 'we love you, we want you, we're sorry that Denver does not want what we have to offer so just wait and we will sign you this summer.' The free agency option is perfect for the Knicks: they can sign Anthony for less money under the new CBA without giving up any serious assets for him but sshhh it's a secret.
In order to get maximum value for Anthony, Denver should call New York's bluff. The Nuggets should publically offer New York those exclusive negotiations so that Anthony knows they are going on and, as a result, force New York to negotiate while they know Anthony is watching. The Knicks have a number of very good assets: Landry Fields, Danilo Gallinari, Wilson Chandler, Raymond Felton, Eddy Curry's contract, and more-but they don't really want to give them up if they can just sign Anthony after this season. Denver shouldn't let the Knicks play that game; instead they should insist on negotiations and force the Knicks to show their hand. That way, if the Knicks lowball the Nugget's, Denver can turn to Anthony and tell him New York does not like him enough to trade him. If that happens, Denver's chances of getting Anthony to agree to play for another big franchise contender would be appreciably higher. At the very least, they wouldn't be letting New York simply coast to free agency and sign Anthony right under their noses. Denver might not get exactly what they want for their star but, at the very least, they can make New York pay up for him.
---
---
What do you think?

We'd love to hear your comments and/or opinions. If you submit them here, other visitors can read them, rate them and comment on them. An e-mail address is not required.
---
From Why the Nuggets Should Trade Carmelo Anthony Now to NBA Basketball Blog | Sports Blog | NFL Football Blog | NCAA Football Blog | MLB Baseball Blog | College Baseball Blog | NCAA Basketball Blog | Fantasy Football | Fantasy Basketball | Fantasy Baseball | Football Forum | Basketball Forum | Baseball Forum | NFL Football Store | NBA Basketball Store | MLB Baseball Store | NCAA Football Store | NCAA Basketball Store | NCAA Baseball Store | Fatheads | NFL Football Tickets | NBA Basketball Tickets | MLB Baseball Tickets | NCAA Football Tickets | NCAA Basketball Tickets | NCAA Baseball Tickets |
---
Home Page
About Us | Contact Us | Site Search | Advertise | Terms of Use |
---