Carmelo Anthony Trade Analysis
The Melo-Drama is over. It has taken almost a year, several back and forth proposals, face to face meetings, and countless New Jersey jokes to reach this point. But we are here and, after all the intrigue, this drama finished itself the way almost everyone expected: Carmelo Anthony is now a New York Knick.
Back in January, I wrote that the Nuggets strategy for dealing with the Carmelo Anthony situation should be simple: use Anthony's pathological desire for an extension under the current Collective Bargaining Agreement to force the Knicks into trading significant assets for him. Denver may have read my article (and who knows maybe they will offer me a job now) because that is exactly what they did: they used Carmelo's own greed and the New Jersey Net's offer as leverage to force the Knicks not to wait until the summer. Carmelo wanted to be a Knick but, as this process drew to a close, everyone involved knew that he wanted the money even more. That desire for an extension at (almost all costs) pushed the Knicks to acquire him over the weekend in a very elaborate trade: The Knicks get Carmelo Anthony, Chauncey Billups, and some new bench cushions, the Nuggets get promising young players Raymond Felton, Danilo Gallinari, Wilson Chandler, Timofey Mozgov, and several draft picks, and the Minnesota Timberwolves got the talented but inconsistent Anthony Randolph.
Looking for a Carmelo Anthony Jersey
Past the surface headline, "Carmelo is a Knick," however, the consequences of this trade for each team are rather difficult to analyze. It is one of those trades where everybody won BUT everyone lost at the same time. The Knicks won by getting Carmelo Anthony, creating a team with two superstars and room for some bit part additions. But they lost because Carmelo's desire for an extension and the Nugget's skillful negotiations pushed them to give up more than they had originally wanted to part with in this deal. The Nuggets, on the other hand, won because they got more than expected in return for Anthony but they still lost a superstar and are now committed to a rebuilding process.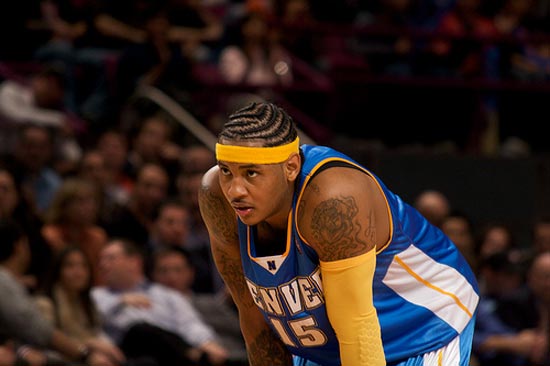 Thanks to AJENT.MSG from Flikr.com for this great picture of Carmelo Anthony.
---
How the Knicks got to this deal is as interesting as the deal itself? Was there agreement in the front office or did GM Donnie Walsh and owner James Dolan disagree over the trades' parameters? Did the Knicks blink too early? And, most importantly, did they give up too much? The truth is that we may never know the answer to some of these questions. The Madison Square Garden intrigue may remain a mystery forever (though if Donnie Walsh's option is not picked up that would be a strong hint that there was dissent) but the consequences of the trade itself are fairly clear. This was a good and fair trade for the Knicks and it gives the franchise a chance for greatness BUT they still blinked too early and gave up too much.
The most common refrain from commentators and analysts has been that the Knicks made off because they replaced Felton with Billups (a wash), Anthony with Gallinari (a net gain), and could not have resigned Chandler, which means that they really only lost Mozgov, Randolph, and draft picks. This is not "incorrect" persay but it is misleading. That's because the Knicks could have held firm for another day (since Melo repeatedly refused to sign an extension with New Jersey) and kept Mozgov and/or Gallinari. They could then have traded Mozgov (they don't want the 2012 year of his contract) and Gallinari (can't start alongside Melo) to a number of interested teams in order to obtain the necessary pieces to contend for a title starting this year. Instead, they gave up just a bit too much in one trade and now, even though they made progress and have a new direction, the Knicks will be unable to contend this season due to a lack of help players and rotation depth.
As for the Nuggets, their handling of the situation was impressive. They played the Knicks into folding their cards and giving too much talent away. Now, they have a surplus of talent and should get the bevy of draft picks they were looking for (by trading away some of what they received from New York in a separate trade) and still have enough young talent to retool quickly. A starting lineup of Felton, Chandler, Gallinari, Kenyon Martin, and Nene Hilario with the talented Ty Lawson as a sixth man is still a playoff caliber group and the franchise will now have the draft flexibility to acquire a new franchise cornerstone.
Of course, none of that gets at the most important consequence of this trade: it shows once again that star players can force their franchise's hands and play wherever they want. It may take a while and it may be messy but, at the end of the day, franchises seem impotent when it comes to keeping their star players in check. Perhaps with a new Collective Bargaining Agreement this will change but, for the moment, we remain in the "Age of the Star Player."
---
What do you think?

We'd love to hear your comments and/or opinions. If you submit them here, other visitors can read them, rate them and comment on them. An e-mail address is not required.
---
From Carmelo Anthony Trade Analysis to NBA Basketball Blog | Sports Blog | NFL Football Blog | NCAA Football Blog | NFL Football Archives | College Football Archives | MLB Baseball Blog | College Baseball Blog | MLB Baseball Archives | NCAA Basketball Blog | NBA Basketball Archives | NCAA Basketball Archives | Fantasy Football | Fantasy Basketball | Fantasy Baseball | Soccer Archives | Olympics Archives | Stupid Athletes Archives | Other Archives | Football Forum | Basketball Forum | Baseball Forum | NFL Football Store | NBA Basketball Store | MLB Baseball Store | NCAA Football Store | NCAA Basketball Store | NCAA Baseball Store | Fatheads | NFL Football Tickets | NBA Basketball Tickets | MLB Baseball Tickets | NCAA Football Tickets | NCAA Basketball Tickets | NCAA Baseball Tickets |
---
Home Page
About Us | Contact Us | Site Search | Advertise | Terms of Use |
---