The Consequences of the Pac-16
By Paul Grossinger
Back in 2010, Pacific 12 commissioner Larry Scott waited patiently in his conference board room. One can imagine him waiting anxiously to hear from the University of Texas, which was debating whether to join the Pacific 10 and create a powerhouse conference. Scott was confident that Texas' board would agree to join his conference and gleefully contemplated the future dominance of his new super-conference. But, when the call came in, Scott heard Texas' President say, "No" and his dreams of dominance were shattered. He regrouped and settled for a new "Pac 12" that added mid-major powerhouse Utah and the University of Colorado. But the Pac 16 was dead or was it?
Now a year later, the Pacific 12's ambitious commissioner is again waiting anxiously for a decision from the University of Texas. Scott is also looking forward to hearing from Texas' interstate rival: the University of Oklahoma. Oklahoma and Texas are powerhouse programs and the combined foundation of the Big 12 conference. Yet, as you read this, Texas and Oklahoma's boards of directors are once again deciding whether to join Scott's conference and create the vaunted "Pac 16."
Just a few years ago, the term "Pacific 16" was only heard in whispers. The Big 12 was already weak but Oklahoma was looking to dominate it and Texas wanted to create its own television program: the Longhorn Network. Few believed that both powerhouse schools would join an existing power conference well outside of their traditional geographic area. Those insiders who did believe it was possible spoke of it with fear because a Pacific 16 will change college football forever.
The "Pac 16" would shake college football to its foundations. Its existence would ultimately result in a rigid stratification of college football's conferences and teams. Oklahoma and Texas' departure would instantly destroy the Big 12. The conferences' remaining teams would split and join either an enlarged Big Ten conference or the Southeastern Conference (SEC). Iowa State and Missouri would probably join the Big Ten while the SEC would welcome some combination of Kansas, Kansas State, and Texas A&M.
The Big 12's disintegration would be the largest college football realignment in decades. But that would only be the surface consequence of a Pacific 16 and several deeper, worse problems would emerge to redefine the sport as we currently understand it. Enlarged Pacific 16, Big Ten, and SEC conferences would vie for supremacy in the sport. Their collective dominance would threaten to reduce the ACC and Big East conferences to near irrelevance. Those two conferences would have to pick up several new powerhouse programs to be able to keep up. Boise State, currently the only dominant mid-major in the game, would be immediately snapped up by one conference or the other. Nevada, which has one of the strongest TV and recruiting bases of any mid-major in the game, would soon follow. Hawaii might leave the WAC for greener pastures. Notre Dame, the last dominant independent program in the game, would get an offer it couldn't refuse and join either the Big Ten or the Big East. Ultimately, both independent and mid-major schools, which currently provide college football with some its best uncertainty and most compelling excitement, would cease to exist.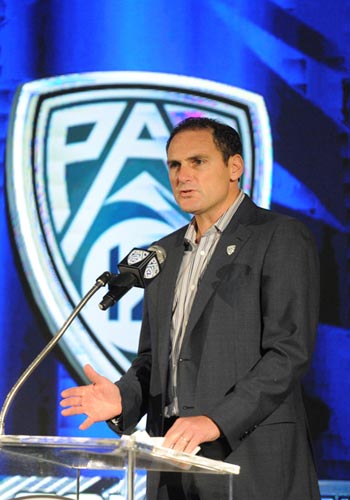 Pac-12 Commissioner Larry Scott during the Pac-12 football media day at Fox Studios in Los Angeles, CA.
---
What would be left for fans? Five dominant conferences would rule the NCAA football landscape: the Pacific 16, Big Ten, SEC, Big East, and the Atlantic Coastal conferences. Mid-major conferences like the Mountain West, Conference USA, and the WAC would either implode or lose their marquee teams and dwindle into irrelevance. College football would become a realm of monotonous predictability. The power conferences would match up their dominant teams gradually over the season, produce a conference champion, and then send those champions to play in the major bowls. Inter-conference matchups between top schools would be the only interruption in the monotony. Independents, mid-major powers, and wild card schools would no-longer be there to threaten to tip the scales and upset the major conferences' stranglehold. Is that the future we want for college football?
Everyone is buzzing about the consolidation of the college football conferences. But, what impact will the super conferences have on basketball? Here's College Basketball After the Super Conferences
---
What do you think?
We'd love to hear your comments and/or opinions. If you submit them here, other visitors can read them, rate them and comment on them. An e-mail address is not required.
What Other Visitors Have Said
Click below to see contributions from other visitors to this page...

Pac 16 schedule Not rated yet
A sixteen league schedule with 9 conference games would actually provide schools with a better rotation of conference opponents than the current 8 game …
---
From The Consequences of the Pac-16 to NCAA Football Blog | Sports Blog | NFL Football Blog | NFL Football Archives | College Football Archives | MLB Baseball Blog | College Baseball Blog | MLB Baseball Archives | NBA Basketball Blog | NCAA Basketball Blog | NBA Basketball Archives | NCAA Basketball Archives | Fantasy Football | Fantasy Basketball | Fantasy Baseball | Soccer Archives | Olympics Archives | Stupid Athletes Archives | Other Archives | Football Forum | Basketball Forum | Baseball Forum | NFL Football Store | NBA Basketball Store | MLB Baseball Store | NCAA Football Store | NCAA Basketball Store | NCAA Baseball Store | Fatheads | NFL Football Tickets | NBA Basketball Tickets | MLB Baseball Tickets | NCAA Football Tickets | NCAA Basketball Tickets | NCAA Baseball Tickets |
---
Home Page
About Us | Contact Us | Site Search | Advertise | Terms of Use |
---