Revis Switches Islands: The Darrelle Revis Trade Analysis
Revis Island, day 112:  Still here, waiting.  Is the pirate flag in the distance real, or a mirage?  I've gotten my hopes up before, only for them to be dashed on the rocks below.  The wreckage of the Jets still smolder behind me, and I fear that my only ticket out will be to jump on the first ship that goes by.  I don't understand why it's taking so long for anyone to approach, but I begin to believe, hope against hope, that my long stay stranded here may finally be over.
- From Revison Crusoe
After a near eternity, it seems that the long-awaited deal between the New York Jets and Tampa Bay Buccaneers for Darrelle Revis may finally be happening, with Revis heading to Tampa Bay to take a physical, helping to ensure he's fully healthy after the torn ACL that ended his 2012 season.   This deal has been pretty much a fait accompli from the moment the season ended, yet here we are, days out from the beginning of the NFL draft, and it's only now being completed.  The Buccaneers had been reported as being impatient with the Jets dragging their feet, but, at the same time, they had put all their offseason eggs in this one particular basket, so they simply had to finalize a deal.  The stories circulating right now have the trade finalized Sunday night or Monday morning, and a long-term deal signed by Revis the next day.  The exact details of the trade are yet to leak, but it will include the Jets receiving the Buccaneers first round draft pick, #13 overall.

With one of the worst secondaries in the NFL last season, the Buccaneers desperately needed a cornerback or two - their best corner, Aqib Talib, had been traded in the middle of last season, and their second best, Eric Wright, suffered through injuries and suspensions.  They simply had to make a move and Revis, assuming he's fully recovered from his ACL tear, is likely better than anyone available when they were drafting.  He's still the top cornerback in the NFL, and will make everyone on the depth chart better by allowing them to slide down a peg.  He's even got a chance to make the Jets pay right away, as the Bucs and Jets play in Week 1.

The Jets continue being a general mess, and they know they're not competing this year - a second top draft pick will be very helpful for them as they move on from the disaster that was 2012.  Trading away Revis will make them worse in 2013, but I don't know how much 'worse' there was to go - and if they use their draft picks wisely, they could start building the foundation for a solid team in the future.  Revis wasn't going to get them into the playoffs, he wanted a lot of money, and was likely to leave after 2013 anyway.  Rather than lose him for nothing, the Jets made the best decision they could.  I do hope they got more than a first round selection for him, but we'll see what happens there.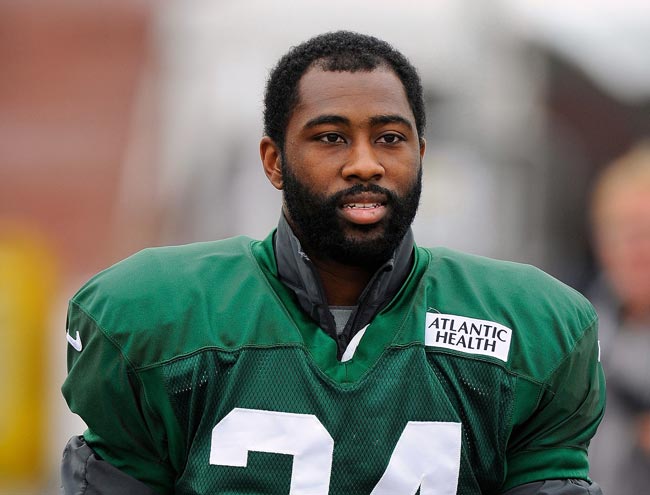 July 29, 2012; Cortland, NY, USA; New York Jets defensive back Darrelle Revis (24) walks out to the practice field prior to the start of training camp at SUNY Cortland. Photo Credit: Rich Barnes-USA TODAY Sports.


So, how does this alter the draft?  I went back to my mockdraft, knocked out the Buccaneers pick, and slotted in the Jets.  Here's what changed with that pick, as well as various changes of stock in various players over the last two weeks:

#13—New York Jets: QB Geno Smith, West Virginia (Was Tampa Bay: DT Star Lotulelei, Utah)

Yes, we finally have a logical spot for Smith to come off the board!  In fact, with two picks, the Jets might grab him at #9, and let Jarvis Jones or Star Lotulelei come to #13.  The Jets need to move on from Mar Sanchez sooner or later, and Smith probably could use a year of seasoning on the bench - making him a logical choice to sit for a year, reduce some of the cap hit from losing Sanchez, and come in as the 2014 starting quarterback.  Phew.  I was feeling pretty unsure about not having a QB come off the board in my initial mock, but now it makes too much sense not to happen.  Excellent.

#14—Carolina Panthers: DT Star Lotulelei, DT, Utah (Was DT Sheldon Richardson, Missouri)

Just an upgrade at the position - Lotulelei is ranked higher than Richardson was, and would be an easier pick for the Panthers to make.

#19—New York Giants: OT Justin Pugh, Syracuse (Was ILB Manti Te'o, Notre Dame)

I think I underrated Justin Pugh when I was doing my first rankings, so consider this a chance to make that right - he's probably not good enough to play left tackle in the NFL, but could slide into right tackle, I think, across from William Beatty and do well.  Not directly related to the Revis trade, just a change.

#20—Chicago Bears: DT Sheldon Richardson, Missouri (Was DT Sylvester Williams, North Carolina)

The defensive tackle hierarchy slide continues, with the Bears getting the one the Panthers would have taken in the original mock. 

#21—Cincinnati Bengals: ILB Manti Te'o, Notre Dame (Was RB Ed Lacy, Alabama)

Te'o's slide from the Giants means the Bengals go for a better player than Lacy at a less urgent need.  Te'o would be an instant upgrade over Rey Maualuga in the middle of the Bengals defense.

#23—Minnesota Vikings: DT Sylvester Williams, North Carolina (Was WR Cordarelle Patterson, Tennessee)

I had the Vikings taking DT Jonathan Jenkins with the 25th overall pick, but with the DT conga-line shifting down, I think they take Williams with #23 to prevent the Colts from grabbing him at #24, slotting him alongside Kevin Williams.

#25—Minnesota Vikings: WR Justin Hunter, Tennessee (Was DT Jonathan Jenkins, Georgia)

So, they still get the best remaining DT and a wide receiver from Tennessee; just changing the order and identity of those players.  Nothing to see here.

#26—Green Bay Packers: WR Cordarelle Patterson, Tennessee (Was WR Justin Hunter, Tennessee)

Just flopping the two Tennessee wide receivers based on what I've heard and read and seen over the past two weeks.  Could just as easily go the other way.

#27—Houston Texans: WR Robert Woods, USC (Was WR Quinton Patton, Louisiana Tech)

And the Reciever shuffle continues - I don't know why I had Patton so high in my first mock.  Yes, it's not a good spot for the Texans to be in, but Patton, from everything I'm reading and hearing, is more of a mid-2nd round guy.  No need to reach quite that far down.

#28—Denver Broncos: DT Jonathan Jenkins, Georgia (Was DE Bjoern Werner, Florida State)

More tackle slippage!  Defensive End only became an issue when faxageddon happened with Elvis Dumerville, but their entire line needs an upgrade across the board.  Jenkins, slipping from #25, would be the best player on the d-line at this point.

#29—New England Patriots: DE Bjoern Werner, Florida State (Was DT Kawann Short, Purdue)

Well, don't mind if they do, then.  Werner's a better player than Short, and would help aid the Patriots outside pass rush.

#30—Atlanta Falcons: DE Datone Jones, UCLA (Was DE Sam Montgomery, LSU)

Montgomery's stock has tanked over the past two weeks - it always amazes me how that happens after all the games have been played and after combines and after pro days.  So, I'll swap him out with the next highest rated DE on the board, as the position of need certainly hasn't changed.

#31—San Francisco 49ers: CB DJ Hayden, Houston (Was CB BlidiWreh-Wilson, CB, Connecticut)

Wreh-Wilson was considered kind of a stretch two weeks ago, when I did my mock draft, and that certainly hasn't changed, while Hayden rocketed to the top of, say, Mike Mayock's draft board.  Yes, they just signed NnamdiAsomugah, but you can't count on him returning to his Oakland form, so the need hasn't changed, just the player.

#32—Baltimore Ravens: ILB Kevin Minter, LSU (Was OT Menelik Watson, Florida State)

Watson was selected last time because there was no idea if Bryant McKinnie would be back or not.  We still don't know, but for the sake of argument, let's look at the pick if he DOES return - a replacement for Ray Lewis.  That might be the toughest job description anyone in the class of 2013 has.
What do you think?
We'd love to hear your comments and/or opinions. If you submit them here, other visitors can read them, rate them and comment on them. An e-mail address is not required.