NFL Mock Draft: Part 1
We are three weeks away from the celebration of hope that is the NFL Draft.  Every player will be flaunted as a game-changer, the future of the franchise, the one who will help bring your team to the Promised Land, and the fact that the same was said about Ryan Leaf and JaMarcus Russell will be conveniently ignored in the optimism-fest.  The truth of the matter, about half of the first round picks this year will be busts, just like they are every year.  If you could figure out who it will be beforehand, you could make millions of dollars working for NFL teams.  If you can't, you can end up writing mock drafts for internet websites.

So, without further ado – the top half of my mock draft for this internet website!  It's important to note that these picks are what I would do for each team; I have no inside knowledge about the workings of any of these teams or anything like that, just what you can read in the newspapers.  There's so much smoke and bluster around these picks that trying to guess which teams really are interested in Manti Te'o or Geno Smith and which are trying to downplay or play up their interest for strategic regions ends up being somewhat of a fool's errand.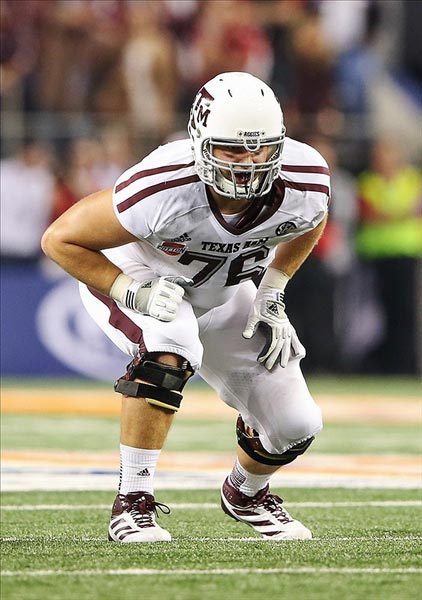 Jan 04, 2013; Arlington, TX, USA; Texas A&M Aggies offensive linesman Luke Joeckel (76) during the game against the Oklahoma Sooners in the 2013 Cotton Bowl at Cowboys Stadium. Texas A&M won 41-13. Photo Credit: Kevin Jairaj-USA TODAY Sports.
Kansas City Chiefs – Luke Joeckel, OT, Texas A&M
When the Chiefs franchised Branden Albert, this pick got a lot more interesting.  However, they still released Eric Winston this season, and need another tackle to help shore up their line.  Picking Joeckel, which seems to be the general consensus, would allow Albert to slide over to right tackle while Joeckel takes over the left side. Other possibilities: Eric Fisher, OT, Central Michigan; Tavon Austin, WR, West Virginia.


Jacksonville Jaguars – Ezekiel Ansah, DE, Brigham Young
The Jaguars had the least sacks in the NFL last season, so something has to change there.  ZiggyAnsah is something of an unpolished product – he only started playing football in 2010.  He's skyrocketed this year, though, and performances in the Senior Bowl and scouting combine have sent him rocketing up draft boards.  I think the Jags give Blaine Gabbert another year behind center and focus on fixing their defensive line. Other possibilities: Barkevious Mingo, DE, LSU; Dee Milliner, CB, Alabama.


Oakland Raiders – Sharrif Floyd, DT, Florida
I don't think there's any question the Raiders are going with a defensive tackle here, especially now that they've traded for Matt Flynn.  Their current starters inside?Pat Sims and Vance Walker.  The only real question is which player they'll end up grabbing, and I think Floyd ranks out at the top of the tackle ranks this year. Other possibilities: Star Lotulelei, DT, Utah; Sheldon Richardson, DT, Missouri.


Philadelphia Eagles – Dee Milliner, CB, Alabama
I don't buy the rumors putting Geno Smith here – I think Chip Kelly is going to try to make things work with Michael Vick, at least for one season.  That leads me back to the defensive side of the ball, where the Eagles have shed underperforming NnamdiAsomugha and Dominique Rodgers-Cromartie.  Milliner is fully NFL ready and would provide immediate help. Other possibilities: Sharrif Floyd, Ezekiel Ansah.


Detroit Lions – Eric Fisher, OT, Central Michigan
The Lions need help on the offensive line, and I'll be very surprised if they end up going anywhere else – with Jeff Backus retiring, there's need for young blood now.  Matt Stafford has enough trouble staying healthy as it is.  Other possibilities: Luke Joeckel; Lane Johnson, OT, Oklahoma.


Cleveland Browns—Chance Warmack, OG, Alabama
I'm of a firm belief that you have to give rookie QBs two or three years before going elsewhere at the position, but if Browns fans decided Brandon Weeden should be dumped, well, I couldn't blame them.  Instead, let's give the Browns someone to try to give Weeden some more protection – Warmack would be the first top-10 guard since 1997, but his combination of top-grade talent and the total non-presence of current guard Shawn Lauvao would make this pick logical.  Other possibilities: Dee Milliner; Jonathan Cooper, OG, North Carolina.


Arizona Cardinals – Lane Johnson, OT, Oklahoma
More and more I start getting nervous, waiting for a team to take Geno Smith, but with the Cardinals trade for Carson Palmer, it won't be them – though, you can't rule out a trade.   Levi Brown is coming off of a triceps tear, and even if he comes back full strength, that's just one tackle.  Johnson's blend of athleticism (as a former tight end) and size could help whoever ends up taking snaps stay upright in the desert. Other possibilities: Dion Jordan, OLB, Oregon; Luke Joeckel.


Buffalo Bills – Dion Jordan, OLB, Oregon
After breaking the bank last season to attempt to improve their defensive line, the Bills watched the middle of their defense collapse.  Jordan's an excellent pass rusher who could help upgrade the outside linebacker position, or possibly even convert to defensive end – there's some flexibility here.  Other possibilities: Tavon Austin; Alec Ogletree, ILB, Georgia.


New York Jets – Jarvis Jones, OLB, Georgia
The Jets defense was a disaster last season, and they had no semblance of a pass rush.  Jones played in a 3-4 in college and would slide right in, replacing the likes of Calvin Pace, Bryan Thomas, and Aaron Maybin on a team that only racked up 30 sacks last season.  No quarterback; Rex Ryan might not last another season, so better to gamble one more year and let the NEXT coach pick the next quarterback.  Other possibilities: Kenny Vaccaro, S, Texas; Dion Jordan.


Tennessee Titans—Jonathan Cooper, OG, North Carolina
Two guards in the top 10 is unheard of, but this is a beefy heavy draft, and the Titans need to give Chris Johnson some better blocking if they're going to have any hope of him returning to something approaching his top form.  Cooper can play any interior spot on the line, and is more athletic than the other top guard prospect, Chance Warmack.  Other possibilities: Chance Warmack, Barkevious Mingo.


San Diego Chargers – DJ Fluker, OT, Alabama
A bit of a reach here, as Fluker has more of a late-first-round grade, but the Chargers are going to take the top offensive tackle available, as they have one of the worst offensive lines in the NFL.  A trade up is not out of the question, but assuming no trades, they'll end up stuck with the fourth best tackle in the draft.  Other possibilities: Lane Johnson, Eric Fisher.


Miami Dolphins—Barkevious Mingo, DE, LSU
The Dolphins will be going for defensive line help here, I think  -- they've managed quite a few of their other needs through free agency, and with the offensive line ranks picked though and the secondary prospects not up to this level, the need for a pass rusher will bring itself to the forefront.  With the Dolphins opting not to grab OsiUmenyiora or one of his ilk in free agency, Mingo would be a solid fit at a need.  Other possibilities: Ezekiel Ansah, Sharrif Floyd.


Tampa Bay Buccaneers—Star Lotulelei, DT, Utah
This is one of those side effects of a mock draft – some consider Lotulelei the best talent in the draft, but he slides as I go team by team, rather than looking at the bigger picture.  Then again, there is the little matter of Lotulelei's heart – that is, the actual organ, not his motivation.  Teams have been nervous about taking him because of an odd heart flutter, but he's been cleared by doctors, and would pair nicely with Gerald McCoy in Tampa Bay.  Other possibilities: Bjoern Werner, DE, Florida State; Tyler Eifert, TE, Notre Dame.


Carolina Panthers – Sheldon Richardson, DT, Missouri
Resigning Dwan Edwards kept the Panthers from having nothing at defensive tackle, but Edwards needs to be upgraded, not to mention the lack of a solid player next to him.  Richardson would help plug that gap some – a little rough, but a very solid player who projects well on the next level.  Other possibilities: Desmond Trufant, CB, Washington; Star Lotulelei.


New Orleans Saints – Kenny Vaccaro, S, Texas
The Saints defense was historically terrible last season, and the complete lack of any deep help was one of the primary reasons why.  Vaccaro would replace Roman Harper and, even without any experience, would likely be a huge upgrade as a rookie, nevermind future developments.  Other possibilities: Jarvis Jones, DJ Fluker.


St. Louis Rams – Tavon Austin, WR, West Virginia
Hey, what do you know, a so-called "skill position" player!  The Rams lost Danny Amendola, and before him, the last solid receiver the Rams had wasTorry Holt.  Brian Quick and Chris Givens are interesting young players, but neither looks like a true #1 receiver.  There's not a better playmaker in the draft and, if the Rams really think they can contend for the NFC West crown, they'll need an explosive player like Austin.

Will Geno Smith continue to tumble down my draft board?  Will any team remember the existence of Alec Ogletree?  What about Manti Te'o?  Stay tuned for the second half of the mock draft, coming later this week.
What do you think?
We'd love to hear your comments and/or opinions. If you submit them here, other visitors can read them, rate them and comment on them. An e-mail address is not required.