Red Chip vs. Blue Chip: Building the Right NFL Roster
By Jason Fryer

My favorite sports article the past few seasons has been Mike Lombardai's blue chip/red chip article. Unfortunately for fans of this article, Lombardi decided to join the Cleveland Browns from office (who have made a lot of great off the field moves) bring an end to the blue chip/red chip article. So with that said, I thought I would create my list of blue chip/red chip NFL players for the upcoming 2013 season. There will be 5 blue chip and red chip player for each category (except quarterback).
Quarterback:
Blue Chip:
Aaron Rodgers
Peyton Manning
Tom Brady
Drew Brees

Red Chip:
Eli Manning
Joe Flacco
Matt Ryan
Ben Roethlisberger
Russell Wilson
Andrew Luck
Again, this is the only category that doesn't have five players in each section because the level or quarterback play has been at an all-time high the past few seasons. Before everyone goes crazy, let me explain a few things. First the blue chip quarterbacks which only has 4 and doesn't include the reigning Super Bowl MVP Joe Flacco who had an average regular season with a tremendous playoff. I need to see Flacco have a complete regular season to place him in the blue chip column (same goes for Eli Manning). Matt Ryan on the other hand has the exact opposite problem in that he's still has only won one playoff game (last year though he had a terrific playoff) and needs to have more playoff success if he wants to be in the blue chip column.

As for players has missed the list, obviously the four players that just missed being named go the red chips were Robert Griffin III, Matt Stafford, Colin Kaepernick, and Tony Romo. The other two players from his draft class made this list (Luck and Wilson) and you can argue Griffin had the best year of the three. With that said, Griffin was hurt at the end of the season and I'm still not sure he can stay healthy for a entire season with his style of play. Matt Stafford on the other hand threw for a ton of yards (4967) and touchdowns (20) but he also threw a lot of interceptions (17) and his team had 4 wins. Romo is pretty simple, year after year he puts together red chip caliber seasons but the two previous seasons has come up short with a division title on the line. Kaepernick had an unbelievable 2013 season as he lead the 49ers to the Super Blow but he only did it for half of season. I would expect to see him on this list as early as next year.

Running Backs:
Blue Chip:
Adrian Peterson
Arian Foster
Jamal Charles
Ray Rice
Doug Martin


Red Chip:
Marshawn Lynch
LeSean McCoy
C.J. Spiller
Alfred Morris
Matt Forte

Marshwn Lynch just, and I mean just missed being apart of the blue chip running backs but after re-watching the Minnesota and Oakland games again, I decided to put Doug Martin ahead of him. LeSean McCoy should be a blue chip caliber player in Chip Kelly's up-tempo offense if he can stay healthy. Matt Forte just made my list over Trent Richardson, and remember to watch David Wilson this year as the former first round pick of the Giants will finally be the team's number one running back.

Wide Receiver:
Blue Chip:
Calvin Johnson
AJ Green
Brandon Marshall
Julio Jones
Larry Fitzgerald


Red Chip:
Dez Bryant
Andre Johnson
Demaryius Thomas
Reggie Wayne
Roddy White

New Falcons offensive coordinator Dirk Koetter decided to open up the offense more last season and it paid off as Julio Jones receiving yards (1,198), receptions (79), and touchdowns (10) were all up last year. I would be surprised if Julio Jones didn't become a 100 receptions per year receiver in the next two years. In an absolutely horrible offense last year, Fitzgerald was still able to record 71 receptions and with a new coordinator and quarterback, look for Fitzgerald to have 85+ receptions and 8+ touchdowns in 2013. If we see 2012 Dez Bryant this season, I'll make sure to reserve a spot under the blue chip column. Andre Johnson and Reggie Wayne both had over 100 receptions in 2012 but now are both entering their 30's.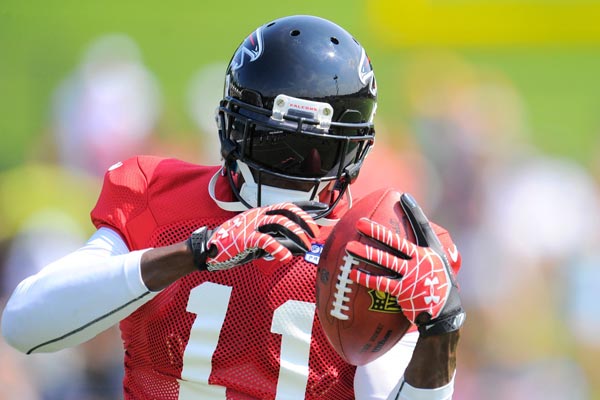 Tight End:
Blue Chip:
Rob Gronkowski
Jimmy Graham
Jason Witten
Tony Gonzalez
Vernon Davis


Red Chip:
Brandon Myers
Kyle Rudolph
Brandon Pettigrew
Jermichael Finley
Antonio Gates

The only tight end to record at-least 100 receptions last year was…Jason Witten. If Gronkowski is able to return to the field, there's no way he's no doubt that he's the best tight end in the NFL. In what was thought to be Tony Gonzalez's last year in the NFL, he was named as a first team all-pro member even though he had less receptions than Witten. Vernon Davis had a rough season and wasn't able to look like the Davis of old until the 2012 Playoffs when he had 12 receptions and a touchdown in 3 games. If Davis is able to find the same connection that he and Alex Smith experienced with Colin Kaepernick, then Vernon will go from a borderline blue clip to a definite blue chip tight end.

Kyle Rudolph showed a great deal of promise in 2012 as he would go on to record 53 receptions, 9 touchdowns and was named the MVP of the Pro-Bowl. Brandon Myers put together a fantastic season in Oakland (now with the New York Giants), as he recorded 79 receptions in the first season where he started all 16 games. With Greg Jennings now in Minnesota, the time is now for Jermichael Finley to live up to the hype and become a blue chip tight end.

Offensive Tackle:
Blue Chip:
Duane Brown
Joe Thomas
Ryan Clady
Michael Roos
Joe Staley


Red Chip:
Andrew Whitworth
Jordan Gross
Russell Okung
D'Brickashaw Ferguson
Matt Kalil
Sebastian Vollmer

Joe Staley had the highest offensive tackle ranking according to Pro football focus (+40.4), and is considered the best run blocking tackle in the NFL. Duane Brown and Ryan Clady were voted as the NFL's top offensive tackles in 2012 as both were named first team all pro members, while Staley and Joe Thomas were named second team all pro last season. Shocking to most, but Whitworth finished second on his own team in efficiency, behind Andre Smith (26.9) but still did a terrific job protecting Andy Dalton's blindside. Matt Kalil did a great job protecting Christian Ponder's blindside and creating holes of Adrian Peterson and D'Brickashaw Ferguson was one of the lone bright spots for the Jets in 2012.

Offensive Guard:
Blue Chip:
Jahri Evans
Mike Iupati
Marshall Yanda
Josh Sitton
Evan Mathis


Red Chip:
Logan Mankins
Andy Levitre
Justin Blalock
Nate Livings
Louis Vasquez

Once again, Jahari Evans proved to be one of the top guards and offensive lineman in the league as he was named to the NFL's first team all-pro list for the fourth straight year. With the retirement of veteran center Matt Birk, look for one of the leagues best guards (Marshall Yanda), to take over as the leader of the offensive line for the defending Super Bowl champs. The Packers have had a number of o-line problems the past few seasons (and only got worse when Bryan Bulaga tore his ACL), but one player they haven't had to worry about is Josh Sitton as he graded as one of the best guards last year. The hardest decision came down to naming Logan Mankins or Evan Mathis to the blue chip list. Both are deserving of the blue chip card but with my no more than 5 blue chip rule, I decided to go with Mathis who graded as the best guard in 2012.

Center:
Blue Chip:
Max Unger
John Sullivan
MaurkicePouncey
Mike Pouncey


Red Chip:
Brian De La Puente
Chris Myers
Alex Mack
Eric Wood
Nick Mangold

There's no doubt that Max Unger is the best center in football and his counterparts agreed as Unger was the lone center named to NFL Network's top 100 players of 2013 and was named a first team All-Pro member. Though brother Maukice (of the Steelers) was named to the NFL's second All-Pro team, it was his brother Mike who graded higher with a +17.6 rating in 2012. In Minnesota, although Adrian Peterson is the best running back in the game he knows he needs help and John Sullivan was terrific at setting up the offense along with paving the way for the league MVP.


Here's more information about:
What do you think?
We'd love to hear your comments and/or opinions. If you submit them here, other visitors can read them, rate them and comment on them. An e-mail address is not required.