Blue Chip vs. Red Chip Defense: Ranking the NFL's Best Players
By Jason Fryer

Last week I posted my list of blue and red chip offensive players for the upcoming season. Now its time to look at the other side of the ball for the blue and red chip players. Enjoy and as always, if you have any comments, please tweet us @TBSportsBlog.
Defensive End
Blue Chip:
J.J. Watt
Cameron Wake
DeMarcus Ware
Chris Long
Jared Allen


Red Chip:
Michael Bennett
Charles Johnson
Michael Johnson
Julius Peppers
Elvis Dumervil

J.J. Watt was the defensive player of the year with his 20.5 sacks, 42 TFL's (tackles for loss), and 18 passes deflected plus there's no doubt he's the best d-lineman in the NFL. Cameron Wake is one of the most underrated players in league as for the second time in four years he recorded 14 plus sacks (had 15 last year), 3 forced fumbles and 13 TFL's. The bookends in St. Louis were fantastic in 2012 as both Chris Long and second year defensive end Robert Quinn each recorded 10+ sack and TFL in addition to still producing just about 30 tackles apiece last season.
Michael Bennett came out of nowhere last season and recorded 41 tackles 18 TFL's, 9 sacks, and 3 forced fumbles and you can make a case he's a blue chip caliber player and he makes a dominant Seattle defense somehow look that much better. The Bengals have the best defensive line in the AFC in Carlos Dunlap, Domata Peko, Geno Atkins, and Michael Johnson. The loss of Elvis Dumervil will be a significant to Denver's pass rush and will allow the Ravens to move on from the loss of Paul Kruger. Hard to be believe that neither of the Giants defensive ends made my list (Tuck or Pierre-Paul) but both were hurt and not effective last season.

Defensive Tackle
Blue Chip:
Geno Adkins
Justin Smith
Vince Wilfork
NdamukongSuh
HalotiNgata


Red Chip:
Kyle Williams
Brandon Mebane
Kevin Williams
Gerald McCoy
Paul Soliai

The most TFL's recorded last year were from Geno Adkins and NdamukongSuh as both have become the best pass rushing defensive tackles in the NFL. Adkins recorded an astonishing 12.5 sacks from the DT position in addition to 4 forced fumbles and 57 tackles (if there wasn't JJ Watt, he would be the best defensive lineman last season). Suh recovered from a difficult 2010 season and recorded 8 sacks along with the 17 TFL's and 35 tackles from the interior lineman position. The 49ers have a ton of blue/red chip players on their defense (especially at the linebacker position) but Justin Smith is the player that sets up everything from the defensive line as when Smith he isn't on the field, San Francisco isn't nearly as effective.

Like Justin Smith, Vince Wilfork creates all type of chaos from the inside the defensive line and has become the leader on the Patriots. The Seattle Seahawks have the best defensive line in football and Brandon Mebane went from a solid defensive line to one of the best in the league. 2010-draft teammate of NdamukongSuh, Gerald McCoy has been terrific from the interior defensive line position when he's been healthy.

Inside Linebacker
Blue Chip:
Patrick Willis
NaVorro Bowman
Jerod Mayo
Derrick Johnson
Luke Kuechly




Red Chip:
Daryl Washington (Will be suspended the first four games in 2013)
Chad Greenway
Bobby Wagner
James Laurinaitis
Lawrence Timmons

Two key members were ineligible for my list as both Sean Lee and Brian Cushing missed too much time to be considered for this list. Once again, both Patrick Willis and NaVorro Bowman put together off the chart seasons. Willis finished wit 120 tackles to go along with two forced fumbles, two interceptions all while playing on the leagues forth-ranked defense. Bowman on the other hand had 148 tackles along with a forced fumble, a interception, while being a key component the leagues 7th best run defense. The Patriots had a rough time on defense in 2012, but one of the consistent members all season long was Jerod Mayo who recorded a team high 147 tackles along with four forced fumbles. Hard to believe that a 2-14 team could have so many quality players, but add Derrick Johnson to the list of blue chip players from the Kansas City Chiefs as there's no doubt in my mind that with the changes in Kansas City, the Chiefs will be in the playoffs this season.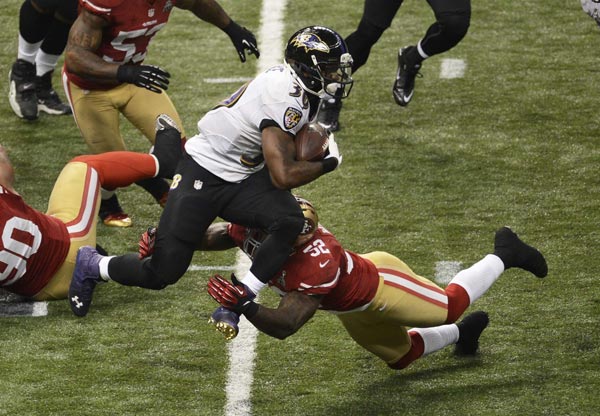 Trivia question: The leader in tackles this season was...if you guessed Luke Kuechly your right. The Carolina Panthers rookie helped contribute to one of (if not) the best rookie classes ever, which also included Seattle's Bobby Wagner who lead a absurdly talented Seattle team in defense (What a job by Gus Bradley who was the only defensive coordinator that became a head coach this offseason).

Outside Linebacker
Blue Chip:
Von Miller
Aldon Smith
Clay Matthews
Tamba Hali
Terrell Suggs


Red Chip:
LaMarr Woodley
Paul Kruger
Sean Weatherspoon
Lance Briggs
Anthony Spencer

The best pass rusher's in the NFL are no doubt Von Miller and Aldon Smith. Clay Matthews had an excellent bounce-back season recording 16 sacks, 2 forced fumbles, and 52 tackles in only 14 games. Even in a down year, I still believe Tamba Hali and LaMarr Woodley are a blue chip caliber players. Look for the 2011 defensive player of the year Terrell Suggs to have a nice bounce back season now that he's not rushing to return from an injury as he was in 2012. Cleveland needed a legitimate pass rushing linebacker and the former Super Bowl champion should help bring more pressure to a Cleveland defense that finished 12th in sacks per game. Lance Briggs will have considerably more responsibilities in 2013 with the retirement of Brian Urlacher, thus his stats might take a hit but I think his level of play will go up.

Cornerback
Blue Chip:
Charles Tillman
Richard Sherman
Patrick Peterson
Jonathan Joseph
Joe Hayden


Red Chip:
Brandon Flowers
Champ Bailey
Cary Williams
Tim Jennings
Tarell Brown

For starters, I decided to not include players that didn't participate in the majority of the team's games from the previous season, so there's no doubt that if DarrelleRevis and Lardarius Webb are able to return to the level of play that they'll be in the blue chip column next season. Charles Tillman had a magical 2012 season which included 10 forced fumbles, 85 tackles, 3 interceptions (all 3 he returned for touchdowns), all while playing some of the best wide receivers week after week (remember he has to go against Calvin Johnson, Greg Jennings, Jordy Nelson, and Randall Cobb twice a season).

Richard Sherman might talk a lot, but nobody better at backing it up seeing as he does a great job in the secondary along with teammate Brandon Browner, and newly signed Antoine Winfield. The Cardinals offense was abysmal in 2012 but their defense was solid and second year corner Patrick Peterson led the team with 7 interceptions and eliminated half the field. In Cleveland, Joe Hayden didn't have nearly the amount of balls thrown his way so his interceptions were down but he's still an elite level cornerback, and the Browns hired Arizona's defensive coordinator Ray Horton for the same position in the offseason.

Brandon Flowers is a smaller (5'9") but still one of the most dynamic cornerbacks in the league and is effective against the pass/run and was the reason for Kansas City not panicking when Brandon Carr left via free agency to Dallas. Philadelphia released NnamdiAsomugha and Dominique Rodgers-Cromartie but signed one of the most underrated corner's in the NFL in Cary Williams who did a great job as the team's number one cornerback when Webb went down with a season ending injury. San Francisco had a lot of problems in their secondary last year, but one of the bright spots was Tarell Brown who become the 49ers best player in a secondary, which includes Asomugha, Carlos Rodgers, and Donte Whitner.

Safety
Blue Chip:
Jairus Byrd
Eric Weddle
Earl Thomas
Reshad Jones
Ed Reed


Red Chip:
DashonGoldson
Thomas Decoud
Harrison Smith
Michael Griffin
Glover Quin

Troy Polamalu didn't make my list because he didn't play in half of the team's games so he didn't qualify for this list. There haven't been a ton of great moments from the Buffalo defense (which finished 26th in points) but one bright spot was Jarious Byrd who recorded 5 interceptions, 4 forced fumbles, 76 tackles, and has become the best all around safety in the NFL. The same goes for Eric Weddle in San Diego who was apart of a disappointing Chargers team but he was great as he recorded 97 tackles along with 2 forced fumbles, and 3 interceptions. What else is new, another blue chip player for someone who plays for the Seattle Seahawks, this time its Earl Thomas who recorded 66 tackles, 3 interceptions, and a forced fumble and along with Kam Chancellor have created a dynamic safety combination in the pacific northwest.

The Dolphins have a lot of interesting young players on their roster and one of the players to keep an eye on is Reshad Jones who recorded 95 tackles along with 4 interceptions, 2 forced fumbles, and 9 pass deflections and he has quietly become the best player of the Dolphins secondary. Three players on this list changed teams this offseason (Ed Reed, DashonGoldson, and Glover Quin) and each will provide a great deal of improvement (especially Goldson in Tampa Bay and Quin in Detroit) to a few of the worst secondary's in the NFL. Lastly, another member of the 2012 draft class as Harrison Smith was tremendous for the Vikings and helped improve one of the leagues worst secondary's in his first season.

Head Coaches
Blue Chip:
Bill Belichick
Tom Coughlin
John Harbaugh
Jim Harbaugh
Mike McCarthy


Red Chip:
Mike Tomlin
John Fox
Pete Carroll
Mike Smith


What do you think?
We'd love to hear your comments and/or opinions. If you submit them here, other visitors can read them, rate them and comment on them. An e-mail address is not required.