Question Jay Cutler's Apathy Not His Toughness
Check out our "NFL Championship Games Thoughts"
On last Sunday afternoon, the Green Bay Packers defeated the Chicago Bears 21-14 to advance to Superbowl XLV. I won't dwell on the details; we have the "NFL Championship Games Thoughts" article for that and I have no desire to relive the defeat again. However, now that I have had more than a day to reflect, I want to express my final thoughts on Jay Cutler's second half absence.
My initial reaction was, like many other NFL players, fans, and pundits, to question why Cutler did not finish the game. Although it is true that no player-let alone a writer or fan-can judge a player's injury from the comfort of a living room couch, that did not eliminate the questions in my mind. This was the NFC Championship Game, only the second for the Bears in my lifetime, and I thought he should have tried to finish the game out. After all, many great players have gritted through injury to finish particularly special games in their careers and it does not get much bigger than Bears-Packers in the NFC Championship. As a fan, you want your best players to tough it out. My best sports memory is still Michael Jordan's epic performance in the "flu game" when he could barely sit up on the sideline but led the Bulls to victory and kept their title hopes alive. It is those times-moments of true strength and grit-that fans will always remember and respect.
Looking for a Jay Cutler Jersey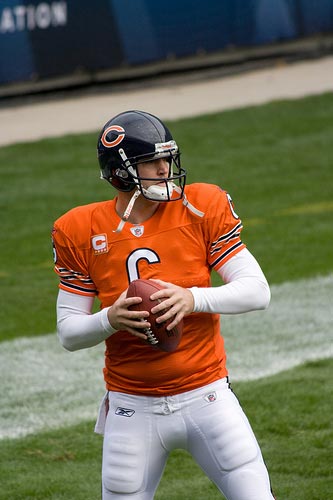 Thanks to Mike Shadle from Flikr.com for this great picture of Jay Cutler.
---
Still, upon reflection, it is unfair for me or any other writer to question Cutler's toughness. He gritted through a season where he was sacked 52 times, which is more than his first three years in Denver combined. As Brian Urlacher said, he practices every day, takes hits, and never complains. Moreover, MCL sprains are quite serious and, while Cutler may have wanted to play, he couldn't plant his foot to make throws and gritting it out could have seriously endangered his career. I don't make millions of dollars playing football so it is not right for me to tell Jay Cutler to go out there and risk his career just so people will say he is tough. If he made that decision I would still applaud him for it because that is what truly special and devoted players do; they put themselves on the line to win everything and become icons. It is one thing to be a good, talented player (the category into which Jay Cutler undoubtedly falls) but it requires something more to become a truly special player, team icon, and city favorite. That said, even if his decision to sit was less than epic, I cannot fault him for listening to his trainers and protecting the future of his career.
Shopping for a Brian Urlacher Jersey
Nonetheless, Bears fans should be worried. Not about Jay Cutler's toughness; he is a plenty tough as a player. What fans should be worried about is his nonchalant apathy. I watched the game with two fellow Bears fans and every time they showed Cutler in the second half he was away from the team, head angled down, and either scowling or staring into space. He did not seem to care whether the team won or lost. He seemed to lack any kind of passion for his team and any sense of the historic game in which he was taking part. It was all as if it was just another game to him, another day on the job, and as long as his twenty-two million made it into the bank then everything was fine. That is what fans need to be concerned about.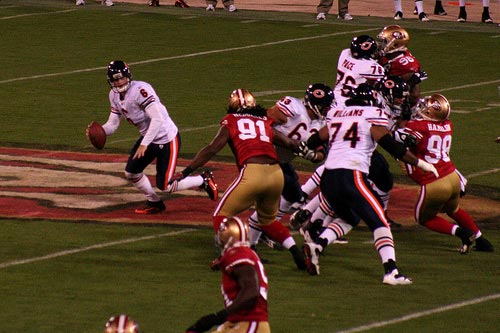 Thanks to John Martinez Pavliga from Flikr.com for this great picture of Jay Cutler (#6).
---
Since his arrival in Chicago as the city's first star quarterback in a half century, Cutler has made no attempt whatsoever to embrace his role as a team leader and city icon. Chicago fans want to love their players; look at the adoration Michael Jordan, Scottie Pippin, Ernie Banks, Bobby Hull, and others earned during their careers. Cutler could own my city, bask in the love and adoration of its loyal fans, and become a legend but he has shown no desire to do so at any point in the last two years. In fact, he has shown a callous disregard for the Chicago Press (forgivable) and fans (unforgivable). His apathetic stare for the last two quarters of this epic game simply reinforced the point: this guy is talented but he just doesn't care.
Perhaps Jay Cutler will change. Early reports suggested that he shed tears after the loss and criticism of his body language and effort hit home. I hope so because maybe that will make him start to care more. What he needs to remember is that Chicago fans are ok with mistakes from our players-we've excused them repeatedly for a century-but we demand effort. Either Cutler needs to start caring about the team and the fans or Chicago needs a new quarterback and Cutler should take his cannon arm elsewhere. There are plenty of excuses for mistakes on the field but there is no excuse for a lack of heart. Please Jay, take this as an appeal from a devoted Bears fan and learn from this experience. Don't come back bitter next year and hate this city. Come back next season, show you care, and we will love you. We promise.
---
---
What do you think?
We'd love to hear your comments and/or opinions. If you submit them here, other visitors can read them, rate them and comment on them. An e-mail address is not required.
What Other Visitors Have Said
Click below to see contributions from other visitors to this page...

Maybe It Was Cutler's Way of Coping

Nice article. I agree that his sitting out with an ACL tear can't really be faulted; though, as you say, not praised either. But, yes, his failure to …
---
From Question Jay Cutler's Apathy Not His Toughness to NFL Football Blog | Sports Blog | NCAA Football Blog | NFL Football Archives | College Football Archives | MLB Baseball Blog | College Baseball Blog | MLB Baseball Archives | NBA Basketball Blog | NCAA Basketball Blog | NBA Basketball Archives | NCAA Basketball Archives | Fantasy Football | Fantasy Basketball | Fantasy Baseball | Soccer Archives | Olympics Archives | Stupid Athletes Archives | Other Archives | Football Forum | Basketball Forum | Baseball Forum | NFL Football Store | NBA Basketball Store | MLB Baseball Store | NCAA Football Store | NCAA Basketball Store | NCAA Baseball Store | Fatheads | NFL Football Tickets | NBA Basketball Tickets | MLB Baseball Tickets | NCAA Football Tickets | NCAA Basketball Tickets | NCAA Baseball Tickets |
---
Home Page
About Us | Contact Us | Site Search | Advertise | Terms of Use |
---