NFL Championship Games Thoughts
NFC Championship: Green Bay Packers def. Chicago Bears 21-14
As a life-long Bears fan, this one was a really tough one to watch. Well, "really tough" doesn't exactly cut it; this was worse than that. But my emotions during the game were hardly simple; they were a complex roller-coaster. I started out disgusted because the Bears came out of the gate unable to stop anything on defense. The Chicago Bears have always been built on defense so watching those near instant fourteen points go up on the board was a truly revolting experience.
But then the game changed and my emotions changed with it. The Bears defense found some grit and slowed the Packer offense down. Julius Peppers and Brian Urlacher got a few hits in on Rodgers. Still, while the defense stiffened up, the offense continued to do nothing and go nowhere. Watching Jay Cutler throw it half-heartedly, gaining nothing on down after down and leaving Maynard to punt on series after series, my emotions changed from disgust to feeling disheartened. When the offense was unable to do anything with Briggs' daring pick and Cutler threw an interception to end the half, I began to lose some hope.
The second half was different. Todd Collins played through the third quarter and inspired no confidence whatsoever but when third string backup Caleb Hanie came in then things started to happen. Hanie's talent ceiling may be limited but he has tremendous grit and his sincere, full-out effort today endeared him to Chicago fans forever. Unable to make downfield throws early on against a defense playing it close, Hanie dumped the ball to Forte and willingly threw his body at defenders in order to gain first downs. He didn't win it in the end-Hanie managed to find two touchdowns but threw two interceptions (including the one that ended the game)-but the kid's grit was exactly what Bears fans needed in the second half of this game. Even in defeat, he played with a pride and toughness that allowed the Bears to leave this game with their heads held high. For their part, the Packers escaped Soldier Field with a victory but they will need to play better on February 6th to win the Superbowl.
Thanks to eytonz from Flikr.com for this great picture of Packers vs Bears - NFC Championship Game, January 23, 2011.
---
From the Bears perspective, it's tough to allot blame for this loss. The defense played spectacular football for three quarters but they came into the game unprepared as a unit and those early fourteen points had the Bears playing catch-up from the very beginning. Still, the unit regrouped and played with toughness, poise, and focus for the rest of the game. Offensively, the Bears were hardly potent but most of the unit's individual members played hard and running back Matt Forte put in a particularly inspiring effort.
The one Bears player who truly deserves some individual blame for this game is Jay Cutler. That's the one thought I will take away from this game. There was not much to learn strategically; both teams played tough but sloppy football. Cutler doesn't even deserve the individual blame for his level of play; although his 31.8 passer rating, interception, and less than one hundred yards passing were abysmal that lack of production was the collective fault of the entire offense. What Cutler deserves some blame for is not making an effort to come back into the game after injuring his knee before the half.
When Cutler originally left the game, my friends and I all assumed he had suffered a concussion. If he had, then it would have made sense for him to miss the rest of the game; it is extremely dangerous to play with a concussion. However, the injury was to his knee. The extent of the injury was never specified but, unless it turns out to be a torn Achilles or meniscus (in which case I withdraw any objections to his absence) Cutler should have tried to play beyond his brief third quarter cameo. Jay Cutler made twenty-two million dollars this season and the Bears were in the NFC Championship Game; he owed it to Bears fans to at least make an effort to help the team win. As Todd Collins was floundering throughout the third quarter (he did not gain a single yard) Cutler sat dejectedly on the sideline, stared blankly, and never gave any kind of indication that he cared enough to try and help. Chicago fans are some of the most loyal in the game and they want to love Cutler (I for one certainly do) but efforts (or lack thereof) like this will never endear him to fans. In the end, from the Bears perspective, that's the major take-away from this game: Cutler is a young, talented quarterback with great potential on the field but can he be the kind of franchise leader that this team needs?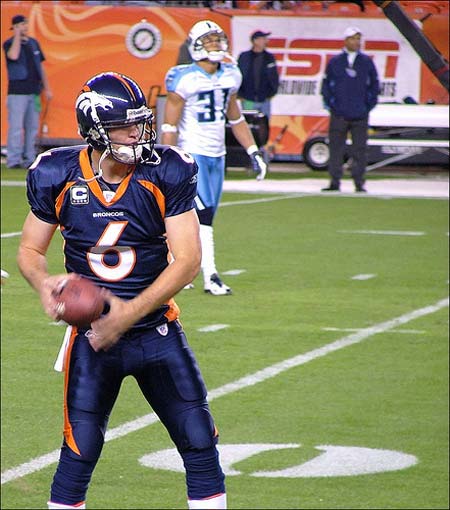 Thanks to Jeffrey Beall from Flikr.com for this great picture of Jay Cutler.
---
AFC Championship: Pittsburg Steelers Def. New York Jets 24-19
This proved to be a very interesting AFC Championship Game. Early on, this game looked like a real snoozer. The Jets made several costly early mistakes, including a Sanchez fumble, which left them in a 24-0 hole. I almost turned the TV off but then I remembered that these were the new-style bad boy Jets, owners of several late comebacks this season, and I decided I would give them the benefit of the doubt.
Ultimately, that 24-0 deficit proved too much to overcome but boy did the Jets come close. After falling so far behind and looking almost lackadaisical early, the Jets defense tightened up. The Steelers didn't score a point in the second half and barely eked out a 24-19 victory after Big Ben ground out a final first down inside of two minutes remaining to ice the game.
So, what did I learn? First, I learned that I will have no team to root for in this year's Superbowl and will have to choose which of my least favorite NFL franchises to (very half heartedly) cheer for. Of course, there really isn't a decision to make: as a Ravens fan I dislike the Steelers and as a football fan I dislike Ben Roethlisberger but neither of those feelings compares to my hatred of the Green Bay Packers. Watching the Packers win the Halas Trophy was sickening enough; I will cheer my heart out and hope I don't have to watch them hoist the Super Bowl winner's Lombardi Trophy after beating my Bears along the way.
We also learned that the Steelers are now the class of the NFL. While the Patriots and Colts, the kings of the last decade, remain contenders, neither has won a Superbowl since 2006 and both lost early this year. The Steelers, on the other hand, won two in the last half decade and will have a chance to win a third in the Superbowl on February 6th. They are a complete team with very few weaknesses: only right tackle, defensive end (Aaron Smith can no-longer be relied upon to play a lot of games), and 2nd cornerback stand out as major team needs. None of these needs should be too hard to fill in the offseason and the Steelers could begin next year without a single positional weakness. Moreover, while they were the losers today, the Jets also appear to be ready to contend next season and could very well vie for a rematch with the Steelers in 2011.
---
---
What do you think?
We'd love to hear your comments and/or opinions. If you submit them here, other visitors can read them, rate them and comment on them. An e-mail address is not required.
---
From NFL Championship Games Thoughts to NFL Football Blog | Sports Blog | NCAA Football Blog | NFL Football Archives | College Football Archives | MLB Baseball Blog | College Baseball Blog | MLB Baseball Archives | NBA Basketball Blog | NCAA Basketball Blog | NBA Basketball Archives | NCAA Basketball Archives | Fantasy Football | Fantasy Basketball | Fantasy Baseball | Soccer Archives | Olympics Archives | Stupid Athletes Archives | Other Archives | Football Forum | Basketball Forum | Baseball Forum | NFL Football Store | NBA Basketball Store | MLB Baseball Store | NCAA Football Store | NCAA Basketball Store | NCAA Baseball Store | Fatheads | NFL Football Tickets | NBA Basketball Tickets | MLB Baseball Tickets | NCAA Football Tickets | NCAA Basketball Tickets | NCAA Baseball Tickets |
---
Home Page
About Us | Contact Us | Site Search | Advertise | Terms of Use |
---