NFL Mock Re-Draft: 2008
Every year, hundreds upon hundreds of mock drafts are produced, followed by the actual NFL draft, followed by dozens upon dozens of articles grading the draft, deciding who has done well, and who has done poorly.
All this before anyone has ever taken a snap in the big leagues.  All this, despite the fact that half of the highly touted draft picks will disappoint in the actual NFL.  No, you really can't judge a class just after it's been picked – although it's fun to try.  You need to wait, say, five years or so before you can really make solid decisions on what teams should and should not have done.

Therefore, inspired by Lorenzo Tanos' interesting NBA Weekly Draft Rewinds available on this very site, here's the 2008 draft, re-done with the benefit of five years hindsight.

The actual results can be found here.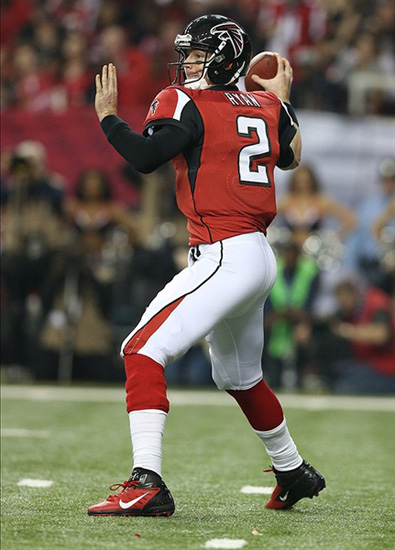 Jan 20, 2013; Atlanta, GA, USA; Atlanta Falcons quarterback Matt Ryan (2) throws in the pocket against the San Francisco 49ers in the NFC Championship game at the Georgia Dome. The 49ers won 28-24. Photo Credit: Matthew Emmons-USA TODAY Sports.
Miami Dolphins

:

Matt Ryan, QB, Boston College

(Actual pick: Jake Long, OT, Michigan)
Dolphins fans can't complain too much about Long, who has made the pro bowl in four out of five seasons.  But Ryan would have been an instant upgrade over Chad Pennington, and a stud at the most important position in football would have turned their fortunes around immediately.



St. Louis Rams

: Ryan Clady, OT, Boise State (Actual pick: Chris Long, DE, Virginia)
Orlando Pace was aging and while Long has been a long way from a bust for St. Louis, Clady's been the best of a decently packed offensive line class, and would have kept Marc Bulger upright.



Atlanta Falcons

: Joe Flacco, QB, Delaware (Actual pick: Matt Ryan, QB, Boston College)
With Ryan off the board, the Falcons would just have to console themselves with the recent Super Bowl MVP.  I think they'd be fine with that.



Oakland Raiders

: Carl Nicks, OT, Nebraska (Actual pick: Darren McFadden, RB, Arkansas)
McFadden was part of Al Davis' obsession with speed, but they had a serviceable running back in Justin Fargas at the time.  Nicks, a true steal from the fifth round, might have given JaMarcus Russell half of a chance to stay upright and succeed.



Kansas City Chiefs

: Jake Long, OT, Michigan (Actual pick: Glenn Dorsey, DT, LSU)
Many considered Dorsey the top prospect in the draft, but his actual performance has been a bit underwhelming.  Instead, the Chiefs avoid having to get Brandon Albert at left tackle and get an elite player to anchor their line, instead.



New York Jets

: Ray Rice, RB, Rutgers (Actual pick: Vernon Gholston, DE, Ohio State)
The biggest out-and-out bust of the 2008 draft, Gholston contributed zip in his short stint in the NFL.  With no QB here, a replacement for Thomas Jones and his 3.6 yards per carry was a must, and Rice moves up from the second round.



New Orleans Saints

: Chris Johnson, RB, East Carolina (Actual pick: Sedrick Ellis, DT, USC)
Ellis wasn't a top 10 talent, in retrospect, and the three-headed running back situation of Pierre Thomas, Deuce McAllister, and Reggie Bush ended up underwhelming.  Johnson, with one of those guys to help him carry the load, would still give out a high level of production without burning out, as he seems to have done.



Jacksonville Jaguars

: DeSean Jackson, WR, California (Actual pick: Derrick Harvey, DE, Florida)
Who?  I don't remember Harvey, either – not great with your #8 pick.  Jackson slid because of size concerns, but give the Jags a passing game to go along with Maurice Jones-Drew, and they wouldn't be having attendance problems.



Cincinnati Bengals

: Matt Forte, RB, Tulane (Actual pick: Keith Rivers, LB, USC)
Rivers was beset by injuries, severely limiting his production with Cincinnati.  Forte would have been an instant upgrade over Rudi Johnson, and would have been more solid than Cedric Benson, who they signed later that year.



New England Patriots

: Jarod Mayo, LB, Tennessee (Actual pick: Mayo)
Why mess with success?



Buffalo Bills

: Jordy Nelson, WR, Kansas State (Actual pick: LeodisMcKelvin, Troy)
They filled their receiving needs in 2008 with Stevie Johnson in the seventh round; he won't last that long this time.  Nelson is a dependable weapon that might have offset having Trent Edwards as your quarterback.



Denver Broncos

: Duane Brown, OT, Virginia Tech (Actual pick: Ryan Clady, OT, Boise State)
With Clady long gone, the Broncos take the best remaining left tackle from this class and curse the idea of re-drafts.



Carolina Panthers

: Chris Long, DE, Virginia (Actual pick: Jonathan Stewart, RB, Oregon)
Not a terrible actual pick by the Panthers, but Long, who has finally taken the steps he needs to actual realize his NFL potential, would look really, really good across from Julius Peppers, and then eventually replace him.



Chicago Bears

: Jamaal Charles, RB, Texas (Actual pick: Chris Williams, OT, Vanderbilt)
While the Bears did need to upgrade their line, Williams wasn't a first-round quality player.  Matt Forte was their second round pick, but he's already off the board – so give them an explosive home run hitter like Charles and stop relying so much on Rex Grossman.



Kansas City Chiefs

: Curtis Lofton, LB, Oklahoma (Actual pick: Brandon Albert, OT, Virginia)
They've already handled their tackle need this draft by taking Jake Long, so they reach back into the top of the second round of the draft to take Lofton, who has been a solid starter each and every year.



Arizona Cardinals

: Jonathan Stewart, RB, Oregon (Actual pick: Dominique Rodgers-Cromartie, DB, Tennessee State)
Hard to remember the Cardinals being a decent team now, but they still had a potent offence in 2008, which led them all the way to the Super Bowl.  The one weak link was an aging Edgerrin James; Stewart's rarely been a starter in Carolina for whatever reason, but with Kurt Warner passing to Larry Fitzgerald and AnquanBoldin, Stewart could have easily rushed for 1,000 yards, and possibly put them over the top.



Detroit Lions

: Calais Campbell, DE, Miami (Actual pick: GosderCherilus, OT, Boston College)
Cherilus has been serviceable, and could even still be the pick here in a re-draft, but Campbell is one of the top 4-3 defensive ends out there, and the Lions defensive line was terrible in 2008.  Then again, they went 0-16, so I suppose they were all terrible.



Baltimore Ravens

: Jermichael Finley, TE, Texas (Actual pick: Joe Flacco, QB, Delaware)
Losing Flacco hurts – the other options the Ravens had were Kyle Boller and Troy Smith.  Todd Heap was coming off of a torn hamstring, and even when healthy, a Heap-Finley duo at tight end would have been a bit ahead of its time, as the two tight end set is really in vogue today.



Carolina Panthers

: Brandon Flowers, DB, Virginia Tech (Actual pick: Jeff Otah, T, Pittsburgh)
We've shifted the Panthers draft from offense-heavy to defense-heavy, and I'm OK with that; Ken Lucas was on his way out anyway, and Flowers would have been an upgrade.



Tampa Bay Buccaneers

: Jordy Nelson, WR, Kansas State (Actual pick: AqibTalib, CB, Kansas)
Talib, while solid, has been involved in a ton of off-field issues during his career.  I'll save the headache, thanks, and put Nelson across from Antonio Bryant, rather than often-injured Michael Clayton or the withered husk that was Joey Galloway at that point in time.



Atlanta Falcons

: Josh Sitton, OT, Central Florida (Actual pick: Sam Baker, OT, USC)
Right idea, and could be the same pick, actually, but I like Sitton a bit better.  One way or another, the Falcons had a great draft in 2008, and both first-round swaps they get in this redraft are very minor.



Dallas Cowboys

: Brandon Carr, DB, Grand Valley State (Actual pick: Felix Jones, RB, Arkansas)
Remember when the Cowboys were 13-3 and looking at luxury picks like second running backs?  Their big weakness was in the defensive secondary, where Roy Williams was overrated, at the best of times, so Carr would have filled a need there.



Pittsburgh Steelers

: GosderCherilus, OT, Boston College (Actual pick: Rashard Mendenhall, RB, Illinois)
Mendenhall added nothing in 2008, when the Steelers won the Super Bowl, and has been slightly overrated since then, so I feel comfortable going elsewhere.  Cherilus would have slid in for Max Starks eventually, in a smooth transition on the offensive line.



Tennessee Titans

: Pierre Garcon, WR, Mount Union (Actual pick: Chris Johnson, RB, East Carolina)
Johnson's long gone in the redraft.  Vince Young had no dependable offensive weapons, and Garcon, a sixth-round steal, is the best remaining.



Dallas Cowboys

: Darren McFadden, RB, Arkansas (Actual pick: Mike Jenkins, CB, South Florida)
We've already dealt with cornerback, so if the Cowboys really did want to draft someone for behind Marion Barber, McFadden would have been a much better choice – had the Raiders not taken him at #4.



Houston Texans:

Charles Godfrey, DB, Iowa

(Actual pick: Duane Brown, OT, Virginia Tech)
Brown's long gone.  The Texans played against Peyton Manning twice a year.  You could never have enough defensive backs.



San Diego Chargers

: Sam Baker, OT, USC (Actual pick: Antoine Cason, CB, Arizona)
The Chargers had an open competition at right tackle in 2008 – a competition Baker would have won.



Seattle Seahawks

: Felix Jones, RB, Arkansas (Actual pick: Lawrence Jackson, DE, USC)
Pass on Jackson, who never amounted to much, and supplement one Jones (Julius) with another.



San Francisco 49ers

: AqibTalib, DB, Kansas (Actual pick: KentwanBalmer, DT, North Carolina)
Yeah, Balmer…Balmer was kinda a bust.  Looking for secondary help in 2008, looking for secondary help in 2013 – some things never change.



New York Jets

: Kendall Langford, DE, Hampton (Actual pick: Dustin Keller, TE, Purdue)
Nothing wrong with Keller, but the Jets needed defensive line help, hence the Vernon Gholston pick.  Langford's a one-dimensional run-stopper, but that's better than the zero-dimensions Gholston brought.



New York Giants

: Thomas DeCoud, DB, California (Actual pick: Kenny Phillips, DB, Miami)
I like DeCoud better at safety than Phillips, so I'll take the 2013 pro-bowl replacement over the often injured, though solid when healthy, Phillips.

First rounders who dropped out in the re-draft:
#5 Glenn Dorsey (KC), #6 Vernon Gholston (NYJ), #7 Sedrick Ellis (NO), #8 Derrick Harvey (DE), #9 Keith Rivers (CIN), #11 LeodisMcKelvin (BUF), #14 Chris Williams (CHI),#15 Branden Albert (KAN), #16 Dominique Rodgers-Cromartie (ARI), #19 Jeff Otah (CAR), #23 Rashard Mendenhall (PIT), #25 Mike Jenkins (DAL), #27 Antoine Cason (SDG), #28 Lawrence Jackson (SEA), #29 KentwanBalmer (SFO), #30 Dustin Keller (NYJ), #31 Kenny Phillips (NYG)

Moral of the story?  Don't buy too much of the hype, too soon.


What do you think?
We'd love to hear your comments and/or opinions. If you submit them here, other visitors can read them, rate them and comment on them. An e-mail address is not required.